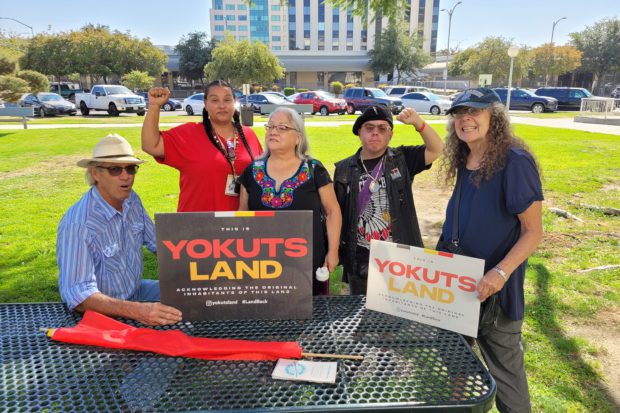 Detener el odio es el tema de la reunión comunitaria que se llevará a cabo en Reedley el 30 de junio de 2023. El aumento de los delitos e incidentes motivados por el odio va en aumento y este evento reunirá a una coalición de grupos que nos brindarán las herramientas e información necesaria para enfrentar ese desafío.
Aprenda cómo denunciar un delito de odio, qué grupos comunitarios tienen recursos para ayudarlo y, lo que es más importante, cómo prevenir los delitos e incidentes de odio antes de que sucedan.
Los temas incluirán:
Derechos de los pueblos indígenas. Esta sección incluirá el aumento dramático en la desaparición y asesinato de mujeres indígenas, el nombramiento del Valle de Yokuts y el reconocimiento tribal.
Interacciones entre la policía y la comunidad, que incluirán información sobre cómo denunciar incidentes y delitos motivados por el odio.
Violencia contra la comunidad LGBTQ del Valle de San Joaquín.
El aumento de personas sin hogar en el área y nuestra respuesta.
La inmigración y el trato injusto a los trabajadores sin documentación.
Los grupos patrocinadores de este importante evento son el periódico Community Alliance, San Joaquin Media Alliance, Reedley Peace Center, Fresno Interdenominational Refugee Ministries, The Fresno Center, BAPAC, NAACP (Capítulo de Madera), Central Valley Partnership, Residents for Renaming S Valley, Power Latinx, The Human Coalición de Derechos del Valle Central, Justicia Indígena, Fresno Homeless Union y Fundación Dolores Huerta.
La reunión comunitaria "Detengamos el Odio" en Reedley se llevará a cabo el viernes 30 de junio a las 5:30 p.m., en la Primera Iglesia Menonita de Reedley, 1208 L street, Reedley. Habrá comida gratis, cuidado de niños y traducción para hispanohablantes e ingleses. El evento concluye con una rifa.
Esta reunión comunitaria "Detengamos el Odio" está organizada por el periódico Community Alliance y San Joaquin Valley Media Alliance y es posible gracias a una subvención de la Biblioteca Estatal de California bajo la iniciativa estatal "Stop the Hate".
*****
Mike Rhodes es el Director Ejecutivo del periódico Community Alliance y autor del libro "Dispatches from the War Zone", sobre la falta de vivienda en Fresno, www.mikerhodes.us es su sitio web. Póngase en contacto con él en mikerhodes@comcast.net.