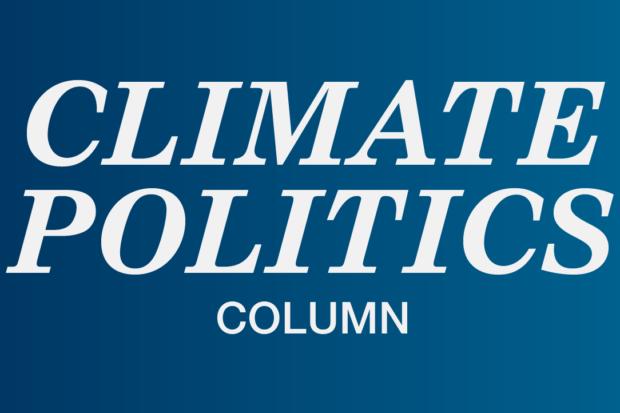 "I don't know half of you half as well as I should like; and I like less than half of you half as well as you deserve."—Bilbo Baggins
As American democracy slips further into a darkness that consumes more than minds, where the distracting mayhem of violence and idolatry obliterates rational thought, climate activists must brace for the worst and prepare to work harder than ever.
Short of a miraculous "Roe-vember" in which a surge of young female voters across the country proves pollsters wrong, the U.S. House of Representatives will again fall under the control of the Trumpublican Party. The 2024 presidential race will begin on Nov. 9 with too many liberal Americans stuck on endless cable TV loops of red versus blue political commentary devoid of meaning and substance.
Meanwhile, the planet continues to burn. Badly. California's record 2020 fire season emitted double the amount of all greenhouse gasses the state reduced in the preceding 17 years, according to a recent study by Dr. Michael Jerrett, with funding from the UCLA Center for Healthy Climate Solutions, "Up in smoke: California's greenhouse gas reductions could be wiped out by 2020 wildfires."
Despite that stunning performance, the gasses from 4.2 million acres of wildfires still came in second to a single year's emissions from the transportation sector. Apparently, every year our tailpipes emit more than double the atmosphere-damaging carbon and methane than total reductions achieved from 2003 to 2020. We're just not getting there, folks. The irreversible tipping points triggered by a 1.5°C increase in global average temperature are upon us and unavoidable.
So, like Bilbo setting out to defeat Smaug, those taking on the climate crisis must face overpowered dragons sitting atop plundered riches and fight armies of orcs mindlessly attacking civilization in service to their masters. These archetypes are more than fiction; they reflect our nature, our history and our future.
Any real progress on climate resiliency will have to be accomplished at the local level, against long odds and with great courage. The opposition is unthinking, uncaring.
For example, progress won't consist of worthless assurances of "carbon neutral" pollution while seeking to justify increased smog in sacrifice zones such as the unfinished neighborhoods of South-Central, Southeast and West Fresno. Unfortunately, City Council Member Miguel Arias is leading the Fresno City Council as it seeks to greenwash pollution-increasing projects using such language, as reported by Brianna Vaccari in the Oct. 13 Fresno Bee, "California's top cop urges Fresno City Council to reject 'likely unlawful proposal.'"
Vaccari wrote that Arias "also said he believes the change will allow certain facilities to access the necessary capital to eventually become carbon neutral facilities." Like his colleagues, predecessors and no doubt successor, Arias is controlled by status quo forces of party politics, corporate interests and their resultant shallow political philosophy. There is no carbon neutral. Not any more.
As the planet's temperatures soar and weather impacts worsen, it is the height of political cynicism to wrap a gross-polluting project found in one of the state's most impacted neighborhoods in such language. The "necessary capital" would be state cap-and-trade dollars, and the polluter is Mid Valley Recycling, a company that gives politicians so much it has to file as an Independent Expenditure Committee with contributions to everyone from Arias and Assembly-bound Esmeralda Soria to the "victory fund" of arch Trumplicans Lindsey Graham (R–S.C.) and John Kennedy (R–La.).
Elected Democrats' inability to hold tension with our community's worst players is a feature, not a glitch, of our local political system. The same is true for much of labor. Bad bosses are calling more and more of the shots, and few people are pushing back.
The VoteNoMeasureC.com coalition organized by Sandra Celedon of Fresno Building Healthy Communities and Veronica Garibay of Leadership Counsel for Justice and Accountability is one healthy example. Carpenters, Ironworkers and Fresno Teachers are standing with the community, as are dozens of community-based organizations, politicians and health experts.
Their focus on the transportation sector and a sales tax proposal that wouldn't end until 2057 is right on target. Like Measure T in Madera County, which is proposed to never end, Fresno County's Measure C ignores all consideration of electrification and communication technologies, calls for vastly underfunded transit systems and prioritizes funding for sprawl roads. Once these taxes are defeated at the ballot on Nov. 8, which appears likely, an entirely new debate opens up.
This is when and where the work begins. Anyone concerned about the climate and life beyond 2040 should concern themselves with the future of these tax measures. Voting no now is a useful block to a terrible process, but direct engagement in policy making is the responsibility of all with the time and ability to help. That comes next.