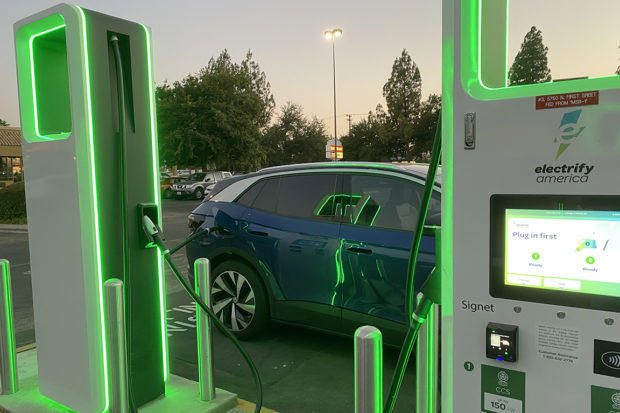 Measure C without end? That's the recommendation from one consultant: a permanent tax on Fresno County voters—a forever tax—for transportation spending.
We all currently pay an extra half cent on every retail purchase we make, raising nearly $80 million a year to maintain and improve our mobility; meaning everyone's ability to move freely through the community and reach needed services, goods, education, employment, entertainment and more.
We walk. We cycle. We take the bus. But mostly we drive, polluting the air, destabilizing the weather.
A third of us can't drive ourselves due to age, income or personal mobility; we're dependent on others for rides in cars or buses. Those long waits at transit stops along busy roads equate to greater direct exposure to cancer-causing vehicle exhaust for thousands every day.
Another third of us now have most of our purchases dropped on our doorsteps. Diesel-, gasoline- and methane-powered delivery trucks roam residential neighborhoods at unprecedented rates bringing people more direct exposure to tailpipe emissions.
Yet there's hope. The transportation sector is changing rapidly as it merges with energy and telecommunications. It's getting hard to keep up with the pace of change. Demand for electricity to charge all on- and off-road vehicles could soon outstrip our rural transmission grid's capacity. Within a decade, fleets of autonomous trucks and taxis will dominate the road-scape.
The disruptive technology of electric vehicles was itself disrupted in May with the announcement of the latest breakthrough in batteries. Based on research from the University of Queensland's Australian Institute for Bioengineering and Nanotechnology, Brisbane-based Graphene Manufacturing Group has developed a graphene-aluminum ion battery with little rare earth mineral usage. Commercial production starts in 2024 on automobile units that charge 60 times faster and run three times longer, Forbes magazine reported. These can be made compatible with all existing battery styles.
As the most prevalent element on the planet, this accessible and highly recyclable material could soon render its lithium counterparts obsolete. Plans for environmentally damaging mines for rare earth minerals can be canceled around the world, including in California near the Salton Sea.
Who saw this coming in 1986 or 2006 when Measure C was first passed and later renewed by voters? Nobody.
In 1986, did transportation planners, consultants or elected officials foresee the freestanding solar arrays charging public transit vans and private personal vehicles now found in all our county's rural cities? Of course not.
So how can transportation planners today safely predict what county residents will need not just in 20 years but 30 or beyond?
Our community clearly needs these check-ins with our transportation planning agencies every couple of decades. It's not just appropriate to expect the little known but powerful Fresno Council of Governments and Fresno County Transportation Authority (FCTA) be held accountable by voters and the community at large, it's mandatory because of our moral imperative.
The consultant promoting the "forever tax" based his recommendation on a poll that asked only two questions about air pollution and not a single one about our climate emergency.
That outdated mindset ignores not only science but also state and federal response plans. Along with repair and maintenance of roads and bridges, rapid action on climate change by reducing transportation sector emissions of carbon and methane as rapidly as possible are the new state and federal spending priorities.
Now is not the time to let our elected officials ignore their responsibility to protect public health, nor can today's pollution-inducing spending plans become a permanent burden.
A bad forever tax would be bad forever. That provision alone in any Measure C renewal ballot measure would warrant community-wide opposition.
Time Loop
At the political level, Fresno is repeating history in uncomfortably familiar ways. City and county leaders are again ignoring our greatest health challenge and, as a result, threaten to worsen the crisis.
I'm not referring to Covid-19, last year's botched response to which belongs in a category all its own for criminal ineptitude. This time it's the very air we breathe that leaders don't want to talk about or, when they do, get it very wrong.
Our ground level air pollution—higher levels of which correlate directly with increased pandemic infection rates and death—and skyrocketing greenhouse gas emissions pose the greatest threats to our health today and very survival in this century.
And the greatest source of both is the transportation sector and its reliance on burning gasoline, diesel and methane.
But look at the just released voter survey conducted by the FCTA as it seeks to renew Measure C, and those key concerns are as absent today as they were 20 years ago. And the critically important values of equity and justice are nowhere to be found in the poll.
Voters rejected the first renewal effort in 2002 because it failed to address our air pollution crisis. Four years later, it was passed with great promises to address epidemic levels of asthma through a balanced spending plan investing in transit, cyclist, accessibility and pedestrian needs.
Money was set aside for infill projects known as transit-oriented developments and future technological developments; one committee member, the late Dennis Manning, kept insisting cars would be driving themselves by now and that we should prepare.
It didn't work. As it turned out, the successful 2006 ballot measure, which came after several years of rapprochement and negotiations following the 2002 defeat to the "Got Smog? Got Asthma? No on C" campaign by smart growth advocates, contained some major flaws.
Rather than honoring the balanced spending plan, the FCTA has squandered hundreds of millions in taxpayer dollars subsidizing sprawl roads for residential and industrial developments; transit systems still limp along, underfunded and used as a political chip; and the future technologies program has been raided repeatedly for status quo projects and photo ops.
Resistance to the technological advancements critical to society's climate change response was personified by Fresno County Supervisor Steve Brandau at the FCTA's April meeting when the board member from northwest Fresno voted for a second time against electric buses and ultrasonic cleaning equipment for the rural transit fleet. Brandau's earlier wrongheaded opposition at the December board meeting resulted in months of dangerous delay. Fortunately, the item passed this time.
On the other side of the aisle, Fresno City Council Member Miguel Arias's March 11 statement to the Fresno Bee's Brianna Calix following administrative approval of the second Amazon warehouse reveals a similarly dangerous, ill-informed mindset: "This agreement is an example that we can facilitate the coexistence of creating new jobs without impacting the health and safety of our neighbors," he said.
Completely wrong, Arias ignores the third, most deadly category of air pollution: the toxic compounds found primarily in diesel exhaust that are not reflected in ambient air pollution monitor readings for ozone and fine particulates. The warehouses' thousands of daily truck trips—now slated to increase—will be causing even more direct harm to the K-8 students at Orange Center Elementary School behind the schoolyard fence they share.
Those kids need clean air, and they must have a stable climate in their adulthood. These are the issues of our time. When it comes to the next vote on transportation spending, "C" must stand for climate. And our children.