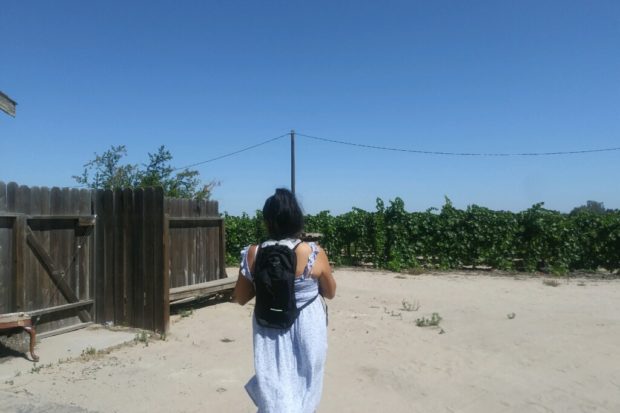 Living in Fresno's countryside is attractive for some who enjoy a slower pace, the greenery of the grapevines or the almond blossoming. But these views come at a high price, especially for those who live close to the fields where these crops are sprayed with pesticides.
Although California had the largest number of certified organic farms in the United States—3,012 in 2019, according to a survey of certified organic U.S. farms and ranches—this is not the reality in Fresno County, where most farms still rely on restricted harmful materials as the main method for pest control. For at least a decade, Fresno has reigned supreme, as the No. 1 pesticide user in the entire state.
Has this heavy use of pesticides had any impact on the residents of communities such as Raisin City, Caruthers, Cantua Creek, Orange Cove and many more where residents' homes are a dozen feet away from treated fields?
To shed light on this important issue, two community groups, the Central California Environmental Justice Network (CCEJN) and Californians for Pesticide Reform (CPR), have partnered with a team of researchers at UC Davis to conduct a study that will try to measure pesticide exposures for people living near agricultural fields in three counties in the Central Valley.
Adults who live in selected communities in Fresno, Tulare and Kern counties participate in this study by wearing a small air sampling device during the day, three different days throughout the pesticide application season. Participants also provide a urine sample.
This is not the first study of its kind, but what makes this study unique are two things. One is that the California Air Resources Board funded this study as part of the AB 617 community grants, recognizing the importance of understanding exposure and of engaging impacted communities in studying their own environment. And two, that industry reacted to the public announcement of the study with such alarm.
In response to promotion of the study and a request for participants on social media, the Western Agricultural Processors Association (WAPA) issued an advisory warning their members that "paid activists" would be entering treated fields attempting to prove exposure, calling the study methods "unproven and unapproved" and falsely accusing the CCEJN of deploying air sensors for the past seven years that have led to thousands of dollars in fines against polluters.
The "urgent advisory" advised its members to call the sheriff to report "any unauthorized persons near a field." The advisory was amplified in three ag publications: Agri-pulse, Ag Net West and California Agriculture News.
California Agriculture News included the following warning, which we view as an explicit threat to participants conducting air sampling in their own backyards: "Should you see anyone in or around the edge of your field or orchard, we urge you to immediately contact the County Sheriff's office and the county ag commissioner. We have already warned the Sheriff and the Ag Commissioner of this potential threat."
Industry also used its influence to complain to the Department of Pesticide Regulation (DPR), demanding to know why they were allowing the study.
The propaganda tactics used by the WAPA to discredit the study, defame the organizations involved and intimidate potential participants make one wonder: Why are they so afraid? What will this study reveal?
We will have to wait to find out. Participants in Fresno County just finished collecting their first set of samples, and a second collection is scheduled for the spring of 2022.
In the meantime, as advocacy organizations committed to promote policies and practices that protect people from pesticides, we will continue to affirm the right of people to study the air they breathe without permission, interference or intimidation from Big Ag.