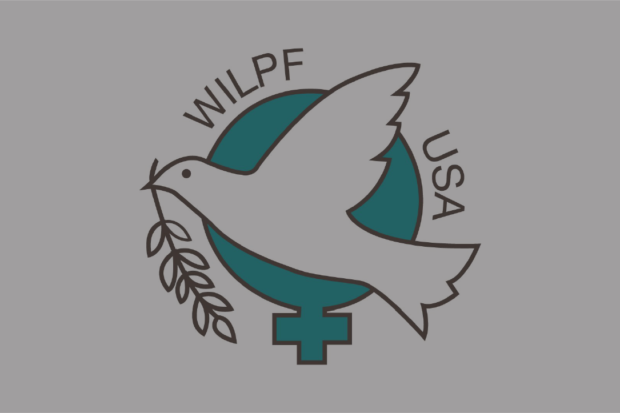 Harvard Street Sale: Jean Hays Up Front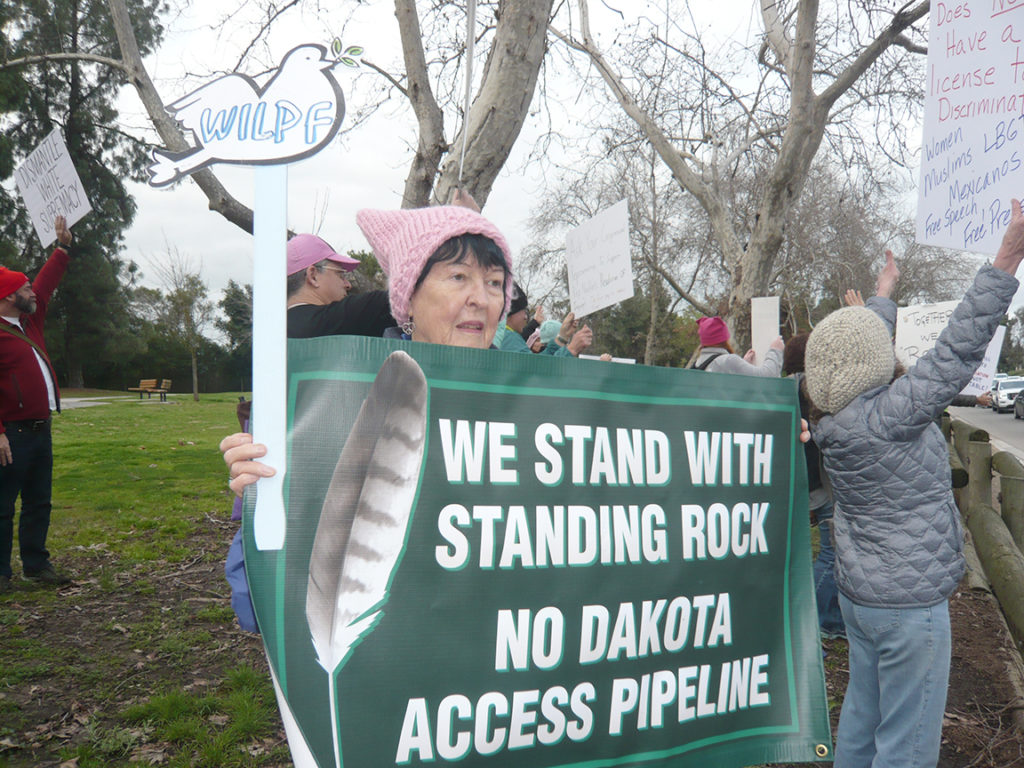 Note: There are no photos of this event. We were too busy working!
News of the upcoming annual Harvard Street Sale had been creeping into our consciousness since the first of May. WILPF had been a part of it in past years; our own Patty Bennett and Tim Parker live on Harvard and had offered their front yard. It had always proven to be a successful way to add to our treasury.
This year, almost spontaneously, it was decided to try doing it again at Patty and Tim's place. Only two weeks before the May 22 sale, 15 people from WILPF had offered to work either at the sale and/or help with setup the day before. It was amazing to see them work together, displaying a sense of community and spirit.
Gioia Frank and Nancy Hatcher brought quality items from a garage full of things donated by Howard Watkins, the Dr. Jim Kratzer household and Ann Brunelle. They worked all week to prepare these things for sale. Many, many others contributed items to sell as well, and we thank them!
After partial setup on Friday, our crew was ready by 7 a.m. on Saturday, May 22. Shoppers seemed happy to be out and about, and the weather was perfect. The spirit of buying was definitely in the air! Tim and Patty were always available with much-needed coffee and additional last-minute supplies.
Most shoppers were finished by 2 p.m. We saved some of the quality leftover items to offer at our Silent Auction at the WILPF Holiday Craft Faire. All in all, it was a pleasure to work with these amazing individuals, whose sense of community and purpose was so gratifying to behold.
Happily, the day's work netted a substantial profit, which will be used to support WILPF's good work in the community.
—Jean Hays
A HUGE thanks and hugs to helpers: Ken Hudson, Cheryl Caldera, Melissa Fry, Eve Hudson, Janet Capella, Patricia Wells Solorzano, Gioia Frank, Sandra Iyall, Nancy Hatcher, Nancy Godwin, Patty Bennett, Susan Heidebrecht, Bev Fitzpatrick, Tim Parker, Jean Hays
Raging Grannies Reunite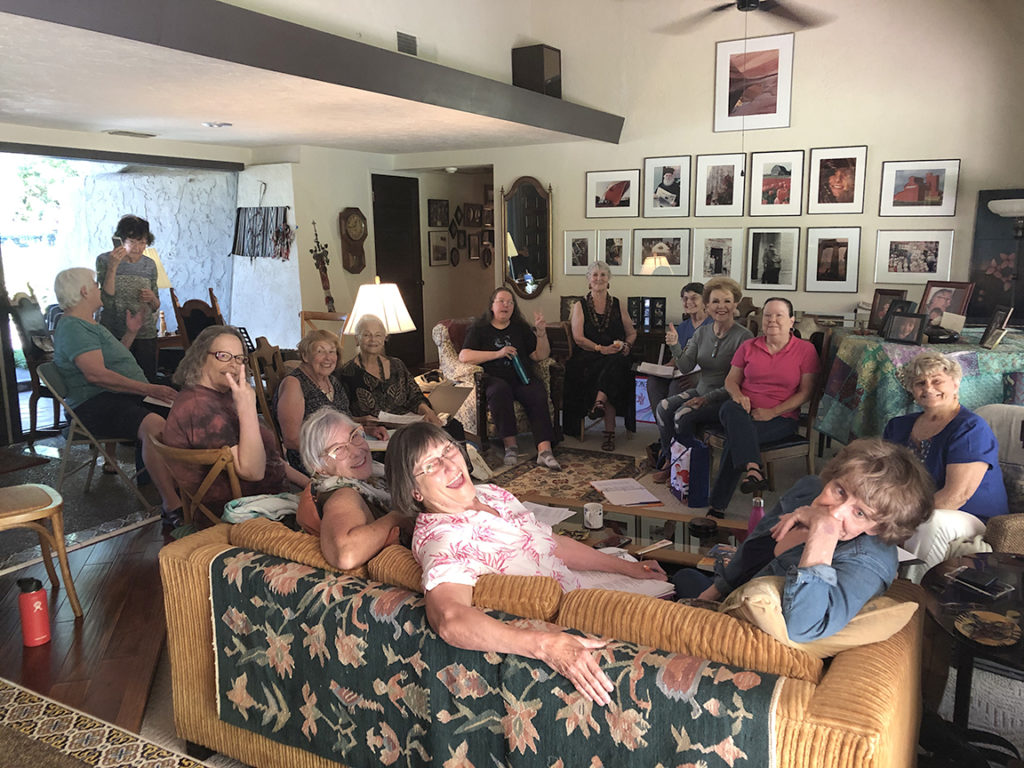 Vaccinated Raging Grannies gathered for the first time in more than a year at the home of Pat Wolk on Friday, June 4. As one of the Grannies put it, "We were ebullient."
Although the gaggle remained connected during the pandemic through weekly Zoom meetings, being together without wearing masks was a time of celebration. Practicing old familiar protest songs and planning for the future was interspersed with lively conversation.
Creating a video for entertainment at the WILPF US Virtual Congress was part of the activity that included a tribute to the late Ellie Bluestein, who founded both the WILPF Fresno Branch and the Fresno Raging Grannies Gaggle.
Barbara Kramer and Debra Newman were welcomed as new members.
Being a good singer or being a grandmother are not prerequisites for being a Raging Granny. The most important quality for a Raging Granny is a concern for the future of children "and their children and their children, and their children evermore."
Anyone interested in joining the gaggle may contact Evonne Waldo at evonnewaldo@yahoo.com. Include Raging Grannies in the subject.
WILPF Disarm/End Wars Committee
The Fresno Branch of WILPF now has an active Disarm/End Wars Committee. Melissa Fry is the chair and anyone interested in joining is WELCOME!
We will be addressing issues such as the TPNW (Treaty for the Prohibition of Nuclear Weapons) and the Biden defense budget, which will be increasing by $11 billion this next budget year. They claim that isn't even keeping up with inflation, so it could continue to increase in the future, even though the Defense Department has spent trillions of dollars in the past that it cannot even account for and finds an audit too difficult because the Defense Department claims it is too big.
Is that an excuse?
We will also be looking at police militarization and how it affects our communities, the use of nuclear both in weapons production and for energy, and the environmental effects of military bases and how they affect the communities they are located near. So some of what we do will interface with our Earth Democracy Committee.
The Disarm/End Wars Committee is active at the national level with WILPF US holding an open meeting every second and fourth Sunday at 4:30 p.m. on Zoom, and all are WELCOME to attend those meetings as well.
As we grow and develop, we will try and collaborate with the other peace organizations to be better at mobilizing as there are other groups in Fresno that many of you know, such as Peace Fresno, Veterans for Peace and the Fresno Center for Nonviolence.
Sometime in the near future I will submit links to web pages that have inspirational articles and pieces from Hiroshima/Nagasaki survivors and other nuclear victims that have turned their experiences into art forms of redemption. —Melissa Fry (mjfry2008@icloud.com)
WILPF Library Committee Book Club: Still Unstoppable
The coronavirus did not stop the loyal members of the WILPF Library Committee Book Club from reading and discussing some interesting, challenging and enjoyable books. After mastering the art of Zooming, the book club members met monthly to discuss some of the Jane Addams Children's Book Award winners and other selections suggested by our members.
We began this literary journey in November 2020 with Silver People by Margarita Engle, our first selection. Adding to the richness of the discussion was Margarita Engle herself, helping us grow to a deeper understanding of the social justice and environmental issues surrounding the building of the Panama Canal.
Ghost Boys by Jewell Parker Rhodes, the Jane Addams Children's Book Award for Older Children in 2020, was our next selection. The lead character, Jerome, is based on Tamir Rice, age 12, who was shot by police as he played with a toy gun in the park. After death, he meets Emmett Till.
The Book Woman of Troublesome Creek by Kim Michelle Richardson led us to a deep appreciation for the Pack Horse Librarians of Kentucky funded by Eleanor Roosevelt in the 1930s.
In February and March, we read Caste by Isabel Wilkerson, a seminal book for understanding race and systemic racism in the United States.
In April, we read Oneness vs. the 1% by Vandana Shiva, which argues that modern billionaires' single-minded pursuit of profit is destroying diversity and threatening our human capacity for solidarity and compassion.
A Wish in the Dark by Christina Soontornvat, winner of the Jane Addams Children's Book Award for Older Children, 2021 was our May selection. The grand conversation around this book was especially meaningful as we were joined by Maestra Josie Busto and her Grade 5/6 bilingual classroom students, who participated in a Zoom book discussion after reading the book together. WILPF members were impressed with the students' depth of understanding around the themes of right versus wrong, poverty, fairness, prejudice, friendship, courage and hope. Josie Bustos, a WILPF member, is on the Jane Addams Children's Book Awards Selection Committee.
In June, we read There There by Tommy Orange, enrolled member of the Cheyenne and Arapaho Tribes of Oklahoma, born and raised in Oakland, who says he wrote as he realized "just how many stories there were that people should hear—especially other urban Natives, to see their own stories reflected in a bigger way."
If you like to read and participate in grand conversations, consider joining our book club. We meet on the second Monday of the month at 1:30 p.m. To join, e-mail grammy44cac@gmail.com.
The WILPF Page is usually compiled and edited by Leni Villagomez Reeves (lenivreeves@gmail.com).
---
WILPF  MEETING
July 8, Thursday, 7 p.m. online. Watch your e-mail for an announcement and the link or call-in number! For more information, contact Teresa at taca_03@ymail.com or Leni at lenivreeves@gmail.com.
STIR IT UP–WILPF KFCF 88.1 FM
July 28, 3 p.m. (4th Wednesday of each month). Jean Hays does outstanding interviews on subjects involving WILPF interests and activities.
MEMBERSHIP
Send dues to WILPF Fresno, P.O. Box 5114, Fresno, CA  93755.
Send questions and information updates to Evonne Waldo at evonnewaldo@yahoo.com.
WILPF membership is $35/year. Contact Evonne about the low-income rate, sponsored by our contributions above the $35 that goes to the national organization.
COMMITTEES—STILL AT WORK though we cannot meet in person.
DISARM/END WARS COMMITTEE
Contact Melissa Fry at mjfry2008@icloud.com.
LEGISLATIVE COMMITTEE
Contact Jean Hays at skyhorse3593@sbcglobal.net.
LIBRARY COMMITTEE
Contact Cheryl Caldera at grammy44cac@gmail.com.
EARTH DEMOCRACY
Contact Jean Hays at skyhorse3593@sbcglobal.net.
CUBA AND THE BOLIVARIAN ALLIANCE
Contact Leni at lenivreeves@gmail.com.
ADVANCING HUMAN RIGHTS/WINGS
Contact Bev Fitzpatrick at dfitzpatrick29@comcast.net.
RAGING GRANNIES
Contact Evonne Waldo at evonnewado@yahoo.com.
UNPACKING RACISM
Zoom discussion held the last Sunday of each month at 6.30 p.m. To join, RSVP tp Jean Kennedy at drjeankennedy@yahoo.com or text 559-270-1023.
WOMEN IN BLACK
July 7, noon (first Wednesday) at the Courthouse. Contact Bev at dfitzpatrick29@comcast.net.
Find us on Facebook!