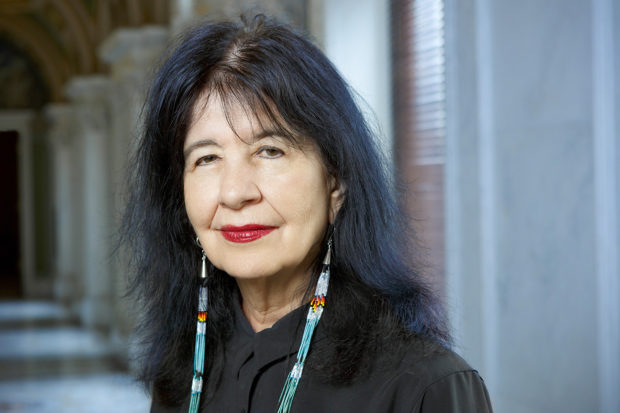 By Linda Kobashigawa
The Big Read returns to Fresno, centering on the book An American Sunrise by the current U.S. poet laureate, Joy Harjo. The program looks a little different this year, as all events will be virtual, but it maintains the same goal of bringing the community together around the shared activity of reading and celebrating one book.
Those familiar with the literary arts community in Fresno will no doubt have heard of the Big Read. Since 2006, the National Endowment for the Arts (NEA) has provided funding for libraries, school districts and nonprofit organizations to bring their community together around the story and themes of a single book.
The Fresno County Public Library (FCPL) has been awarded several Big Read grants, partnering with local writers, performers, artists and organizations to celebrate famous works such as The Great Gatsby and The Maltese Falcon. More recently, the FCPL has selected contemporary and culturally relevant titles such as Kao Kalia Yang's The Latehomecomer in 2018 and Claudia Rankine's Citizen: An American Lyric in 2020. The FCPL partnered with Fresno City College (FCC) to bring both authors to Fresno.
For the 2021 Big Read, the 34-branch library system and California's first community college are partnering again, this time with FCC leading the grant. The selection of Harjo's collection of poems, many of which speak to the forced removal of Native Americans from the southeastern United States as a result of the Indian Removal Act of 1830, was an easy one for the grant-writing team.
FCC was the first community college in California to offer an associate's degree in American Indian studies. In 2014, it unveiled Yokuts Plaza, a monument at the heart of campus that acknowledges the Yokuts and Mono First Nations People as the original stewards of the land the college sits on and, in 2016, launched the Resources for American Indian Needs (RAIN) learning community program as the first American Indian learning community in California.
This year, the Big Read plans to bring forward and uplift the voices of Native American students, artists, cultural practitioners, writers and poets, and connect program participants to the diverse experiences of the local Native American community.
"As challenging as this past year has been for our local native community and students, I am so pleased to see that one of our own native relatives, the current U.S. poet laureate—Joy Harjo—is being honored for the Big Read at FCC," says Alexandra Gonzales (Ohlone), American Indian program counselor at FCC.
"I am privileged to be able to witness the successes, resilience and thoroughly gifted native students on a weekly basis through my work co-advising the Native American Inter-Tribal Student Association (NAISA) and academic counseling/teaching for the Resources for American Indian Needs program.
"Just as Harjo's book, An American Sunrise, forces us to thoughtfully reflect, laugh and love as we pass through the seasons of our lives, I can attest that our local native community is in tune and appreciates our relative's familiar and comforting voice."
As the first Native American U.S. poet laureate, Harjo, a member of the Mvskoke Nation, is one of the longest-serving poet laureates in U.S. history, currently serving her third term. She has published nine books of poetry, two children's books, one memoir (with a second scheduled for release later this year) and five music albums.
She has said of her work, "I feel strongly that I have a responsibility to all the sources that I am: to all past and future ancestors, to my home country, to all places that I touch down on and that are myself, to all voices, all women, all of my tribe, all people, all earth and beyond that to all beginnings and endings.
"In a strange kind of sense, [writing] frees me to believe in myself, to be able to speak, to have a voice, because I have to; it is my survival."
The Big Read program aims to celebrate Harjo's poetry in ways that speak to how the poet and activist herself would appreciate it. A visual art exhibition titled "All Words Have Roots Here"—a line from the poem "Break My Heart"—was co-curated by FCC Art Space Gallery curator Elena Harvey Collins and Dr. Leece Lee-Oliver (Blackfeet and Choctaw, and the director of American Indian Studies at Fresno State).
The Big Read Events
March 4 at noon: Kickoff: A celebration of An American Sunrise begins with a land acknowledgment and continues with a discussion about the book, poetry and the significance of the role of a poet laureate
Opens March 11: "All Words Have Roots Here," a virtual art exhibition
April 16 and 23 at 7 p.m.: Sharing Cultures: Central Valley Storytelling documentary screening on CMAC
April 17 at 10 a.m.: "Shaking of Shells, the Drumming of Feet," a virtual dance and music event
April 24: Joy Harjo, virtual keynote speaker
Book discussion groups occurring throughout the program
All events of the Big Read are free and open to the public.
For more information and links to register/join events, visit www.fresnocitycollege.edu/bigread.
They describe the exhibition as "drawing connections between art, landscape, oral traditions and the written word," and it includes poetry, works on paper and in song, multimedia, painting, basketry and a number of recorded interviews with local Native American cultural practitioners and artists.
A dance and music event led by the Tachi Youth Dance Group will be streamed live from Yokuts Plaza, and CMAC will premiere a series of short films created by Native and Indigenous students and community members.
The Big Read is also an opportunity to take advantage of the literary talent in and around Fresno. FCC faculty and Fresno poet laureates Marisol Baca and Lee Herrick will be panelists at the kickoff event, along with Valley native and former U.S. poet laureate Juan Felipe Herrera and award-winning poet Delaney R. Whitebird Olmo (Kashia Pomo, Karuk and Yurok), an advanced student in the master of fine arts (MFA) program at Fresno State.
With the renewed national spotlight on racial and environmental justice, and the move by many to understand the history of how we came to be on the land where we reside, An American Sunrise provides an important opportunity to learn about and connect with our rich local context, which includes the ongoing contributions of local Native American communities to our cultural, artistic, literary and ecological landscape.
*****
Linda Kobashigawa is a librarian in Fresno. She does not just read and check out books all day.