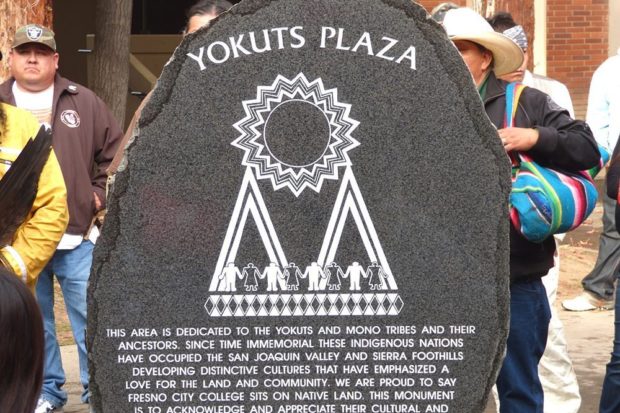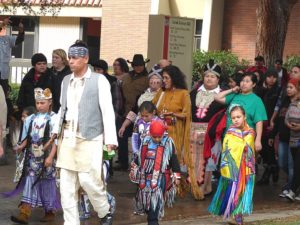 By Ernesto Saavedra & Jennifer Vargas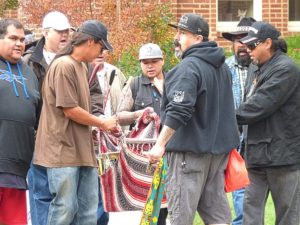 Before highways, government buildings and shopping centers littered the San Joaquin Valley, the Yokut and Mono tribes populated the Valley and surrounding basins only to be pushed to the foothills and other areas outside of the Valley by settlers who were mostly farmers and ranchers. However, despite all this, the Yokuts and Monos did not succumb to these injustices and are not a people from the past. Traditions intact, they are our neighbors, friends, teachers. The younger generation, our leaders. This past November, all this came full circle in a historical event in Fresno.
It was a beautiful rainy day on Nov. 13 at Fresno City College (FCC), and it was a good day to be Native. The Native American International Students Association (NAISA) organized and hosted the second annual Native American Education Conference. This conference was geared toward encouraging Native American youth to be proud of who they are and to pursue higher education. Something infinitely important given the low performance of Native American youth in schools.
According to an article by Lesli A. Maxwell titled "Education in Indian Country: Running in Place" (Education Week, Dec. 4, 2013), "While such historically disadvantaged groups as African American and Latino students have seen their graduation rates accelerate in recent years, American Indians and Alaska Natives, who constitute one subgroup for federal education data reporting, have not."
External factors like poverty and health play a big role.
Four of the five poorest counties in the United States fall either wholly or partly within American Indian reservations, according to the 2010 U.S. Census. And the populations of those communities are overwhelmingly young. Because of relatively high birthrates and some of the lowest life-expectancy rates in the Western Hemisphere, nearly 40 percent of the residents of Shannon County, for example, are 18 or younger, compared with 25 percent for the state. (Maxwell)
Numbers are similar elsewhere, and this, of course, can be traced back to the historical and continued oppression Native Americans endured for centuries. One's way of life is one's life line; taking that away can have serious cultural and psychological implications that stem beyond the confines of Western medicine and Western thinking.
During the conference, local tribal leaders met for a luncheon titled "Gathering of the Good Minds." Chef Richard Mesa and Taher provided the food for the luncheon. Not to be outdone, Aunt Nancy, Northfork Mono, provided the fry bread and Grandma Sang, Indigenous Vietnamese, provided egg rolls and rice. Speakers at the luncheon included President Tony Cantu, Dr. [Christopher?] Villa, Dunlap Mono, student Savannah Marquez and Wukchumni tribal member Darlene Franco. Native leaders from all over California came together to address educational concerns in the Native American community.
The day was concluded with a historical event four years in the works. The American Indian Studies program and Cultural Studies Department at FCC discussed having a place on campus where students could learn about the local Native American people of the San Joaquin Valley. A place that acknowledged their history and culture. That discussion became a reality with the unveiling of Yokuts Plaza honoring the Yokuts and Mono peoples.
Artist Erik Escobedo masterfully captured the local basketry designs, and Bell Memorials worked the design on a beautiful piece of granite right from our beautiful Sierra Foothills. Local spiritual leaders JR Manuel, Tule River Yokut; Joseph Garfield, Tule River Yokut; Mike Cisco, Tachi Yokut; Ron Alec, Mono; and Keith Turner, Mono and Yokut, blessed the campus and the new Yokuts Plaza monument.
Professor Bernard Navarro (Ute) called the day "one of the best professional days of my career. We had our native children here at the college, supported by parents and tribal leaders. The best of Indigenous culture was on display. I am so proud of all those who helped make this a very special and historical event."
The event brought more than 600 supporters at the Yokuts monument unveiling, and the second annual Native American Educational Conference attracted more than 150 students.
For more information on these events and how you can get involved, contact Alexandra Gonzales at 559-442-4600 ext. 8677 or alexandra.gonzales@fresnocitycollege.edu or Navarro at 559-442-4600 at bernard.navarro@fresnocitycollege.edu.
*****
Jennifer Vargas is a McNair student at Fresno State majoring in sociology and minoring in economics; contact her at jennmvargas@mail.fresnostate.edu. Ernesto Saavedra is the editor of the Community Alliance; contact him at ernesto.fresnoca@gmail.com.