Editor's note: This is a public service announcement from the Barrio Art Collective, which is dedicated to all of the people in the struggle in the barrios, alleys and marginalized areas in Fresno and the Central Valley, to all of the kids and families, homeless people, immigrants, gang members and incarcerated people.
Barrio Art Collective members believe in camaraderie, and their mission is to together create spaces that enhance their ability, through artistic endeavors, to be free and master not only themselves but also be free from the constraints of marginalization and control in society. Join the Barrio Art Collective's endeavors as they show you ways of life that point to the realization that there is more than what our Central Valley offers.
The Barrio Art Collective is a collective of passionate males and females rooted in different circles that include art, music, poetry and spoken word. The precursors started in various community-focused groups. To the collective, the term Barrio means struggle but a struggle greater than Brown; it is a struggle that all Razas share in Fresno and the Central Valley. It is anything from a youngster's hustle to an old lady praying in the slums of Fresno.
Brown Beret members of Fresno first expressed a desire to experiment with alternatives forms of experience. The collective initially developed at the former Chicana Gallery near Fresno State. They started to create murals throughout the barrios of Fresno and then started to establish more support. They created spaces at Art Hops in Fresno, which included poetry circles called "Wine and Rhymes" and spontaneous drum circles that allowed them to initiate a stylization of themselves for themselves. They also became engaged with educational institutions including projects with MEChA of Fresno City College, the Chicano Youth Conference, MEChA of Fresno State and Orange Center Elementary School.
The elements of the Barrio Art Collective are art, music, Aztec dance, poetry and spoken word. Art has spread through small interactive and collaborative painting projects in barrios, the streets, colleges and universities, and it has developed into in-depth projects included at art shows like those at Arte Américas. Members have also created full-blown art murals in downtown Fresno to full-blown murals that have reached San Cristobal, Chiapas, Mexico.
The music element, which is identified as guerilla cumbia, has developed from improvisational drum circles that started in the streets of the Tower District into an explosive and organized group expressing passionate Raza rhythms entailing hip-hop, reggae, cumbia and native sounds. The music allows people to dance but also to be free and thrive. Performances have expanded from Fresno to the Mission District of San Francisco. Barrio Art Collective members plan to perform at more events around California and especially more in the Central Valley.
The poetry and spoken word elements are just as important as the other elements and have a substantive grip on the mission of the Barrio Art Collective. These elements are the backbone of the mission because they are the essence of liberation. Passionate poetry circles allow one to express one's innermost feelings and sentiments about the world and oneself. Passionate hip-hop ciphers are the spontaneous flowing of one's being that allows one to express anything one feels at any moment in time. These elements are pure stylization, creativity and spontaneous freedom, which ultimately allows one to cultivate one's being.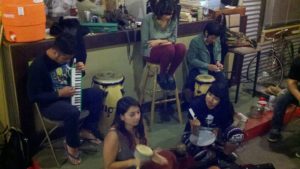 The Barrio Art Collective members stand for self-determination, and thus they have acted on funding their collaborative efforts with art and artisan projects that contribute to their solidarity. Members not only want Brown folks to engage with this collective, but they also want all people in the Central Valley to join those who are seeking liberation within a valley of control, oppression and subjugation. As one reflects on many of the social and political issues that are haunting the communities in the Valley, one might realize the need for art, music and prose to liberate oneself from those constraints.
Many people in the Valley do not want new jails or more cops, they do not want more oppression or more destitution, they do not want to see homeless people in the streets struggling every day and wandering throughout the streets of Fresno or anywhere in the Valley. They do not want immigrants feeling unwanted or left out. They do not want people feeling controlled.
They want art, music and freedom. And Barrio Art Collective members want to spread all of this throughout the barrios and alleys and all places so that people can realize that they can resist through camaraderie, stylize themselves and create new values that are potentially a guide for a new or better way of life.
*****
The Barrio Art Collective is a collective of young artisans, artists, dancers and musicians from Fresno who focus on stylizing their beings and spreading in-depth awareness through creative inquiry.