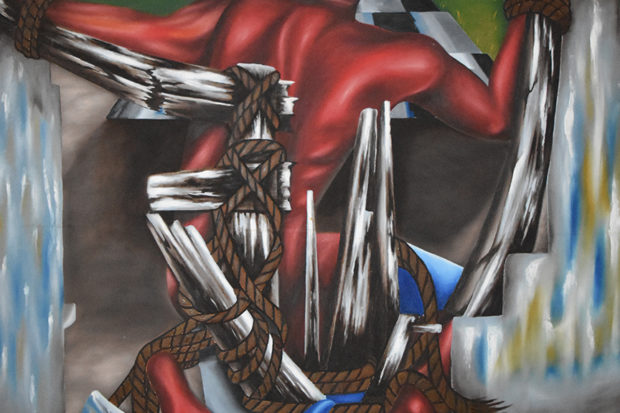 By José Elías
My name is José Jesús Elías and I was born in San Miguel de Allende, Guanajuato, Mexico. Painting has always interested me even though I never had an opportunity to study art in my native land, but I never stopped practicing art techniques on my own.
In the summer of 1988, I took the most important decision of my life: to abandon my homeland and immigrate to the United States undocumented. It was not an easy trek to cross the border, but God guided my journey to reunite with my relatives living in the United States.
Once I had crossed the border successfully, my memory became bombarded with questions about how two nations were divided by a fence. This experience of crossing the border was a life-changing experience and changed my views between these two nations. Also, this experience was an inspiration and theme for my future artwork.
After reuniting with my U.S. relatives, my first responsibility was to find a job. Most of my relatives were living on the west side of Fresno County, and the only job opportunity available for a new immigrant was as a farmworker.
For me, it was my first time working in the fields and my only means to support myself. Down deep in my heart, I knew that doing farm labor was not my passion. But my expectation was to explore new opportunities.
One of my main obstacles to seeking new opportunities was to learn the new language and then to study to someday enroll in a college. My childhood dream was to become a professional artist.
I started taking English night classes after work; then in 1992, I took one of the main steps in my life dream and enrolled for the first time in a community college. It took me several years to acquire the basic English skills needed to succeed, but I endured this hardship and I graduated with an A.A. soon after.
I told myself that one day I would return to the college to become a professor. I wanted to be an example to those migrant students who might encounter hardships in their journey to success as I once did.
My next step in my ladder of success was to enroll at Fresno State and earn a master's degree. In 2006, I accomplished my educational goal to graduate and return to the community college to teach art classes.
Now as a professor of art, I give the best of me to transmit the skills and the best classroom experiences to aspiring artists. I help motivate students to further their studies and to strive to achieve their goals in life.
Meeting our short- and long-term goals is essential to be successful in life. The key is to never-give-up on your goals (short or long-term goals) and that is what makes the difference between success and failure.
*****
José Elías has been teaching art at West Hills Community College and Raisin City Elementary School. Contact him at jjelias692yahoo.com.
Advertising