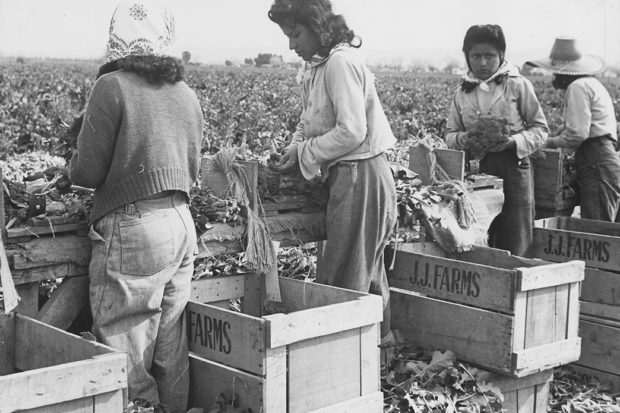 Immigrants are the main labor force in the U.S. agricultural industry. Without immigrants we wouldn't have vegetables and fruits on our tables. And even beyond the fields, immigrants perform jobs that require intensive physical strength, such as those in packing and dairy plants. We also can find immigrants taking care of our elders.
What happens when they age? Many, due to the nature of the job and the dangers of the trip to the United States from their hometown, don't get the chance to get old. Or they get there with many health issues.
Those who age confront two problems: If they are undocumented, they can't cash in on Social Security even though they paid into it—automatically from their paychecks. American politicians took care of that by passing laws forbidding undocumented workers from receiving Social Security and unemployment.
The other problem is the cost of living in the United States. Because jobs in the fields are classified as "unskilled work," farmworker income is low and therefore they have no chance to save for retirement, make investments or buy property. So one of the options for living their last years with dignity is to return home.
"Many farmworkers return to their hometowns as elders. Some own a property, and in some communities they are allowed to use the common land (or community land)," say Gaspar Rivera, Ph.D, and director of the Labor Center at UCLA.
"In these towns you can live with $300–$400 per month, which is unthinkable in the USA."
Since the 1980s, the face of immigrants has changed. The new wave of farmworkers don't speak Spanish but rather any of the indigenous languages of southern Mexico. They come mainly from the state of Oaxaca, where 16 indigenous languages are recognized. The most spoken are Mixteco, Zapoteco and Triqui, languages you can hear on the streets of California cities such as Madera, Arvin and Greenfield.
These immigrants bring their labor skills and knowledge, as well as their ancestral culture, including their amazing gastronomy. Their contribution to the economy of the country is crucial, as well as their cultural contribution to tame rural towns.
Dangerous Work
Working in the fields is risky. Farmworkers face extreme weather conditions. Several farmworkers died in California in recent years due to high temperatures; others suffered strokes. They also get contaminated by pesticides. Or get hurt—cuts are common among workers, and they can get infected.
This work produces "invisible" long-term injuries, such as arthritis and chronic back pain. And exhaustion. Farmworkers are constantly on the go, traveling to their work, from field to field, and having little sleep.
These issues make aging more complicated and painful.
"We notice among those coming back from working in the USA high levels of diabetes, obesity and high cholesterol," said Dr. Casildo Sandoval Cruz, a family doctor who works in several towns in Oaxaca.
"But these symptoms exist here too, in part because of the high consumption of carbohydrates and sugar, particularly sodas. This combination creates addiction. It is very common to see families coming back from the store with lots of junk food."
Dr. Sandoval says that he constantly asks his patients to return to their traditional way of eating healthy. However, people do not make the effort to change. Even some mothers feed their children mainly with baby formula—which contains carbohydrates and sugar—and regularly give sodas to their children.
Eating poorly and working under harsh conditions affect the life expectancy of a farmworker. That is why young farmworkers are more in demand.
According to the U.S. Department of Labor, the average age of farmworkers in America is 38. Workers older than 45 make up about 20% of the 2 million–3 million farmworkers in the country. The average life expectancy is 49 years old. Living longer means working longer.
Health Insurance
Undocumented farmworkers—at least 80% of the farmworkers nationwide—are not allowed to access Medicare or Medicaid. But even if they could, you can apply when you turn 65 years old. Those with labor contracts might have some kind of health insurance for as long as they have that particular job. And there is no 401K for those working in the fields.
The majority of farmworkers don't have health insurance. It comes as no surprise that they look for other options. To buy medicine, one needs a prescription, which is issued by a doctor. Because farmworkers don't have insurance, they don't go to a doctor. So they get their medicine from Mexico.
"Many people living in the United States ask us for medicine," said Dr. Sandoval. This is a common practice among Mexican immigrants. Medicine is brought by friends or relatives, or by people who sell it.
"[Those who live here] go first to the traditional doctor; they use herbal medicine. If it doesn't work, then they go to the doctor or the clinic."
According to Dr. Sandoval, because of the pandemic people are reluctant to go to the clinic and have become suspicious of doctors. Somehow, anti-vaccine propaganda was successful among the Mexican rural population.
How does this affect older farmworkers here and in Mexico? How is Covid affecting them? Do they trust vaccinations?
"There is no data about farmworkers' aging," said Dr. Sandoval.
"There are no gerontologists dedicated to aging immigrant farmworkers, not to mention dedicated about indigenous farmworkers," said Dr. Rivera.
So much for feeding America.
The lack of specialists and data deeply affect the quality and availability of elderly care for immigrant workers.
(Author's note: This article was written with the support of a journalism fellowship from the Gerontological Society of America, the Journalists Network on Generations and the Commonwealth Fund. Next month, we will cover the story of an aging farmworker, his illnesses and how his "safety network" (family and friends) helps him get through.)