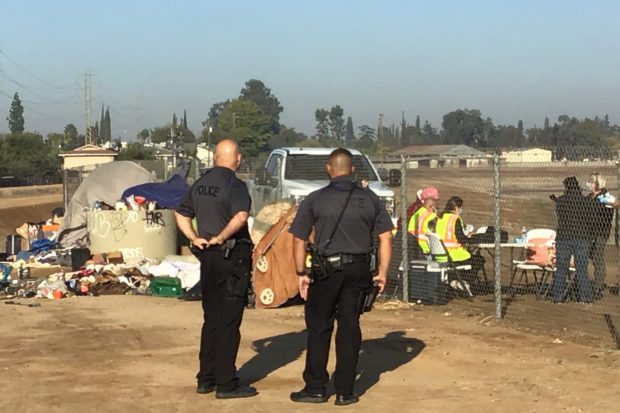 Update on the encampment sweep at Dakota and Palm avenues: The Fresno Irrigation District in conjunction with the Fresno Police Department raided an encampment of 30 people on the canal bank near the intersection of Palm and Dakota. Eighteen people were given shelter and 12 people left before the raid.
Homeless advocate Dez Martínez and several others were present to ensure fair treatment and adherence to City policy. The City refused to house additional people that day who showed up because they were not "on the list." This is outrageous because there were 12 beds available.
The shelter beds are located in motels recently renovated as part of Project Homekey, a misnomer because these are shelter beds, not homes. When I questioned city official H. Spees about the Centers for Disease Control guidelines on Covid spread to not break up encampments, he said that sheltering people helps prevent the spread. Actually, breaking up this camp helped increase the spread of Covid because 12 people moved on to other encampments before the raid occurred.
A recent report called "Project Homekey in Fresno, by Numbers" includes the Project Homekey providers and how many are sheltered at their locations. They are Golden State Triage Center (56 adults), Step Up 99 (79 adults and 109 children), Sun Lodge (138 adults) and Crossroads Village (which provided only these numbers—165 units and 30%–40% children).
Currently, all these facilities remain mostly full, with a few units opening occasionally. Of the unhoused served by these providers, 40 persons have exited into permanent housing on their own, 20 have moved into permanent housing with a subsidy, nine persons have reunited with their families and, sadly, four have passed away. Ninety participants who have exited, or almost 60%, have returned to the streets.
As reported in the April 2021 Community Alliance, the Fresno area has received funding to provide housing and services as follows: Fresno County, $35 million; Fresno-Madera Continuum of Care, $37 million; and the City of Fresno, $57 million. Total funding from state and federal public dollars is $158 million.
The mayor cites 435–465 total people sheltered by Project Homekey. In addition, the City cites 1,000 temporary shelter beds. These numbers beg the question, where did the $158 million go and why is there still no new permanent housing for the unhoused? To date, no permanent housing has been provided.
Millions have been squandered on providing temporary shelters and services using the continuum of care approach. It must be said that there are many reports of shelter staff being untrained, disrespectful and punitive. People are mistreated and kicked out for the slightest infraction.
A Housing First solution to the housing crisis has been ignored. According to the City, there are 4,000 unsheltered folks in Fresno. Yet, the City will not provide a temporary solution such as "safe camps" or even sanitation and water to the unhoused.
Fresno Director of Strategic Initiatives H. Spees said, "Sanctioning safe camps is not an option because of the potential danger of gangs, drugs and prostitution running rampant in the camps." His statement reflects ignorance and stereotyping, it denies the evidence-based success of sanctioned safe camps in many other cities.
There are many reasons that people become homeless: lack of affordable housing, poverty scale wages, physical and mental disabilities, victims of domestic abuse, suffering from PTSD, experiencing discrimination as members of the LGBTQ+ community, former foster care youth or suffering from drug addiction and alcohol abuse, which is often exacerbated after becoming homeless.
Homeless advocates will continue to demand sanitation, safe camps and immediate implementation of building cost-effective permanent housing using a Housing First approach.
In Continuum of Care programs, homeless people are expected to make progress on any mental health or addiction issues they might have and must pass a certain standard before being housed. The individual changes that these programs require are the sorts of things that are incredibly difficult to address when you are still contending with the anxiety of not having a home and being on the street.
In a Continuum of Care program only once you have demonstrated some change, which is incredibly difficult to achieve without housing stability, do these programs graduate you into permanent housing.
In a Housing First program, permanent housing is the starting point. People are provided independent housing immediately without having to fulfill mental health, sobriety, income, employment or other requirements. Social services such as rehab counseling and mental health support employment counseling are provided simultaneously off-site as needed.
In addition, a Housing First program provides a permanent solution, is more cost-effective than the Continuum of Care programs or doing nothing. Permanent supportive housing is provided by such a program. Providing housing results in cost savings because housed people are less likely to use emergency services, including hospitals, jails and emergency shelters.
One study found an average cost saving on emergency services of $31,545 per person housed in a Housing First program over two years. Another study found savings of $23,000 annually compared to the cost of shelter services.
*****
Bob McCloskey is a writer for the Community Alliance and an activist