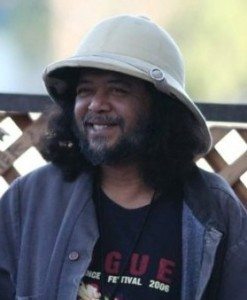 By: Renee Newlove
If you've ever been in the Tower District at the beginning of March, you might have noticed a buzz and a lot of people. That is the Rogue Festival, a nine-day independent performance and arts festival that takes place in the Tower District every year.
What is the Rogue? Nine years ago, founder Marcel Nunis and some of his theater buddies came back from the San Francisco Fringe Festival with plans to introduce such an event to Fresno. In 2002, the Rogue Festival came to life.
That first year, the Rogue had two venues, 17 different performance groups, 50 performances and 1,200 attendees. Following that successful first year, the Rogue Festival quickly gained momentum. In 2003, the City of Fresno gave the Rogue a proclamation, and Festivals.com announced that the Rogue Festival was "The Greatest Event on Earth."
By 2008, the Rogue Performance Festival welcomed 12,000 attendees with 13 venues hosting more than 250 performances. In 2010, which is the festival's ninth year, we are boasting 11 venues and almost 100 individual performance groups over nine days.
The Rogue Festival is an independent performance and arts festival. It is based on the "fringe festival" formula, in which performers from around the world apply to the festival, and the producers schedule and make performances happen. The Rogue Festival takes a "first come, first served" stance on our applications. The festival is non-juried, which means there is not a board or panel that tells an artist whether their work is approved for the festival. We have seen solo performances, dance groups, magic, music and so many different types of art that our collective heads swim.
The Rogue Festival uses the application money to secure venues, provide equipment such as lighting and sound, promote the festival and pay other fees to make the festival happen. Performers receive 100% of the ticket sales gathered at the door before each performance. The Rogue Festival does not take a cut from the ticket sales and feels that this encourages more independent art and performance.
We love the start-up playwrights, the diamond-in-the-rough painters, the colorful movie makers and the poetic dancers. Creating something new can be a daunting task, but the Rogue Festival provides a stage and an audience to those wanting to share their passion.
The ability to guarantee an audience might seem like a lofty claim, but the Rogue Festival has brought in such high-caliber performers and performances that our audiences come back each year trying to see more shows than they did the previous year. In 2009, we had a performer/longtime attendee see 26 shows-in between himself performing three times over the nine days of Rogue. An amazing accomplishment-but not uncommon among our attendees and performers.
A unique aspect of the Rogue Festival is its reliance on the involvement and volunteerism of the community. The Rogue Festival would not happen without many dedicated volunteers. It takes more than 100 volunteers to pull off the festival and usually that means long hours, little sleep and sometimes cranky partners. But when it all comes down to it, we volunteer because we love the Rogue.
The Rogue Festival also relies on support from the local businesses that open up their venues to our performers and artists. This year, we are working with The Starline, Veni Vidi Vici, Dianna's Dance Studio, the Spectrum Art Gallery, Ashtree Art Studios, Mike Brigg's Properties, Cal Arts Academy's Severance location, Full Circle Brewery, Fresno City College and our two newest venues, The Million Too (next to The Million Elephant) and KP's Actors Gym. These venues provide our performers stage space and wall space for their art.
There are also numerous businesses that are not performance spaces but that support the Rogue. We would love for you to visit them while you're out and about during the festival. All of our sponsors work hard to make the first two weekends in March the best it can be, and we are truly thankful for their continued support.
Volunteers are important as stated earlier, but there's a team of volunteers that work many months before our brigade of box office volunteers hit the venues. There are three major volunteer groups that make the Rogue Festival happen every year. The Board of Directors, the Hardcore and the Soft Core start thinking about the next year's Rogue Festival after the previous year's Rogue hangover dissipates (well, ideally).
The Hardcore is made up of the producers. This year, we have a team of three producers that have been at it since April. The Soft Core is our volunteer coordinators, venue managers, PR team, photographers and Web designer. Many of our Hard and Soft Core volunteers wear multiple hats and volunteer in more than one capacity, often throwing in a performance or two in the process. These tireless men and women are the brains behind the Rogue and the festival's evolution.
The future of the Rogue Festival looks brighter than ever. Our producers are looking to add more stages, expand into downtown and offer more opportunities for people in and around Fresno to partake in Rogue. To make these plans happen, we need you!
How can you help the Rogue Festival? First, get involved. Begin by coming to see a show this year. Volunteer to work a box office shift. Do you have theatrical tech experience or are you interested in learning?
Second, check us out on the Web. Visit our Web site at www.roguefestival.com, check out our Facebook or MySpace pages and contact our team. We are always looking for more hands to help with the work.
Finally, we need sponsorships. We have many wonderful people who help us financially, but with growth comes more costs. We would love for you to help. After each show, we have a "Begging Bucket" and just a few dollars or your spare change would help out immensely. We maintain the Rogue Festival because of audience members and supporters like you.
Now that you know all about the Rogue Festival, you'll want to know about this year's shows.
The Starline is hosting Tommy Nugent in "The Burning Man and the Reverend Nuge." This show takes you on a man's journey from Pentecostal preacher to atheist street magician and a trek to northern Nevada's Burning Man festival. Definitely a wild ride and one audiences should not miss. His shows are Friday, March 5, at 10 p.m.; Saturday, March 6, at 5:30 p.m.; Sunday, March 7, at 1 p.m.; Friday, March 12, at 8:30 p.m.; and Saturday, March 13, at 2:30 p.m. His show costs $7.
Performer and musician Blake Jones is gathering his friends together and talking about the local music scene. This Kingsburg native is known for his amazing show presence and often wacky productions. His shows each year are always hits at the Rogue, and this year he's taking it a step further. "The Underground Garden: Scene-makers, Stories and Fresno Rock n' Roll" will give you a talk-show style view into the minds and music of those who move and shake the music scene in Fresno. Playing at Veni Vidi Vici and costing $4, you can see Blake and his friends Friday, March 5, at 7:30 p.m.; Sunday, March 7 at 3:45 p.m.; and Saturday, March 13 at 5 p.m.
Music and dramatic performances are not all you'll get at the Rogue Festival. The San Joaquin Literary Association presents poetry and prose for your listening enjoyment. Members of the MFA in Creative Writing program at Fresno State always bring an eclectic group of stories and poetry that will move your senses. A definite must-see show. They will read at the Spectrum Art Gallery on Saturday, March 6, at 8:45 p.m.; Sunday, March 7, at 7:30 p.m.; and Saturday, March 13 at 2:30 p.m. Help these students out with the $4 ticket cost.
There are so many more performances that it is impossible to touch on them all. The shows, times and dates of performances will be available on the Rogue Map, which is your guide to the 2010 Rogue Festival, and on our Web site, www.roguefestival.com.
The Rogue Festival kicks off with the March ArtHop on March 4 at Ashtree Art Studios followed by One Big Rogue Opening at Full Circle Brewery. Both events are free. The festival performances start on March 5 and end on March 13 with One Big Rogue Party. Frankly, our volunteers love to let their hair down and kick up their feet after a Rogue well done. Check out the shows we have for you this year, and come out and get your Rogue on.