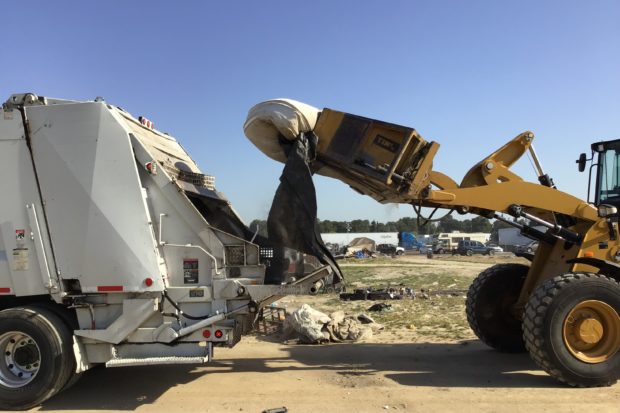 On April 7, a massive fleet of California Highway Patrol cars, Fresno Police Department cars, public works vehicles, trash trucks, skip loaders and other heavy equipment arrived in the early morning hours to evict and remove 25-plus unhoused residents of an encampment community called Camp 180 in West Fresno.
Dozens of City employees, both salaried and hourly, were present as they were the day before when the encampment sweep and "trash removal" began. The camp was located in a remote industrial area near Highway 180 and has existed for about two years. Many of the residents have lived there for some time, and it was a real community of people supporting each other. The question is, why now?
The obvious answer is retaliation and vindictiveness by the City of Fresno. The encampment was the residence of Lewis Brown, the lead plaintiff in a class-action lawsuit against the City.
The case was filed in March and widely publicized. Soon after, law enforcement officials arrived at the encampment community and announced their intent to shut it down. Camp residents were told that no housing would be offered.
On March 31, the City posted an announcement: "The City of Fresno has received complaints concerning individuals who are loitering near or residing in temporary shelters that have been constructed. Any persons in this area may be trespassing and will need to immediately move off this site and remove any personal property they own. On 4/6/22, at 8:30 am, the City of Fresno will seek the voluntary cooperation of any individuals who remain on-site to relocate, and will enforce trespass laws against any individual who fails or refuses to move off this site."
A subsequent notice said the property would be stored by the City, but on April 7, the second day of the sweep, I witnessed a lot of personal property being destroyed and put into trash trucks and containers.
I personally assisted many individuals attempting to save their only possessions including an elderly, disabled man who complied with the City's order to vacate. I used my truck to move all his property to the back of his relative's apartment, where half was later stolen and the other half was taken by the police and thrown away. Everything he owned in life was taken, including his ID and debit card.
He returned to the destroyed encampment on April 8 seeking shelter and was initially denied, however, through the efforts of homeless advocate Dez Martinez and other advocates on the scene he got a room at one of the motels being used as shelters.
To be clear, it was the City's intent, from the beginning, to destroy this encampment, offer no shelter and simply disperse people into the neighborhoods. I e-mailed the mayor, and his response to my inquiry as to why the City was not offering shelter was "private property," just two words, which I assume meant that because the encampment was on private property, the City did not have to comply with the Martin v. Boise court decision that requires cities to offer shelter before destroying encampments.
In the author's opinion, shelter should have been offered, as the intent of the decision is to protect the constitutional rights of the unhoused community. No one came in the days prior to the raid to offer shelter. No one from the Poverello House Outreach Team came to the camp.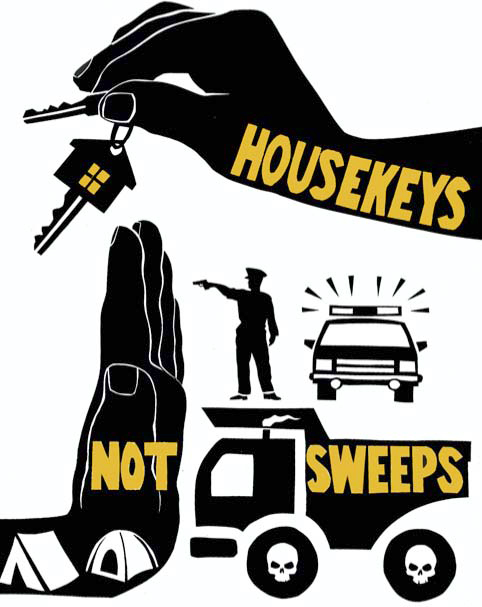 It wasn't until April 6 when camp residents staged a vocal protest, and several residents, in a brave act of civil disobedience, lay down in front of a trash truck, blocking its path, when things changed.
Fresno City Council Member Miguel Arias had just arrived on the scene and observed the action. When I informed him that no shelter was being offered, he acted surprised and said he would talk to the mayor, however, it wasn't until Martinez, several other advocates and several residents of the encampment showed up and threatened to disrupt the mayor's press conference at Chaffee Zoo that the City agreed to offer shelter to those displaced by the sweep.
Shelter was finally arranged for 25 people on April 8. However, as in every encampment sweep, many individuals left before the sweep, moved to other locations nearby and suffered immense disruption to their lives, including the loss of their property.
This latest sweep was cruel and costly. Not only cruel to the residents as the whole three-day experience was highly stressful for everyone due to the uncertainty but also costly in terms of property loss for the unhoused and the cost to taxpayers.
I would estimate that over the three-day period, 75–100 public employees or contract employees were involved in the sweep, including top City officials with average salaries of $100,000 per year, numerous law enforcement personnel with big salary and benefits packages, well-paid public works employees and other city, state and contract employees.
All to implement a sweep at an encampment of about 25 people? What is the cost? It will take an information request and audit to find out.
City leaders estimate that Fresno's homeless population is about 4,200, whereas the Fresno-Madera homeless population is about 5,200.
Between July 2019 and December 2021, the Fresno area received more than $144 million from federal, state and local sources to increase housing and services for the unhoused in 2021. These funds went to the City, the County, the Fresno Madera Continuum of Care (FMCoC) and the Fresno Housing Authority.
The City of Fresno received $60 million of that funding, which it used to add around 600 emergency temporary shelter beds and some transitional housing. This is called Project Home Key and involves converting motels into housing for the homeless.
No permanent housing has been provided, and all the transitional, temporary housing provided now in the renovated motels will end because the motels allegedly are to be converted for sale, two years after opening as a shelter.
The process has already begun with the scheduled conversion for sale of the Days Inn, now called the Welcome Inn, in June, seven months earlier than promised. Instead of creating more housing for the unhoused, incredibly, the City is reducing it at this time.
The City also claims it used some of the funds to assist about 8,000 people with one or more services between July 2019 and December 2021, however, some people could have been double-counted if they engaged with multiple City services.
Also, the City received another $172 million in ARPA (American Rescue Plan Act) funds and the County received $192 million in such funds. As the ARPA funding is intended for "underserved communities," certainly some of this funding could be used for housing and homeless services.
The County, the City, the FMCoC and the Fresno Housing Authority need to use all available resources to shelter and house the growing population of unhoused people or the number of encampments will rise. Instead of razing encampments, the County and the City could approve and establish safe camps with services.
Understanding the reasons why individuals experiencing homelessness live in encampments and how servicing encampments can be part of a response to homelessness is important to developing a more compassionate and effective temporary solution until more housing is built and a Housing First program is established.
Sweeping encampments without providing comprehensive support are an immense and costly failure. The County and the City can direct the same resources toward assisting people with moving out of encampments and into safe, quality and affordable housing. Funding sources are available, and more funding is coming from the state.
Fresno County recently released a document called "Updated Priorities to Address Homelessness Countywide." The focus is as follows:
Outreach, informed by reporting parties and law enforcement to engage, provide services and hygiene kits at encampments, linkage to programs/resources, track key data related to homelessness and service needs, and strengthen medical outreach resources.
Relocation and sanitation, through continued enforcement of ordinances to address hazardous or unsanitary conditions, which constitute fire, health, and/or safety risks.
Transportation, to connect individuals to services and maintain engagement.
Safe shelters/triage centers, through coordination with cities and partnerships with community faith-based organizations and include emergency housing for those who are not ambulatory and have health needs.
Transitional and affordable housing that includes exploration of independent living, rehabilitation of existing homes, and other housing opportunities.
Wrap around services to include substance use disorder and mental health services that continue once individuals exit programs and/or jail and expand diversion from homelessness and rapid rehousing services.
Job placement and training, to train/retrain individuals entering/re-entering the workforce.
Some of the priorities are beneficial and can be supported, however, the second priority, relocation and sanitation, is code for increased sweeps and harassment.
The fourth priority would provide shelters and triage centers in partnership with faith-based organizations, which calls into question the separation of church and state. Also, a faith-based approach does not work for all and many refuse faith-based services because of the judging and castigation that comes with it.
The City will soon release its new housing plan, and there is a new effort at cross-sector coordination between the County, the City, the FMCoC and other agencies called MARCH (Multi-Agency Response to Community Homelessness). This multi-agency plan is to be released soon and is a step in the right direction. The City and the County have long been criticized for a lack of coordination.
As these plans are released, we will continue to keep readers informed and follow the money.