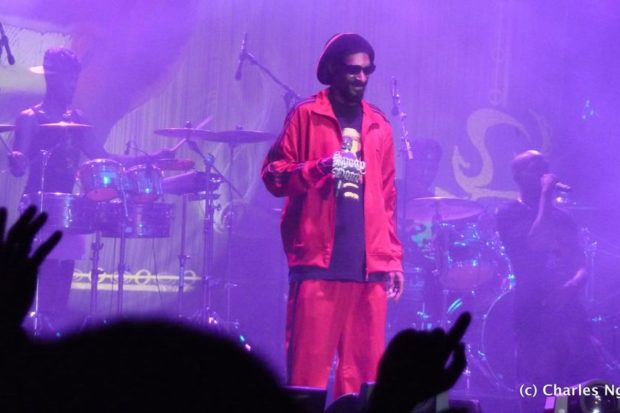 By Andy Hansen-Smith
A music concert called Grizzly Fest in the vein of a smaller Coachella or Napa Valley's Bottle Rock is scheduled for May 18–19 at Woodward Park but not without controversy.
Was the Fresno City Council paid off to change the noise ordinance?
Is Woodward Park a regional park or just a neighborhood park?
Was racism a factor in trying to keep the concert downtown?
Is the commercialization of parks a positive issue?
Is Council Members Garry Bredefeld and Steve Brandau's vote against Grizzly Fest another example of why the Fresno Chamber of Commerce gave them the lowest score on business-friendly votes?
The featured acts include international star Snoop Dogg, Foster the People (of "Pumped Up Kicks" fame), Nas and Fresno's own Fawshawn.
Neighbors of the park complained about the permission given by City of Fresno staff to allow the concert to go until midnight because Fresno's noise ordinance requires quiet after 10 p.m.
Grizzly Fest has occurred the past few years at minor league baseball's Chukchansi Park to great success attracting 11,000 patrons. Local promoters' plans to make this a two-day event, which conflicted with the minor league baseball season, plus the cost to repair the field for the Grizzlies, necessitated a move to another location.
Woodward Park fit the bill with its size and location near Highway 41. Promoters estimate $2 million in revenue for local hotels and restaurants as well as $100,000 for the cash-starved Fresno Parks and Recreation (PARCS) department. Promoters will cover the cost of cleanup, security and barricades to limit access to surrounding neighborhoods.
Bredefeld, in whose district the regional park is located, wanted the concert to return to its downtown location, perhaps on the newly renovated Fulton Street, so fewer residents would be affected by noise and traffic. Promoters worried about providing security for the tall buildings along Fulton Street after the Las Vegas shooting.
Some public commenters wondered if the push to return to downtown was racially motivated by some Woodward Park neighbors due to the headliner rapper Snoop Dogg along with his drug use and criminal convictions.
One City Council public commenter quoted obscenity-laced Snoop Dogg lyrics and was asked to stop by Council President Esmeralda Soria. As he was escorted out by security, he said, "I can't say these lyrics in Council chambers, but Snoop Dogg can at Woodward Park?"
Another neighbor said he is from the Woodstock era and loves rock music but couldn't see that it is right for him to blast Lawrence Welk from his car stereo in a neighborhood at midnight and didn't see how this concert should be allowed as well.
A pro-concert commenter responded that this neighbor's Woodstock-loving 25-year-old self would tell him today to "go to the concert and party!"
The chamber became especially heated as a citizen accused Council Members Bredefeld, Brandau and Clint Olivier of being racist. African-American Council Member Oliver Baines defended the three and said they are not racists.
A neighbor brought up the fact that Woodward Park is becoming more commercialized with the building of the BMX track and MMA fights that are allowed and this concert would be another bad precedent.
Some comments suggested that because the City's Park Department received $100,000 for allowing the concert and changing the noise ordinance from 10 p.m. to midnight, the City was bought off.
Council Member Baines said the Council makes exceptions like this all the time, whether it is a rezone or a plan amendment.
Council Member Paul Caprioglio said he would love to have concerts of this type at Granite Park in his district and loved the past two Grizzly Fests.
Assistant City Manager Bruce Rudd said having a concert of this size at a park is a first for the city and perhaps after the event a debriefing workshop to see what went well and what could be improved upon would be beneficial. He mentioned that the Two City Marathon had a lot of opposition from neighbors the first time it happened, but now it is considered a signature event in the area.
One of the promoters lives half a mile from the park and promised to do a quality show. He offered to speak to neighbors and even give them tickets to the concert.
In the past two weeks, Bredefeld, Brandau and fellow Council Member Luis Chavez worked out a deal with the promoters to cut off the concert at 11:30 p.m. with fines of $1,000 for every minute after 11:30 p.m., $10,000 for every minute after 11:40 p.m. and $100,000 for every minute after midnight.
The Council passed the license agreement for the special event at Woodward Park 5-2 with Bredefeld and Brandau voting against it despite the negotiated cut off time and the huge revenue boost to the restaurants and hotels this concert will bring.
*****
Andy Hansen-Smith was born and raised in Fresno. He boomeranged back into town from Oregon in 2002. Contact him at ahansensmith@gmail.com.