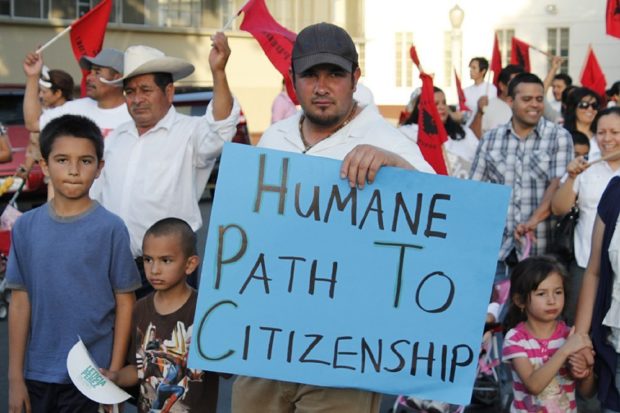 By Samuel Molina
Congress again failed to deliver meaningful legislation addressing immigration. Despite the fact that conservatives hold a majority in Congress, it does not seem that Republicans can reach an accord within their own party. However, instead of waiting for Congress to make progress, there are many things that can be done at the State level and within the City of Fresno for our immigrant communities.
Fresno is a city with a rich and diverse population; within the city of Fresno, there are more than 100 languages spoken. Fresno would not be what it is today without its immigrant community and the city of Fresno could do more to ensure that immigrants become better adjusted and more integrated into their communities.
Two things happened last year at the local level that many might have missed. First, Fresno City Council Member Steve Brandau introduced a resolution against California SB54, most commonly known as the Sanctuary State bill, which failed before a vote could be taken. The second was the "Safe Place" resolution, which was passed by the Fresno Unified School District (FUSD) unanimously in support of its immigrant students.
The "Safe Place" resolution led to the establishment of the Dream Center, which is now housed inside Manchester Mall. The "Safe Place" resolution passed by the Fresno Unified School District is an example of how we can support immigrants locally and make a difference. The Fresno City Council can also take the steps necessary to make positive changes for Fresno's immigrants.
It is time for Fresno to establish an Office of Immigrant Affairs. Many cities across the country have already made strides to offer assistance to immigrants. Cities such as San Francisco, Los Angeles, Boston, San Jose and many more have benefitted from the immigrant friendly policies they've passed.
The Office of Immigrant Affairs would be responsible for connecting immigrants to important and pertinent information and/or services. Acting as a clearinghouse for individuals, the office would play a pivotal role in the lives of immigrants wishing to integrate.
Each month, more than 800 legal permanent residents (more than 8,000 a year), from as far as Kern County to San Joaquin County, come to Valdez Hall to take the oath of citizenship. There are more than 60,000 legal permanent residents and nearly 39,000 DACA (Deferred Action of Childhood Arrivals) recipients within Fresno County who could benefit from such an office and from obtaining citizenship.
Citizenship provides a powerful platform for asset building and economic and social cohesion. Naturalized citizens earn 45% more than non-citizen immigrants. The American Immigration Council found that high-skilled immigrants push up wages for native-born Americans. They do not only create jobs for native-born Americans, but areas and industries with higher concentrations of high-skilled immigrants have seen wage growth for native-born Americans that has far outpaced the rest of the country.
Fresno can take a positive step forward and prove to the immigrant community that it appreciates their contributions, that it believes in them and that it is not going to cave into anti-immigrant fear or hate rhetoric. An Office of Immigrant Affairs will accelerate the pace at which our immigrant brothers/sisters integrate into the Fresno culture.
As a Fresno native, I have appreciated the diversity that comes with living here: America's cities are great because we have embraced immigration and diversity. We are stronger when we integrate immigrants into the civic, social, cultural and economic fabric of our cities. We need stop wasting time waiting on Congress to take action; we need to stop sitting on the benches and demand more from our local elected leaders and pave a new way for the immigrants of Fresno.
The time is now for Fresno to show the rest of the country where its values lie—that it believes in keeping families together, empowering and uplifting one another, respecting our differences and valuing each other's contribution to our great city. We should show support to anyone who wants to work hard and invest in our future—no matter who they are, where they come from or what language they speak.
*****
Samuel Molina is the state director of Mi Familia Vota. Contact him at samuelm@mifamiliavota. org or on Twitter @SMolinafca. Like/follow Mi Familia Vota on Facebook/Twitter @MiFamiliaVota.