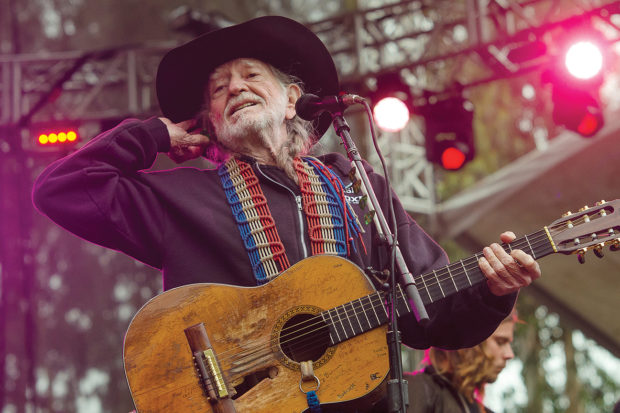 By Michael D. Evans
With shelter-in-place and venues being shut down, live music hasn't been an option since the pandemic began. And YouTube concerts just aren't the real thing, although I am thankful that we at least have those.
We have been further deprived by the loss of too many musical icons in this all-too-painful year. The Americana community has been hit particularly hard—losing John Prine, David Olney, Jerry Jeff Walker, Justin Townes Earle and Billy Joe Shaver.
In a podcast tribute to Shaver, Otis Gibbs suggested that "if anybody is around Willie Nelson now, or Tom T. Hall, please keep them in a medically sealed room and take care of them. We need all the legends we can get" in these difficult times.
In addition to some of Americana's best, during the year we lost Little Richard ("Lucille"), Kenny Rogers ("The Gambler"), Bill Withers ("Lean on Me"), Peter Green (co-founder of Fleetwood Mac), Helen Reddy ("I Am Woman"), Johnny Nash ("I Can See Clearly Now"), Eddie Van Halen (Van Halen, "Beat It") and Spencer Davis (of the 1960s group that bore his name).
John Prine
John Prine has been a part of our musical lives for longer than most of us can remember. A natural storyteller, he also employs infectious melodies through which to relay his tales. His catalog is filled with gems.
Who can forget the legendary "Angel from Montgomery" (made most popular by Bonnie Raitt); the peaceful waters of "Lake Marie"; the discovery of the Beatles and recording with the Rolling Stones in "Jesus: The Missing Years"; or the poignant lyrics of "Sam Stone's Story" ("There's a hole in Daddy's arm where all the money goes").
I last saw Prine about three years ago at Merlefest, the gold standard of east-coast music festivals. Although up in years and in poor health, he brought everything he had to the performance. It was a moving tribute to his own music.
"After a song or two, even the drunks in the room start to listen to [Prine's] lyrics. And then he has you," noted Roger Ebert in a 1970 review (yes, that Roger Ebert, sidelining as a music critic).
David Olney
In the mid-1990s, I heard Emmylou Harris perform "Jerusalem Tomorrow" about a traveling con preacher who is forced to rethink his scam when he encounters the real thing. Then I learned it was written by David Olney and that Harris had covered another of his songs, "Deeper Well," on the same album. After listening to Olney's originals, I was hooked.
Another wonderful storyteller, his live version of "Sweet Poison," with an intro on the hemlock poisoning of Socrates, is outstanding. And who can forget this lyric: "I never said I would be honest, but at least I told you no lies."
Townes Van Zandt called Olney "one of the best songwriters I've ever heard" putting him in the same company as Mozart, Lightnin' Hopkins and Bob Dylan.
I once hired an applicant for an editorial position because he was familiar with Olney's music. (I hope HR isn't reading this.)
Olney remains the only artist I have ever seen live to cover a Bee Gees song (their debut, "New York Mining Disaster of 1941"). It was an exceptional interpretation of one of their best songs.
Olney died in January of this year on stage in the third song of his set.
Jerry Jeff Walker
Perhaps best known for penning the hugely popular and oft-covered "Mr. Bojangles" (most famously by the Nitty Gritty Dirt Band), Jerry Jeff Walker went from the Greenwich Village scene of the 1960s to the outlaw country movement of the 1970s. Although commercial success largely eluded him, he became one of the many Texas legends to surface from the outlaw country scene.
Lucinda Williams says that his songs "had so much humor, and they were anthems. There was a feeling of 'us against them.'"
He is famously referenced in the lyrics of a Jennings song: "between Hank Williams' pain songs and Jerry Jeff's train songs and 'Blue Eyes Cryin'' in the rain, out in Luckenbach, Texas, there ain't nobody feeling no pain."
"Jerry Jeff was like the Sam Peckinpah of music," says Ray Wylie Hubbard. "He was going to do it his way."
Justin Townes Earle
When you're the son of Steve Earle and you're named after Townes Van Zandt, there are no doubt big expectations of you. The younger Earle developed his own style and gathered a significant following, introducing Americana to a younger audience in a way that hadn't happened since O Brother, Where Art Thou.
Hardly Strictly Bluegrass, where he performed many times, on its Web site remembered him as "a beautiful soul and a singular talent."
As with far too many, we lost him to the demons of his soul at much too early an age. Having experienced substance abuse issues since being a teenager, he once told an interviewer, "I've lived the majority of my life in the dark rather than the light."
His lyrics express that complexity: "I am my father's son. I've never known when to shut up. I've got my mama's eyes…and I still see wrong from right."
"It's a hard family to rebel in," Townes Earle said referencing his famously rebellious father, "I could have become an accountant. Or I could have become a Republican—that would have really pissed him off."
Billy Joe Shaver
For me, Billy Joe Shaver was the hardest loss. Nothing pleases me more than a new musical discovery, and although a latecomer to his music (the early 2000s), I was an impassioned convert. I have often referred to Shaver as the Jim Morrison, Ian Curtis and Kurt Cobain of country music.
After Waylon Jennings, in a drug-induced state, agreed to record an album of a then unknown Shaver's songs, Shaver pestered Jennings until that happened. The resulting album was Honky Tonk Heroes, and suddenly Shavers was "discovered."
Although he led a troubled life that included losing his fellow musician son to a drug overdose, he wrote insightful lyrics on pretty much any topic. "The devil made me do it the first time; the second time I done it on my own" expresses his owning up to his own demons. He was an engaging songwriter whether it be the crafty ("Yesterday, Tomorrow Was Today") or the popular ("Georgia on a Fast Train").
When the proselytizers come to my door pitching the wonders of the afterlife, I reply: "I've seen Billy Joe Shaver live at a coffee house in Austin, Texas. Heaven? Been there. Done that."
In the beautiful "Live Forever," covered by Robert Duvall in the movie Crazy Heart, Shaver essentially writes his own epitaph: "You're gonna miss me when I'm gone. Nobody here will ever find me, but I'll always be around. Just like the songs I leave behind me, I'm gonna live forever now."
*****
Michael D. Evans is a political activist, editor and writer. And he enjoys good tunes. Contact him at evansm@usa.net.