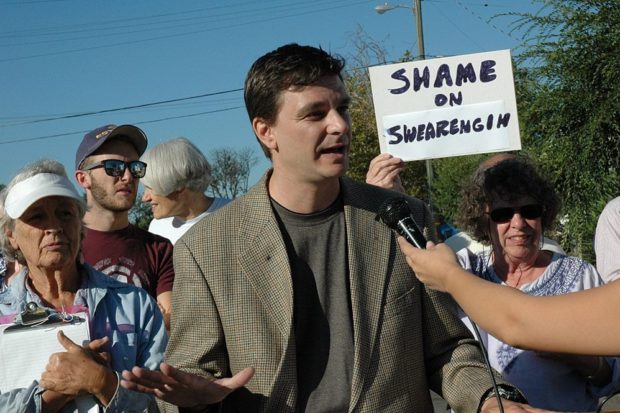 By Mike Rhodes
Sergeant Robert Dewey, with the Fresno Police Department (FPD), has produced a PowerPoint presentation that identifies Chris Breedlove of the College Community Congregational Church as a leader in a resistance movement to stop the demolition of the Grain Silo homeless encampment. The presentation, shown to several community groups, identifies the Brown Berets as the "muscle" behind the struggle to stop the city from destroying this homeless encampment.
Breedlove says he felt concerned by the tone of the presentation. In a slide entitled "The Final Line in the Sand!" the FPD claimed that there were "12–15 advocates on hand, intermixed with members of the Brown Berets for 'muscle.'"
The slide goes on to say that the group was "led by Pastor Chris Breedlove of the College Community Congregational Church." Breedlove said he was "outraged, intimidated and concerned that a citizen not charged of any crime, and not under any investigation, could be named and listed in a public document by the Fresno Police Department in what is tantamount to a smear campaign or being proscribed."
The American Civil Liberties Union's (ACLU) staff attorney in Fresno, Novella Coleman, would not comment about whether the characterization of Breedlove amounted to defamation but did say that "the city has an unfortunate history of violating the rights of homeless persons by confiscating and destroying their property. So it is troubling that the city may be targeting local advocates who seek to hold the city accountable during these so-called cleanups."
According to Breedlove, it is intimidating to be targeted by the police as the leader of a lawless group. He said, "I worry about how my future efforts, issues and ministries will be adversely impacted by my congregation and myself being negatively branded by the FPD in such a public way.
"I also worry about the well-being of my family. What if we needed an emergency response by the FPD? Is there a bias among the FPD against progressives such as myself? Is there a specific FPD bias toward my ministry?"
Mario Manganiello, who is associated with but not a member of the Brown Berets, was at the Grain Silo encampment during the demolition mentioned in the FPD presentation. Manganiello said that the Brown Berets did not organize a presence there that day and is upset that the FPD is portraying them as some kind of violent gang. "They are saying that we were the 'muscle' and pushing for violence and that is absolutely not true," Manganiello said.
"My concern is that, with that wording, they are trying to say we are trying to promote violence or encourage other people to be violent towards the FPD," Manganiello said. "But, our stance has always been peaceful at rallies and marches, and we are not a violent organization. We are for nonviolent peaceful protests."
Ralphy Avitia, a member of the Fresno Brown Berets, said, "I am afraid that the FPD will do as was done in the '60s and '70s with the more left-wing radical groups such as the Black Panther Party and classify us as the 'bad civil rights groups' and thus discredit us. I am hopeful that in this age of the Internet we can fight back against such a characterization. Our youth are better equipped to fight with a smart phone than with a gun as Anonymous has demonstrated. So unless we allow them to manipulate our image, we still have a chance to win the public's trust."
Speaking about the Brown Berets' role in the community, Avitia said it is "to organize, educate and serve communities that are oppressed. Unlike past Beret organizations, we are not nationalistic, homophobic, sexist or conforming to institutions that would oppress others. Also, unlike most groups, we do support the people's right to self-defense and thus will not consider ourselves nonviolent."
Responding to a California Public Records Act request, the FPD provided the Community Alliance with a version of the PowerPoint presentation that did not include the information that offended Breedlove and the Brown Berets. Dewey, who produced the presentation, "An Overview of Our Mission, Accomplishments and Goals," says he changed the references to Breedlove and the Brown Berets, some photos and other minor details.
Dewey said he had reason to believe that Breedlove was the leader of the homeless advocate group because he had previously held a press conference on the issue and had negotiated with the attorney representing the City of Fresno about the Grain Silo homeless encampment. He added that the information has been removed from the PowerPoint presentation, and if Breedlove is upset he will apologize to him.
"I would apologize to Pastor Breedlove, to say that if that is not what was going on, if that was an assumption I made that was wrong, I apologize. I did take it out. I had been told by one or two other people that maybe it should be a little more generic. That is why I decided to go ahead and change it."
The Brown Berets did not have an organized presence at the Grain Silo homeless encampment on the day of the demolition, but they also caught the attention of Dewey and the FPD. Dewey said, "As far as the muscle, we did recognize people that we had seen in the past that were wearing obvious brown handkerchiefs and brown berets. I have done some dignitary protection in the past, and I know what it looks like when one person is protecting others. That is what it appeared to us as."
Manganiello said the purpose of the group he was with on that day was to give the homeless enough time to move their property. "We were able to stall them (the City of Fresno) for a long enough time so the homeless could put their belongings into storage, so that was the ultimate outcome," Manganiello said.
Dewey saw the situation differently. "As a law enforcement officer, I can't allow that. I can't allow somebody else to control the tempo on a scene that I'm supposed to be in control of. The fact of the matter is that we had a trespassing issue," Dewey said.
About the characterization of the Brown Berets as being the muscle, he said, "If they are upset about this, I apologize. I will apologize to their face if they want me to speak to them. I've got no problem with that."
During the Oct. 23, 2013, demolition of the Grain Silo homeless encampment, Breedlove took video, including a scene where he asked an on-duty police officer for his name and badge number. The officer ignored the request. ACLU attorney Coleman, citing California Penal Code §830.10, says that "any uniformed peace officer shall wear a badge, nameplate, or other device which bears clearly on its face the identification number or name of the officer."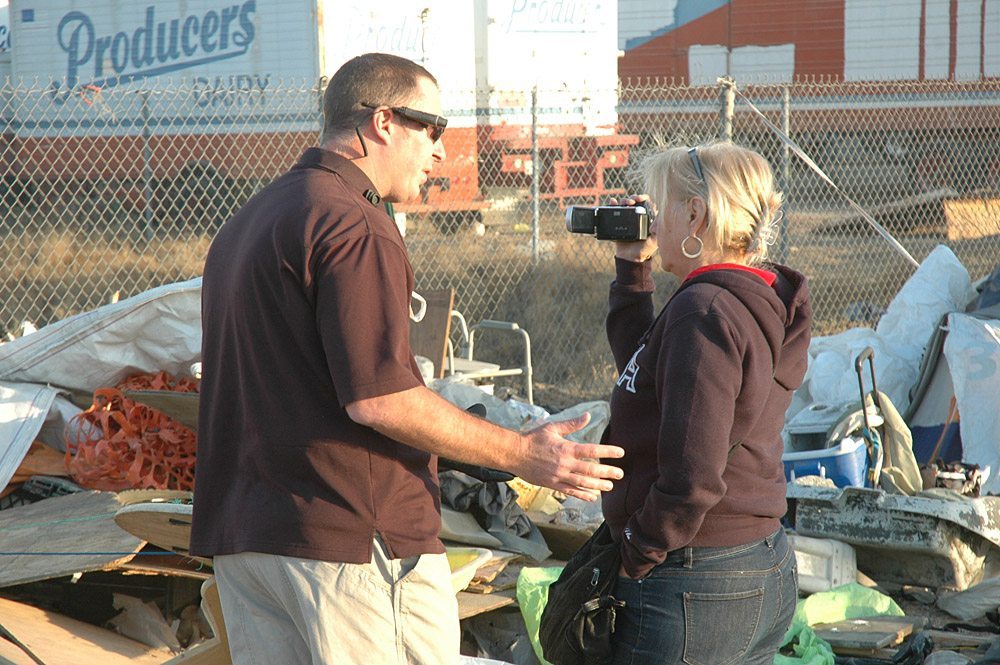 Dewey says that officer Nicholas El-Helou was on duty and should have identified himself but didn't because he was in plain clothes and was told not to "engage" unless there were problems. Dewey is confident that this problem will not be repeated.
Dewey shows the PowerPoint presentation to community groups in an effort to explain the dynamics taking place at the FPD, in the City of Fresno's work to end homelessness. He says that he initially saw the role of the FPD Homeless Task Force as eliminating the encampments and then to stop them from reemerging. "We can't just ignore the underlying issue of the fact that we still have this huge homeless population that has nowhere to go," Dewey said.
"We very quickly evolved from 'OK, let's move these people along and keep the streets clean.' That was easy! I truly think that was the easy part. That is what we do, we are cops, right? The hard part was, but what do we do now? What do we do after the dust is settled? We quickly transitioned into social work and that is a very difficult hat for us to wear."
There is a recognition by Dewey and other members of the FPD Homeless Task Force that they will not succeed by traditional police methods alone. They do cite statistics like the 1,333 shopping carts they have removed, 125 felony arrests and 266 new homeless encampments they have cleared, but they get more excited talking about the one-on-one encounters that have led to homeless people getting the help they need to get off the streets.
The FPD Homeless Task Force has no professional training as social workers, their "tough love" approach to ending homelessness has serious limitations and the sometimes awkward encounters with homeless advocates makes them a less-than-ideal group to be on the front line in the City of Fresno's approach to ending homelessness.
Breedlove says, "It is a truly a complex and devastating human rights problem of suffering. Individual citizens need to be engaged. Communities of faith need to be involved. But, elected officials cannot abdicate their elected responsibility on this issue as well.
"There needs to be a multifaceted approach for such a problem of immense complexity. Housing first initiatives are one approach, but that alone will not be a total remedy. Advocates have detailed what an organized safe and secure campsite would involve, but such sincere offers of collaboration have been ignored by all City Council members and county Board of Supervisors' members to date.
"Mayor Ashley Swearengin and City Manager Bruce Rudd only exacerbate the lives of homeless by demolishing their communities. Some within the religious fabric of Fresno believe that homeless advocates should collaborate with the city toward solutions. I'm of the mind-set that it's difficult to collaborate with an administration that sends bulldozers and intimidating task forces barreling down on a person that you're trying to help. The City of Fresno first needs to halt harmful and costly policies toward the homeless."
*****
Mike Rhodes is a regular writer and photographer for the Community Alliance newspaper. Contact him at mikerhodes@comcast.net.