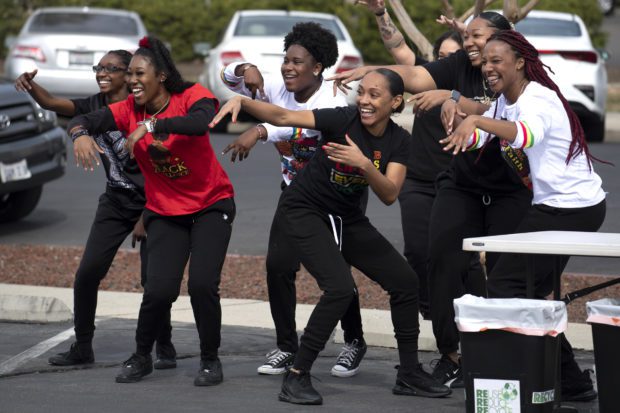 In celebration of Black History Month, Fresno County Democrats hosted an event honoring Black elected officials (BEOs) and Black candidates seeking office this year. Held in the parking lot of the Fresno County Democratic Headquarters in downtown Fresno, the event was attended by approximately 120 people.
Attending BEOs included Fresno County Board of Education Trustee Kimberly Tapscott-Munson and Central Unified School District Trustee Shawn Brooks. Malia Cohen, a member of the state Board of Equalization and a candidate for state controller, participated by phone.
Also attending were Black political candidates: Lourin Hubbard, who is running in the Congressional District 22 special election to replace Devin Nunes; Dr. Daren Miller, who is running for Fresno County superintendent of schools; and Terri Edwards, who is seeking the Fresno Unified School District Trustee Area 7 seat.
As Black history is American history, the event also featured elected officials and candidates from other cultures. State Senator Anna Caballero, Kingsburg City Council Member Jewel Hurtado, Fresno County Board of Supervisors District 4 candidate Jose Antonio Ramirez and Fresno Unified School District Trustee Area 5 candidate Andy Levine addressed the assembled audience.
In addition to hearing from the public officials, the event featured Heaven Hamilton singing the Black National Anthem, the Purposed II Praise dance troupe and the Fresno African Drummers. Each group added its own flair to the day's activities.
The event organizer, Bianca Orejel, said that "this event was important for us because we wanted to give a platform for Black elected officials and candidates. We wanted to acknowledge the history behind the month and simultaneously amplify Black voices."
"It is important that we never forget the contributions that have been made by our Black constituents past and present," noted Tapscott-Munson. "Black history is a part of Americans' history, which we should recollect and celebrate every day."
"People of color need to see themselves reflected in the country's struggle, success, economy, growth and power," stated Caballero. "However, persistent disinvestment, neglect and a lack of representation have left our communities of color struggling to find their voice.
"Celebrating Black History Month in Fresno County—a region with deep African American roots—is an excellent opportunity to celebrate, educate and mobilize our friends and neighbors to stand up and take action. We must do better! The future of our children and grandchildren depends on it."