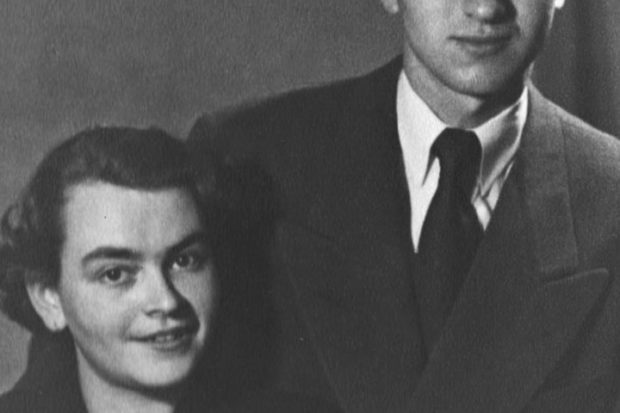 "You are hereby required to report to the Gestapo Regional Headquarters in Munich, Brienner Street 50 (in the courtyard) on January 17, 1945, no later than 15 o'clock so that you can be assigned to an urgent work detail."
My father, Ernst Roesch, got this letter when he was 18 years old, at a time when his mother, Amalie, had already been sent to the Theresienstadt concentration camp. Soon after he appeared at the Gestapo offices, he was taken to Wolmirsleben, a slave labor camp close to the city of Magdeburg in northern Germany.
Once there, he and other slave laborers were tasked with transforming salt mines in the area into munitions factories—production sites that would provide components for V-2 rockets, among other things. For a few months, he was forced to work under grueling conditions—400 meters underground in Shaft Seven of the Grube Maria salt mine.
The U.S. Army liberated the Wolmirsleben camp in mid-April 1945, at which time Ernst was able to trek back to Munich and locate his mother, who, remarkably, had also survived her ordeal in Theresienstadt.
Growing up here in California years later, my siblings and I only had a shadowy understanding of what both of them had endured and how they'd survived. We gradually found out that our grandmother Amalie was Jewish, that she'd married a Catholic man named Franz Roesch, and that our father, as a half-Jew, had also been subjected to the brutal racial policies of the Third Reich.
Our mother, Liselotte Peschel, was raised in a Catholic household and spared this treatment. Things could have turned out differently, though. Her father, Karl Peschel, was taking great risks by helping to smuggle Jews and gypsies out of the country.
Neither of our parents talked much about their earlier lives, about what they'd gone through in their own childhood and adolescence. When they passed away, it seemed that we'd never find out anything more.
All that changed in mid-2016, when my brother Tom and I were going through our childhood home in Lodi. Working our way through boxes in the entrance closet, we come across scores of carefully preserved letters that our parents had written to each other in the 1940s and early 1950s. Along with other material in the house—postcards, documents, photo albums—they illuminated our parents' lives and the turbulent and dangerous times they'd lived through.
Practically all of this material was in German, but that didn't present much of a hurdle. As a German instructor, I had the wherewithal to render everything in English so that Tom and everyone else in the family could benefit from this treasure trove of information.
Soon after Ernst and Amalie were liberated from the camps and met again in Munich, they emigrated to the United States. They stayed with relatives in New York City for a short time, then traveled across the country by train and wound up in Lodi, where Ernst found work at a tire retreading company called Super Mold.
It was then that Ernst began sending letters to Liselotte, whom he'd known back in Munich. She wrote back, then continued to write. Their friendship deepened; their bond became closer. My dad pretty much always ended his letters with his signature phrase: "Your Ernst, Who Is Always Faithful to You."
In 1951, he got another fateful letter—this time a draft notice from the U.S. Army. He did his basic training at Fort Ord, and originally his superiors intended to send him to Korea. The day before he was scheduled to ship out, though, they gave him a German test—which he aced—and then handed him a brand-new assignment.
Now he was headed for Berlin to work in U.S. military intelligence, which gave him the opportunity to meet Liselotte again after a five-year hiatus. They were engaged in November 1951, they married in October 1952, and a few weeks later they left Europe and traveled to the States, where they settled in Lodi.
In 2017, Richard Vezzolini, an instructor at Manchester GATE, found out about my family history and invited me to speak to his sixth graders, who were learning about the Holocaust. One thing led to another, and soon I was giving presentations in Fresno classrooms on a fairly regular basis.
Some of the show-and-tell items I brought with me always left a powerful impression on my audience. One of these, of course, was the letter from the Gestapo that my father had received. Another was a Jewish star that we found in our parents' safe deposit box; either Ernst or Amalie were compelled to wear it back then.
Something else that gave them a deeper understanding of that era was a postcard that Ernst wrote to Liselotte soon after he first arrived in the slave labor camp, one that bore an Adolf Hitler postage stamp and some Nazi propaganda. On it he'd written: "I'm rushing to send you these very, very affectionate Easter greetings. Here where I am, nothing at all has changed. Let's hope that we can see each other again soon!"
At the end of 2019, I published a book about our parents' correspondence and their lives, and I used my father's signature phrase for its title: Your Ernst, Who Is Always Faithful to You: Letters from Another Time.
Soon after the book went live, I sent copies to some of our relatives in Germany. When they saw what it was about, they were startled. They had no idea that Amalie was Jewish and that she'd spent time in Theresienstadt nor did they know about my father's time in Wolmirsleben. Somehow, in the fog of war and autocratic rule, they'd been in the dark about this chapter of their own family's history.
Many others, it seems, are also in the dark these days about the scale and brutality of the Holocaust and the dangers that anti-Semitic leanings pose in our own time. For some, all of this might well look like something that happened long ago, in a distant historical period—as something no longer especially timely or topical.
Once, here in Fresno, I invited some fellow teachers over to my home on a Friday afternoon. Out of the blue, one of them, someone unaware of my background, began letting us know about Jews—what he felt about them, why he despised them.
Another time, on a field trip to San Francisco with a busload of students, I chatted with one of my parent chaperones. After a while he let me know that, for him, Hitler was underrated and underappreciated. "He really wasn't that bad at all."
Chilling for me is that this sort of casual, matter-of-fact anti-Semitism is far from extinct and that, were my siblings and I living in Germany 80 years ago, we could also have been its targets.