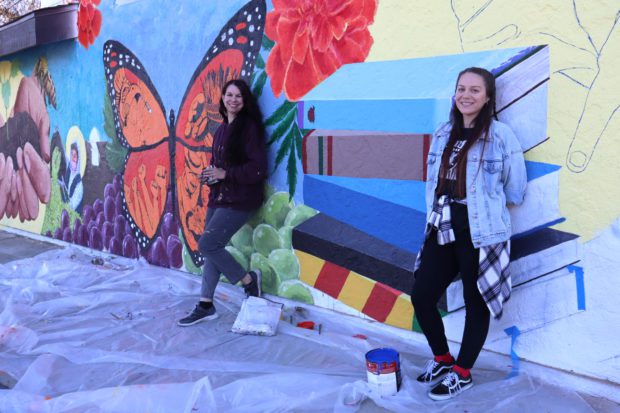 If you go to the corner of Sheridan and Valley View streets in Selma, right off Highway 99, you'll find the local Boys and Girls Club decorated by a large orange butterfly and a pair of hands holding the soil. Alongside are a stack of books, grapes, raised fists, Aztec imagery and corn that is still in the process of coming to life.
This mural is being worked on by 559 Mural Project, a collective of activists working to address injustices and inequalities through art in Fresno County towns. A part of their mission is to empower and spark community dialogue, or conversation, with each mural.
Although movements for change have long been present in these small rural towns, recent events have sparked momentum for such community artwork.
During the global pandemic and social unrest, Selena Martinez-Mak, a recent master's graduate, felt the ripples of injustice across the country. She had the idea of murals for a while, and was inspired by other artists such as Vicki Filgas Treviño. The murder of George Floyd was a catalyst for her community organizing in Selma and Kingsburg.
At the time, she thought, "Let's try to create art that sparks conversations, that isn't just pretty and is agricultural, but is culturally representative and socially relevant to the issues today. So that's how it got started with me and Sirina."
While in college, co-founder Sirina Resendez was introduced to social justice organizing through the Women's International League for Peace and Freedom (WILPF). She ran for City Council in Kingsburg in 2018, afterward connecting with Martinez-Mak to create a grassroots community group with high school friends called Central Valley Allies for Change.
One day, the founders reached out to their friends on Facebook to gather around Kingsburg's city hall in solidarity with the Black Lives Matters movement, partnering with a local youth group called Make a Change. Later, their group branched out on its own to do racial equity work alongside art.
"Holding a space in Kingsburg saying we see this, we recognize this, we are not okay with this. The way that Black Americans are being treated here in America. It was powerful," said Resendez.
The organization has grown its network of artists and now has murals in Del Rey, Selma and Reedley. But why are these murals so important to small rural towns? Why is it important to have art in public spaces?
Miguel "Mikey" Blanco, a native of Selma, has always been a part of the arts and is working on the most recent mural titled "Educate to Elevate." He works full-time at an agricultural company and has two little ones. Despite his full schedule, he always made time for art on the side and never wanted to let go of his passion.
He is excited for the upcoming piece, saying it's about "never forgetting where we came from. I love that we have an image of hands growing out of soil because that's where it stems from. The hardworking hands of Mexican people who are just trying to get ahead and make something for themselves, for their children."
These small rural communities have rich histories of labor movements and migration, but often that story is not told or forgotten.
"Murals anywhere can teach people about their history," says Michael Vasquez, another collaborating artist.
Vasquez, izelillustrations on Instagram, worked on a piece titled "Cultural Awakenings." Located on a corner of Morro Avenue in Del Rey, the flowers and eye-catching patterns are vibrant and capture the area's history.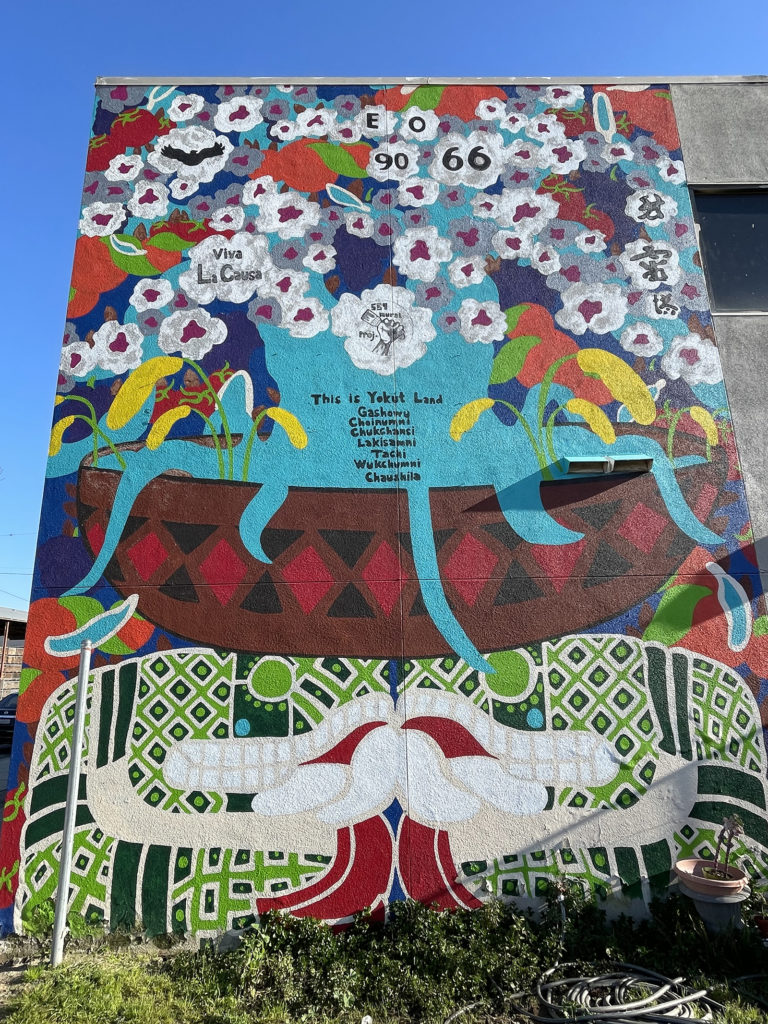 The mural features inspiration from the Yokut indigenous peoples who inhabited the land and are still here to this day and the Masumoto family to represent Japanese-Americans and the history of internment camps in California during World War II.
Part of Vasquez's work was holding a painting and drawing event for the local Boys and Girls Club to engage the community. This allowed him to get an idea of what the local residents wanted to see in their town.
"So that's the idea, expressing the beauty of what the Central Valley is right now and also expressing the history of what it has gone through and continues to go through."
On the mural project's most recent piece, lead artist and Fresno State graduate student Brandi Nuse-Villegas also used a community-driven approach to illustrate the mural.
"I think one thing that is important about this mural is that it reflects what the community wants…Part of this process was going out to the neighborhood and the community to get their feedback on what goes into the mural. It isn't just trying to bring in an idea, it is deeply involving the community to create a mural that reflects them."
She continues, "As an artist this is the chance for me to do the kind of art that I feel is important to me. I get to put my creativity and artistic expression to these things. I feel like I'm partnering with a collective voice to express and elevate these important issues with social justice and community justice."
The current mural is also being worked on by artists Blanco and Nicole Jimenez. Jimenez hopes that the mural can promote the idea of education in the area. "For me personally, I have a family history of farming. And agriculture is a huge part of the Central Valley, so the tribute to the farmworkers as well was a really big thing."
"For me it has a lot to do with pride and loving who you are and where you're from and in no way having shame in that," Blanco adds. I think that's very important.
"A lot of people grow up and get out of the area and get out of the situation they're in and completely ignore or forget it. But I think there is beauty in where we come from and how hard we have to work to get where we are."
"They [559 Mural Project] have succeeded in doing something that is very important, which is to address social justice," says Nuse-Villegas. "But, also, I think a big part of that social justice is recognizing and acknowledging the people in the community, their history, their struggles, their dreams. To really see them. Really seeing the community and reflecting that through art.
"I believe that's a huge part of their vision and the 559 Mural Project have done that with several of their murals…I'm glad that these pieces reflect the heart and the story and the voice of the people in the community."