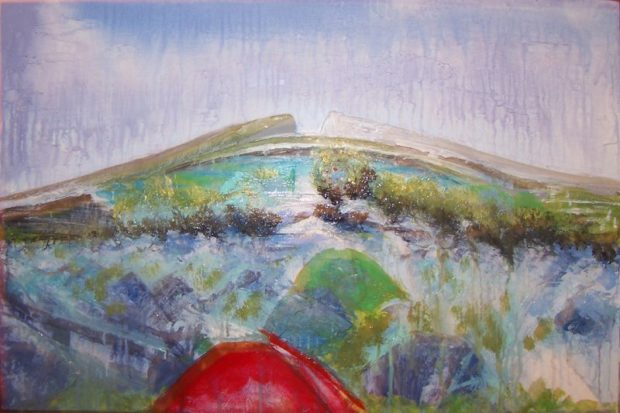 By Jessica M. Hanna
The Manchester Experiment, located in the Manchester Center (on the third floor above the Sears entrance), presents "Life, Liberty & Property" by Brandon itheyus Jacobs and Jessica M Hanna featuring Tower Tribe's "A Rat's Eye View" by Cynthia Cooper including images and sculpture from Spectrum Art Gallery members Edward Gillum, Mary DeWitt and Terry Hayden, as well as Tower Tribe members Karen Summers and Christina Sermon, and sculpture by Laura West on Dec. 6 at ArtHop from 5 p.m. to 8 p.m.
To assist the less fortunate, we are having a nonperishable food drive for the Community Food Bank and will be accepting donations of cold weather gear, blankets, sleeping bags, tents and tarps to be distributed directly. Thank you for you generosity and compassion.
What if the reality of the future lay somewhere between the distopian and utopian sea of tents? What if all trees bore fruit and all bushes bore berries? What if dirt was turned to soil and vegetables grew where there was once hunger? What if the world is our home and food and water were free everywhere to everyone?
No boundaries, no borders, no papers, no corporate personhood, no war, no tents in the garbage truck, no boots on the pavement, but rather free migration of free people allowed to pop up a tent anywhere that was public property, that would be everywhere. Where rats were welcomed by Buddha and not feared by politicians as sanitation hazards. Can you imagine fearing nature as a sanitation hazard?
What if people were fined for growing lawns in the place of front yard gardens? What if it was required to have public drinking fountains in every neighborhood? What if every neighborhood became a main street where we could peddle our wares in front of our domicile? What if all public property was campgrounds?
We are going to need all those things to happen as more and more homes are foreclosed, as more and more businesses go bankrupt, as more and more public services are privatized, because first they are coming for the homeless, the mentally ill who've been turned out, the elderly who have been turned out, the jobless who've been turned out, and more who will be turned out as they fail to speak out and see or do what is necessary to keep people from being loaded on trains and indefinitely detained.
*****
Jessica M Hanna is a local artist with exhibition space at Chris Sorensen Studios (2223 S. Van Ness Ave.). Contact her at jmhanna72@yahoo.com.