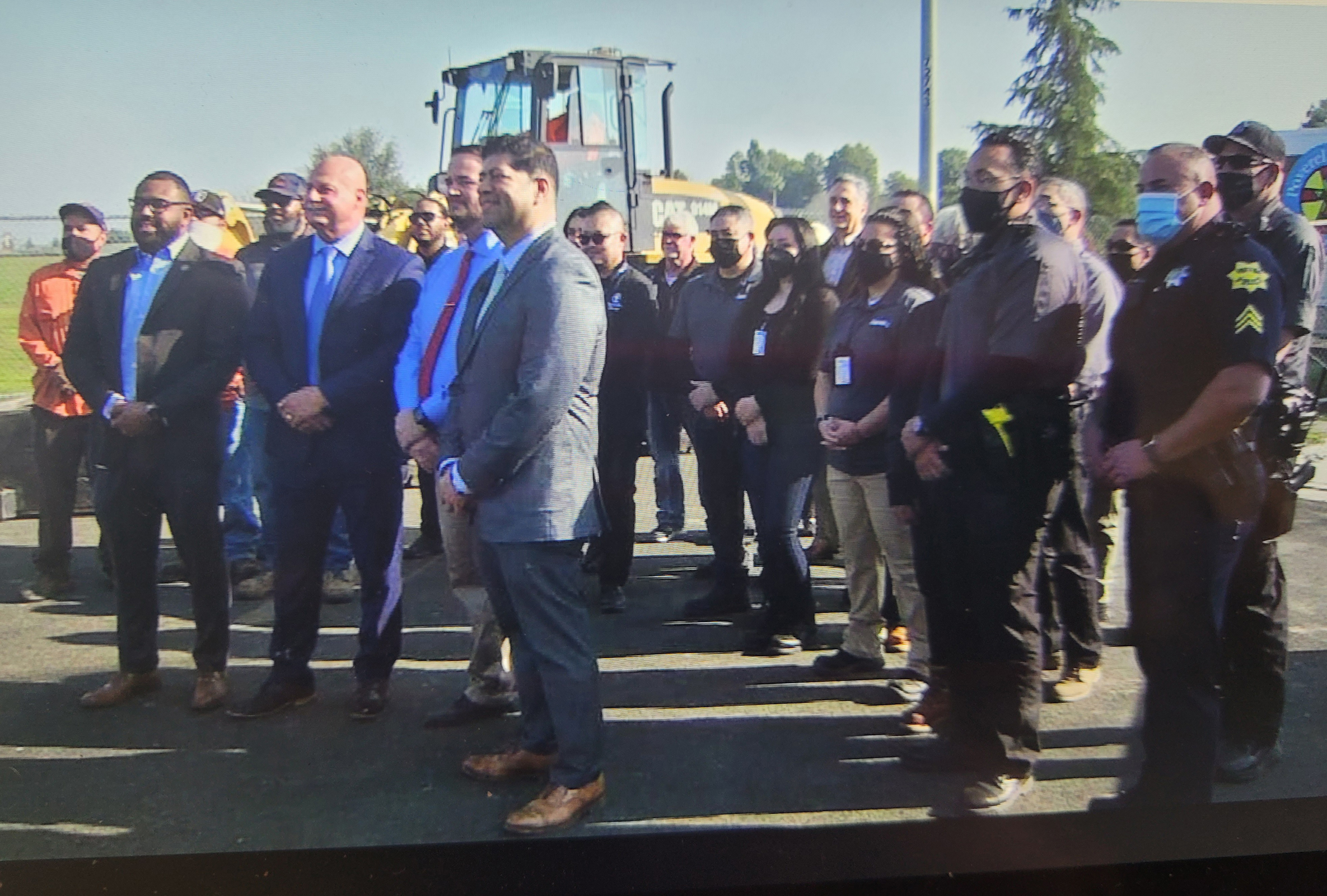 The City of Fresno recently presented a workshop and report titled "Homelessness Update." The first page of the report is a photograph of the mayor and several City Council members posing proudly with HART. In January 2022, the city announced that the Fresno Police Department (FPD) Homeless Task Force would be renamed Homeless Assistance Response Team, or HART.
City officials said that HART would be a more "compassionate" and "humanitarian" response to addressing street homelessness and be more effective than prior task force efforts, however Council Member Miguel Arias said he was concerned that HART was "created by administrative staff without input from the Council."
Mayor Jerry Dyer said he wanted to "minimize" law enforcement's role in addressing homelessness and said the new team would be more effective than the task force, well known on the streets for aggressive and intimidating behavior. For many years, the FPD task force attempted to criminalize the homeless and was even supported in this effort by the business community and property owners.
HART's stated objective is to connect the unhoused population with resources and support to help get them off the street, and when available, to shelter beds. The other objective is to resolve "quality of life issues" affecting residents and businesses near encampments, or even near small groups of unhoused people and individuals unfortunate enough to be in view of a resident or business that calls in a complaint.
City officials claimed at the time of announcing the new "more compassionate" approach that encampment cleanups on either public or private property would receive a 10-day notice to give people time to clear the area, however, in this City report, it states that cleanups will be resolved within three days, regardless of whether shelter beds are available.
Sgt. Steve Jaquez, who oversees the police department's HART team, said in January that officers were chosen based on their ability to show "a good deal of compassion and care and maturity" in dealing with the unhoused community. He also said the team has "enforcement options that we will exercise when we need to."
Dyer said the new approach is "totally different" from the approach of the FPD Homeless Task Force, which was created under his direction as former police chief and which he said had "proved to be ineffective." However, if you ask any unhoused person on the streets of Fresno who has had any interaction with HART, nothing has changed.
The current HART team consists of 18 outreach workers from Poverello House, 10 full-time code enforcement workers, and one sergeant plus six officers from the FPD. The second page of the City report is a chart called Case Flow. The report indicates how HART operates and clearly shows its primary goal, to respond to complaints from business and residents about unhoused folks being near them.
The report claims that the HOPE team "offer[s] services" but, as we know, and as stated in this report, there are only two shelter beds that become available per week on average. Services might be offered, but shelter is not offered because there is no shelter.
The Poverello House outreach team, the HOPE team, says it had made 10,672 contacts with unhoused people. The team served 2,583 unduplicated individuals. The HOPE team was present at 1,399 HART locations and linked 564 unhoused people to "shelter/navigation services."
The HOPE team was part of many encampment sweeps, where only some received shelter and many lost their property to the crushers of the trash trucks. The workshop report indicates that there is an average of three new HART cases a day plus two daily "wake-up" sites.
One such site is the immediate area around the Poverello House. I have witnessed the harassment of individuals and the destruction of property there. One day I witnessed a HART/FPD officer kick a sleeping man's pillow to wake him. I confronted the officer and filed a complaint with the City. I was assured the matter was investigated and action taken.
The report also states there is an average of three new unhoused cases on private property every day, and there are nine new cases each day in other jurisdictions, such as water district property and railroad property.
An average of 15 unhoused people are displaced on a daily basis. Many times their property is destroyed by the city. I have interviewed many street family members who have endured this.
Unhoused people have repeatedly spoken to the City Council about this cruel practice, but to no avail. Even when temperatures are in the triple digits, the practice continues. The indignities suffered and continued punishment of our unhoused community members is a travesty and should shame all Fresnans.
The next section of the report is called "Homeless Funding by Grant Source." The City of Fresno has received $52 million in state and federal grants since 2019.
The largest grants were from the state Project HomeKey Initiative ($13.4 million) and a Covid Emergency Solutions grant ($10.7 million from the federal government). The largest portion of this funding, $24 million, was allocated for emergency shelters. About $10 million was allocated for the acquisition of property with $3.5 million for supportive services and $2.5 million for street outreach.
The following section of the report is titled "Homeless Funding by Recipient." The largest recipient was the City of Fresno ($12.4 million), then Turning Point ($8.5 million), Poverello House ($7.4 million), Elevate Community Services ($6 million) and the Fresno Housing Authority.
The City has invested $21 million in the Homekey Project, creating 794 temporary shelter beds. Total purchasing and operating costs for the state-funded HomeKey Shelter project in Parkway Drive motels are $53.4 million. Of that amount, $16.3 million is allocated to Turning Point and RHCommunity Builders for ongoing operating expenses.
Given the costs for the HomeKey Projects, it appears that the City has spent an additional $16 million in state grant funding, bringing the total dollars spent to date to $68 million. It must be said the City's report is unclear about some funding details and is lacking in specific details about exactly how all this money has been spent.
The Travel Inn was purchased for $2.85 million and rehab costs are $1.4 million. The Valley Inn was purchased for $7 million with $2.3 million in rehab costs. The Ambassador Inn was purchased for $3.3 million and will require $6 million in rehab costs. The Villa Motel was purchased for $2.4 million and will require $4.7 million in rehab costs. The Parkway Inn was purchased for $3.1 million and rehab costs are $5.4 million. The City Council must still approve $11.7 million for some of the rehab funding.
To date, all housing provided by the Parkway Motel is temporary shelter housing. The City's plan is to convert some of the motels to permanent affordable housing in the near future.
The HomeKey Project raises several issues. One is whether a more cost-effective approach could have been implemented, such as building tiny home villages, modular homes, container homes and other alternative housing models.
Another question is what becomes of the current unhoused residents at the motels when they will be closed for conversion into affordable housing units?
When will permanent supportive housing be provided to the chronically unhoused?
When will a real Housing First approach be implemented?
Millions of dollars have been channeled into temporary housing solutions and services, while few dollars are going to find a permanent housing solution.