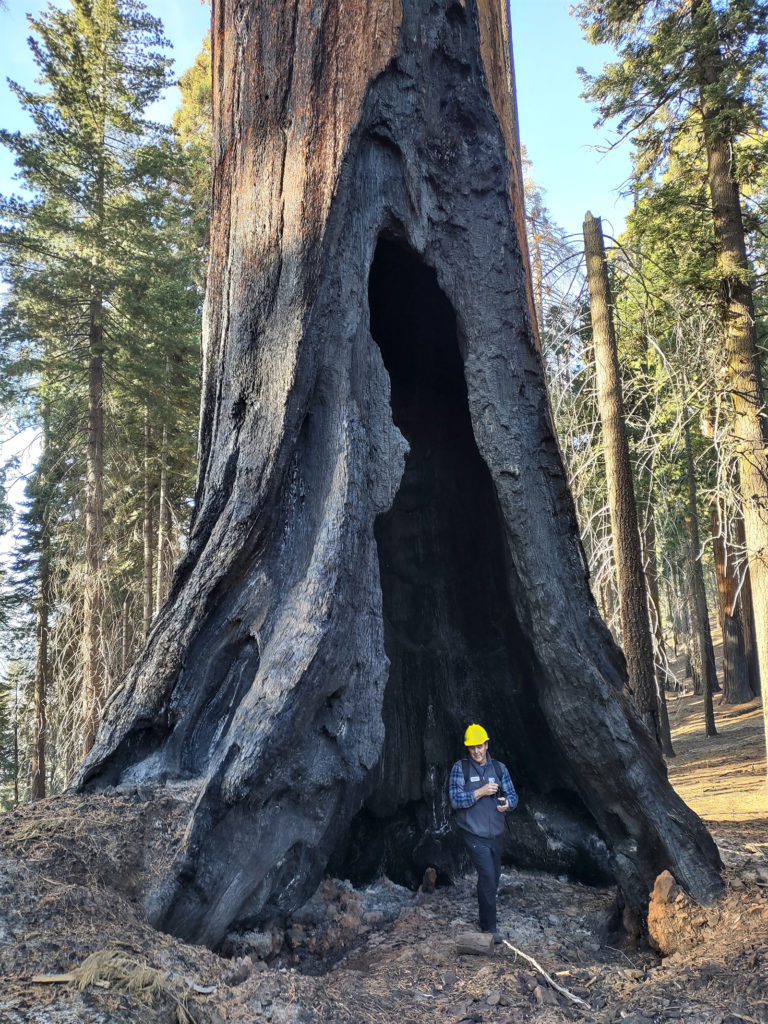 Federal and tribal land managers have provided an assessment of the 2021 wildfires that burned nearly 200,000 acres in the Giant Sequoia ecosystem, killing thousands of the forest monarchs. The KNP Complex and Windy fires obliterated nearly 4% of the world's remaining giant sequoias. Combined with the 2020 Castle fire, it's estimated that up to 20% of the iconic trees have perished.
It was Christy Brigham's grim duty to report on the devastating impact of the 2021 fire season in giant sequoia country. The chief of resources and science for Sequoia-Kings Canyon National Park did it by citing the stunning data, "Starting with the KNP complex, 16 groves had a fire in them during this event [and] 4,374 acres of sequoia groves burned out a variety of severities with anticipated beneficial impacts in areas of low or undetected change, but, unfortunately with anticipated negative impacts to large sequoias in areas of moderate and high severity."
After the Sept. 9 lightning strikes ignited both the KNP and Windy fires, they raged for two and a half months before firefighters could contain them. It was a massive effort involving thousands of crew members from all over the nation. Theresa Benson described the ingenuity and courage of firefighters as they worked to save individual monarchs.
"After the fire was established in the grove, the firefighters came back in and applied what we called sequoia first aid. They came in with fire hoses. They sprayed down monarchs that were burning and they moderated the effects of the fire saving additional trees.
"It was amazing to see, and the dedication of our firefighters was a phenomenal thing. I don't know how many trees they ended up saving, but it was very heartening for me to see because of the sadness that we had of so many of our trees, our beautiful monarchs, that were dying."
The extent and severity of damage to giant sequoias that had been living for thousands of years has taken an emotional toll on public land managers as well, especially Brigham, choking back tears as she detailed the destruction, "KNP is estimated to have killed or damaged so severely or damaged so severely that they will die within the next three to five years, 1,330 to 2,380 giant sequoias over four feet in diameter."
Only a few miles south in Giant Sequoia National Monument, the Windy fire swept through 11 groves, torching 931 giant sequoias. Five of those groves are in the Tule River Indian Reservation.
According to Tribal Chair William Garfield, the Windy fire affected forest lands and cultural resources that have sustained them for millennia. Tribes have been historically at odds with state and federal agencies over forest management and fire.
Loren McDermott, a firefighter and a cultural specialist, cites forest mismanagement as a contributor to the destruction of the tribe's cultural resources. "We were thankful for all these other agencies to see that vision we're trying to carry out as well.
"Because like I said, all these cultural concerns that come and rise with this, with these fires and the mismanagement of these forests, or the lack of work that hasn't been done, we're trying to put the best foot forward for the tribe and the other agencies as well to get the best product for the future of the redwoods."
In the aftermath of the Castle fire in 2020, 11 agencies with responsibility for giant sequoia lands came together as a working coalition to save the rest of the ecosystem.
Clay Jordan is superintendent of Sequoia-Kings Canyon National Park. He says the coalition will combat the conditions of drought, climate change and 150 years of fire suppression that have resulted in large, high-intensity fires in the southern Sierras.
"These 11 federal, tribal, state and local agencies are supported by numerous other government and nonprofit organizations with a shared vision for ensuring that future generations will be able to walk around these same trees that we're able to today."
The Save the Redwoods League has been practicing stewardship of coast redwoods and giant sequoias since 1918. It has protected more than 200,000 acres of redwood forest and helped create 66 redwood parks and preserves.
Joanna Nelson, their director of conservation planning, emphasized the importance of managing these forests to prevent runaway wildfires, "We need to bring all stewardship practices to bear. If we are to save these forests, we must tend them with a consistent stand to landscape-scale work.
"We must engage in selective thinning, understory burning, both prescribed fire and cultural burning led by indigenous practitioners, and other fuel-reduction and risk-reduction mechanisms. And it must all happen now and on an ongoing basis before next year's wildfires and the next and the next."
The sequoia lands coalition aims to increase wildfire resilience in the giant sequoia ecosystem through long-term planning for climate change with research and monitoring. The coalition furthermore plans to step up the pace and scale of reducing combustible forest fuels, in an effort to protect the remaining sacred groves of giant sequoias from the threat of increasingly destructive high-intensity wildfires.
*****