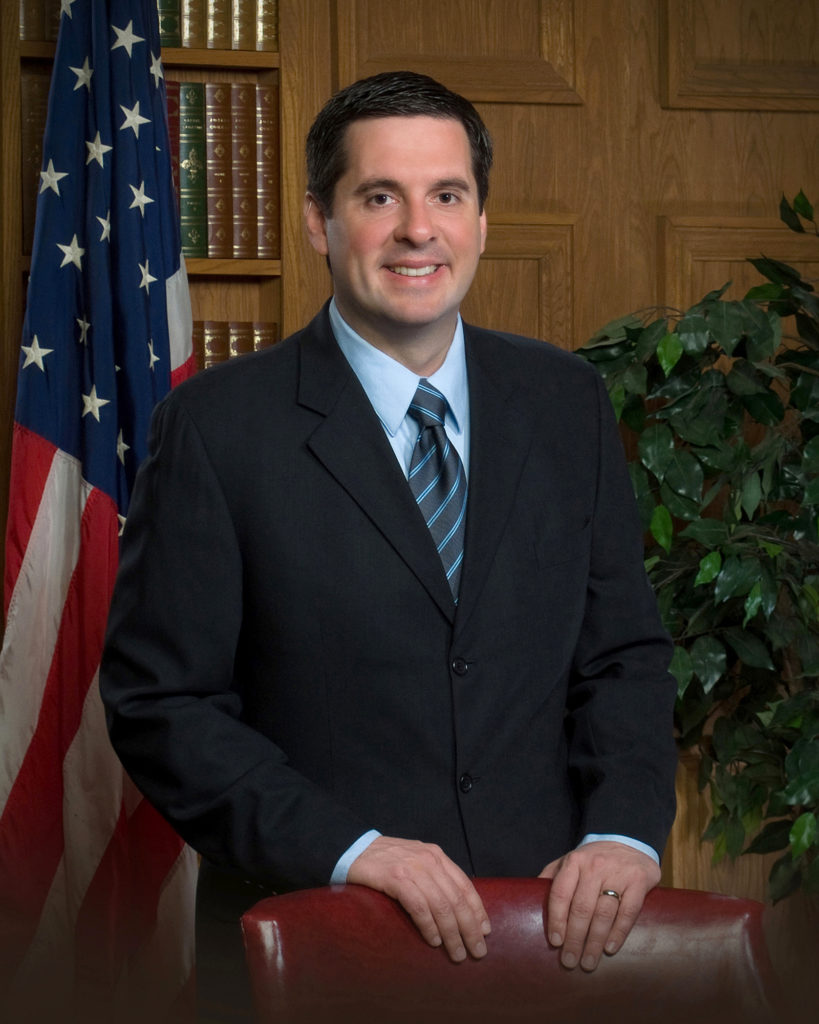 Now that the euphoria has died down over Devin Nunes' resignation from Congress, we move to the task of replacing him. And that gets somewhat confusing.
First, a special election will be held to elect someone to serve the balance of his term, which ends in January 2023. At press time, it appeared that the timeline for this special election would be a primary in early April with the runoff in June—concurrently with the June Primary for the usual midterm races.
Second, the normal Congressional election cycle will proceed (June Primary, November General Election) albeit with districts reflecting new boundaries. None of the new districts is a "Nunes district." The new district that most closely reflects Nunes' current district would be Congressional District 21, which leans Democratic and includes much of Fresno and Tulare counties.
The balance of his district was split between two new districts, both of which lean Republican and would likely have pitted him against fellow Trumpers—Rep. Tom McClintock (R–Elk Grove) or House Minority Leader Kevin McCarthy (R–Bakersfield). The new districts would not be favorable to Nunes, and some speculate that led to his early departure.
Nunes is taking a job with Donald Trump's new media endeavor so presumably he will remain in the national spotlight. No word yet on whether he will continue suing everyone who disagrees with him.
Nunes was elected to Congress in 2002 and has "represented" Fresno and Tulare counties. When the Tea Party wave surfaced, Nunes' national stature began to rise and he showed a talent for partisan fanaticism. With the election of Trump, and the normalization of fringe lunacy, Nunes had a partner for a match made in evangelical heaven.
Nunes proved a loyal toady to Trump when he served as chair of the House Intelligence Committee. (Another Nunes and intelligence joke here would be overkill.) He has long put the national radical right-wing agenda in front of service to his constituents, and he will not be missed.
Looking to replace Nunes for the remainder of his term are Democrats Phil Arballo, Lourin Hubbard and Eric Garcia and Republicans Nathan Magsig, Elizabeth Heng and possibly Andreas Borgeas. It is unclear if any of these candidates will simultaneously pursue one of the newly redistricted Congressional seats as well.
Arballo was the Democratic challenger to Nunes in 2020. He is a small business owner who raised considerable money by virtue of being Nunes' opposition. He believes that the district "needs a representative who is present and invested in this community."
Hubbard has generated interest among the Democratic base with a strong commitment to Democratic principles. An operations manager at the California Department of Water Resources, he says "the issues that the people of the Central Valley confront every day are not political talking points—they are the lived experiences of hundreds of thousands of families just like mine."
Garcia, a former Marine, also ran against Nunes in the 2020 primary as a No Party Preference; he has since registered as a Democrat. He says that while he was serving his country, "politicians like Devin Nunes were betraying it, over and over."
For the Republicans, Magsig is currently on the Fresno County Board of Supervisors representing District 5 (mostly Clovis). His time on the Board has been distinguished by his enthusiasm for hearing himself speak and having made one of the dumbest comments ever made from the dais.
At a Board meeting early in the redistricting discussion, several speakers asked the Board to ensure a fair and transparent process for redistricting. Magsig responded by asking those speakers if they had invited persons with the opposing view to speak at the meeting.
Aside from the absurdity of suggesting that people invite their opposition to participate in public comment, on a previous agenda item at the same meeting several anti-maskers spoke yet Magsig did not ask them if they had invited pro-maskers to speak.
Heng fares little better. She had announced that she would challenge Alex Padilla for the U.S. Senate but backed off to run for this Congressional seat. Although well educated, she is a disciple of Republican fanaticism and brings youthful theatrics to that worldview. Her controversial past includes running an ad that equated Alexandria Ocasio-Cortez (AOC) with the Khmer Rouge and supporting an abusive video run at a Grizzlies game that associated AOC with dictatorial regimes.
From the Fresno Bee: "Elizabeth Heng thinks you're stupid. Yes, you. Heng thinks you're dumber than a pile of bricks. She thinks you're the person who fell asleep during history and civics class, pays scant attention to global politics and is easily swayed by misleading ads on television and social media."
Poor Borgeas, should he decide to run, could find himself at a disadvantage on the loony front, which would likely doom him among the Republican base. A traditional pro-business Republican, he isn't prone to Trump-like behavior. Borgeas is currently in the State Senate and previously served on the Fresno County Board of Supervisors and the Fresno City Council.
We previously reviewed Nunes' two books in the Community Alliance. In the first book, Restoring the Republic, we surprisingly found a passage with which we agree: "Americans must demand their representatives offer concrete solutions, not empty political rhetoric. The responsibility rests with you, whenever you vote…So judge politicians not by what they say, but by what they do." Although Nunes failed this test, his own test, we should hold the current candidates to this standard.
*****