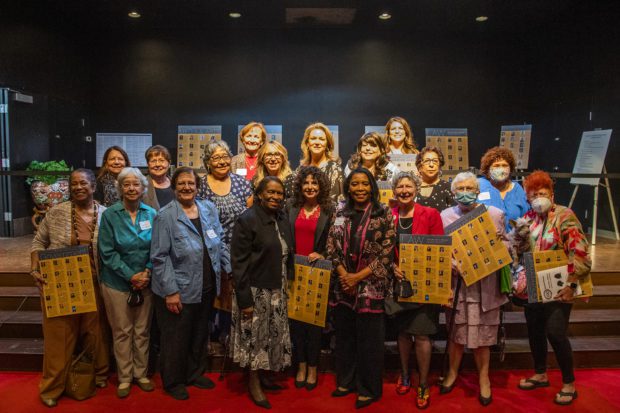 By Peter Maiden
When I called Francine Farber of the League of Women Voters (LWV) to find out about their exhibit, "100 Notable Women Who Made a Difference in the Fresno Community," I heard soaring classical music on the phone. She explained, "It's a choral work about suffrage, and I just got it online. So we were listening to it. It's really beautiful."
The Notable Women exhibit was planned to open at the Madden Library on the Fresno State University campus in March 2020, in the 100th anniversary of women gaining the right to vote and the 100th anniversary of the National League of Women Voters, which got started a little while before suffrage.
The pandemic shut down the event. It ended up taking place on Oct. 3 of this year at the Fresno Art Museum. On that day, there was a sense of a release of energy that had been held back for more than a year and a half.
The exhibit had large posters on easels with capsule descriptions of the 100 women and their photos. Many of the pictures were taken by Fresno photographer Howard Watkins as part of his tireless documentation of Fresno civic life.
Included among the women recognized were some figures well-known to Community Alliance readers. Ruth Gadebusch, who writes a column for the paper, was one. Ellie Bluestein, who founded the Fresno branch of the Women's International League for Peace and Freedom, was another.
Five of the women on the list spoke briefly about their lives and careers. Among them was Mary Curry, who was the first African American to be elected as a trustee to the Fresno Unified School Board. Juanita Stevenson started Education Matters, a ground-breaking series on public television. And Dr. Carole Goldsmith talked about running Fresno City College as an openly gay person, after once being kicked out of the house by her mother as a young person, because she came out.
Some of the notables came from times past. One that generated a lot of interest was an early doctor. Her blurb reads, in its entirety: "Dr. Jessie Hare was one of the first female physicians in Fresno. She and her husband graduated from the University of Michigan School of Medicine and opened a joint practice in Fresno in 1893. Dr. Hare provided medical care to the Fresno community for more than 20 years while raising four children, working actively for women's suffrage, and serving as the chair of the Fresno Emergency Hospital Association. She vaccinated hundreds of school children during a smallpox outbreak in 1913 and served as a judge for the Fresno District Fair's baby contest that same year."
The social views of the 100 women run the gamut, from right-wing Fresno County Sheriff Margaret Mims to liberal Fresno City Council Member Esmeralda Soria to radical artist Judy Chicago.
The LWV does not support a party or a candidate in any given election. However, to inform voters, they study social issues, for example, charter schools, county water policies and responses to global warming.
Farber said, "We're a nonpartisan organization that encourages the informed and active participation of interested individuals and influences public policy through voter education and advocacy on issues."
The chorale about suffrage, said Farber, is called "'A Thousand Tries in a Hundred Years,' and there will be a live performance of it at the Mennonite Church on Nov. 21, circumstances permitting."
*****
Peter Maiden is the photo editor of the Community Alliance newspaper.