A Vigil for Bessie Walker
Around 75 people gathered in Fresno's Courthouse Park on Aug. 21 for a prayer vigil in memory of Bessie Walker. The date marked two years since Walker, a 27-year-old Native American woman, was found murdered. The case has never been solved.
Walker lived on the Big Sandy Rancheria of Western Mono Indians in Auberry. Her case is unfortunately one of many, in what some call an epidemic. A movement is developing, known as Missing and Murdered Indigenous Women (MMIW). Its symbol is a hand colored in red placed over the mouth, connoting the blood that is being shed, and the silence that exists about the victims.
Statistics still need to be gathered, but a greatly disproportionate number of Native American women are assaulted, kidnapped and killed every year in the United States. There is a culture of neglect toward this on the part of law enforcement, which leads to failures in the investigations of crimes such as the murder of Walker.
The director of an organization called Indigenous Justice, Ashley Rojas, brought boxes of red t-shirts with images of Bessie Walker on them to the event, and it seemed that most people put them on.
The prayer vigil featured indigenous drumming, chanting and dance.
During a rally, members of Walker's family spoke. They were followed by the award-winning activist and executive director of Indigenous Justice, Morning Star Gali. She is also a leader of the Pit River Tribe. She made a supportive presentation and introduced her organization.
Roman Rain Tree, a local Indigenous activist, also spoke. He said he now has "a lot of anger" and hopes more folks who feel like him will enter the dialogue with Indigenous organizations. He exhorted the crowd to "say her name," and they responded, "Bessie Walker!"
Walker's mother, Ruthie Ann Beecher, told the Community Alliance that Walker was working on getting her high school equivalency degree by attending adult school. She wanted to become a designer and make t-shirts with native symbols.
"She loved collecting jewelry," Beecher said, "and listening to music, and she loved to dance.
"She was a very unique person. She brought laughter and smiles to our faces. She loved her brothers and sisters, dearly.
"She had a daughter and two sons. Her oldest son, Kenny, is having a hard time dealing with her being gone because she was his best friend. And little Lila, she searches for her mom all the time. She told me one time, 'I'm gonna search for Mom in my dreams.'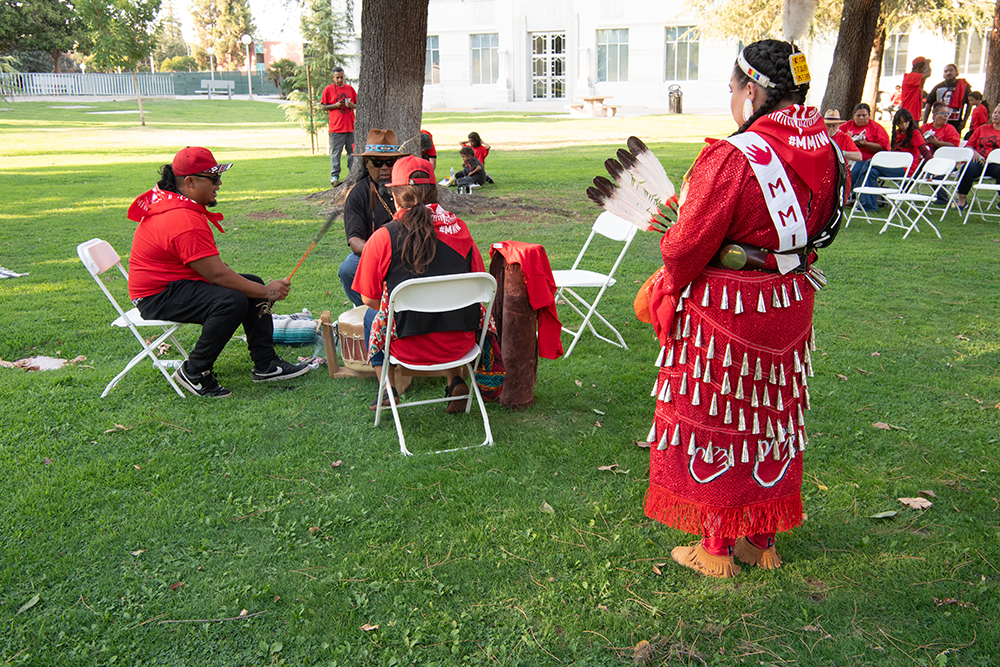 "I called the sheriffs to come out—it was like nothing to them. It took them forever to get there. They did the missing person report with me over the phone. They didn't come out to talk to me in person or see a picture of her, or, you know, look around at least in a 50-yard radius or something, to see if she was around there."
Eighteen days after she went missing, Walker's body was found 25 yards from the family home. Not by the Sheriff's Office, but by a search party of family and friends.
Then Fresno County Sheriff Margaret Mims claimed her department investigated Walker's murder for a total of a thousand hours.
"They did not do a thousand hours," said Beecher. "They wouldn't bring cadaver dogs. They wouldn't have drones or helicopters out looking for her.
"Fresno County didn't do a thing. They didn't care. She was just another Indian, and that's how I feel. And that's what angers me."
Beecher has been harassed by Sheriff's Office deputies. "[They] used to pull me over in Auberry and give me problems because of what I said about them."
She hopes the killer will turn themselves in. "I can't understand how someone could live a day of their life having done this to somebody, seeing how her family's hurting, and her children."
The Secretary of the Interior in the Biden administration is Deb Holland, a Native American woman, and she has been providing funding to help with MMIW cases. There is money for tribal law enforcement, for dealing with domestic violence cases and for a program called the Feather Alert. Following the success of the Amber Alert, the Feather Alert notifies the California Highway Patrol and the public when someone has gone missing from tribal lands. It has been in effect for a few months.
May 5 has been named the International Day of Action for MMIW. Assembly Member James Ramos (D–San Bernardino) has moved to declare May as MMIW Action Month in California.