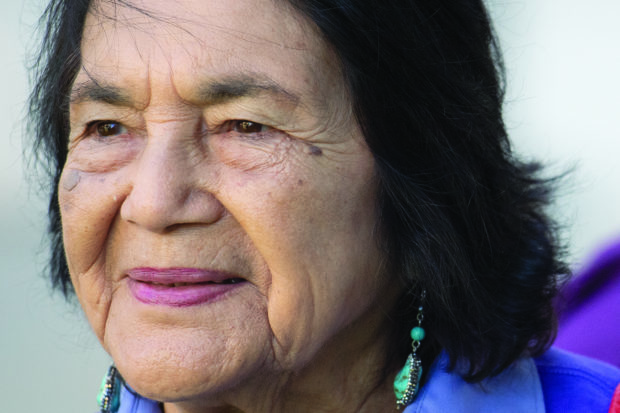 By Sudarshan Kapoor
On Oct. 2, Fresno State celebrated the 90th birthday of Dolores Huerta (official birthday April 10 ) by planting a peace tree in her honor in the Peace Garden. Dr. Joseph I. Castro, president of Fresno State, and Dr. Sudarshan Kapoor, professor emeritus and founder of the Peace Garden, joined Dolores Huerta in the tree planting ceremony.
In paying tribute to Huerta, President Castro said, "As an iconic activist for social justice, Ms. Huerta has proven herself a resolute champion of labor rights, immigrant rights, civil rights, environmental rights, women's rights and LGBTQ rights."
He further said, "Being a longtime champion of access to higher education, Dolores Huerta is an uncompromising advocate for equity in education."
In his remarks on the occasion, Kapoor, who has long known Huerta, said, "Dolores Huerta is a living legend of our times. She is one of the most influential and effective labor leaders in the history of labor movement in this country. She has dedicated her whole life for the rights and improvement of social and economic conditions of farm workers.
"She worked closely with Cesar E. Chavez as his right hand and they were a very good team. She was largely instrumental in many of UFW's successes including the strikes against California's powerful grape growers in the 1960s and '70s.
"Dolores is a phenomenal community organizer, a great communicator, a skilled and tough negotiator. She has fought many battles against prejudice and discrimination, hatred and racism, exploitation and mistreatment experienced not only by farmworkers but also by other minority groups in this nation.
"She continues her struggles and battles against these menaces even at this stage of her life. She never stops. She never gives up, a lesson I have learnt from her life.
"She is a strong advocate and champion of civil rights, human rights, women's rights and workers' rights. Dolores has been arrested 22 times for practicing nonviolent protests and civil disobedience acts.
"She is committed to nonviolence. Believes in it and practices it in her life and mission. She is a vegetarian like Cesar E. Chavez. Like Cesar Chavez, she was very much influenced by Gandhi in her approach to social change, conflict resolution and social transformation.
"She is a great supporter of peace education and peace gardens and, of course, of my work at Fresno State and in the community.
"Let us wish her all the best on her 90th birthday and many more to come. God bless her and give her more strength and energy to continue her mission of her life."
"Dolores Huerta, president of [the] Dolores Huerta Foundation and recipient of the Medal of Freedom Award from President Barack Obama and [the] Eleanor D. Roosevelt Human Rights Award from President William J. Clinton, is an iconic trailblazer and a tireless defender of farm workers rights, human rights, justice and gender equality…" Thus reads the proclamation by President Castro recognizing the tremendous contribution by Dolores Huerta to humanity and the Central Valley in particular.
In her remarks, Huerta thanked President Castro, Fresno State and the organizing committee for the recognition and honor bestowed upon her. She specifically mentioned the youth today. She said, "They are going to take us forward because they are not just fighting for racial justice; they are also fighting against inequality. They also care about what is happening in terms of police brutality and the environment."
The tree planting ceremony event also celebrated the 151st birthday of Mahatma Gandhi and marked the beginning of the 30th anniversary of the Peace Garden at Fresno State. The Peace Garden features the statues of Mahatma Gandhi, Dr. Martin Luther King Jr., Cesar E. Chavez and Jane Addams. Fresno State is planning to add a memorial in honor of Nelson Mandela in the near future.
*****
Sudarshan Kapoor, Ph.D., is professor emeritus, founder and former director of the Peace and Conflict Studies Program and professor of social work and community development at Fresno State. Dr. Kapoor is the former co-executive editor of Peace & Change, published by the Peace and Justice Studies Association, and the chair of the Human Rights Coalition of the Central Valley. Contact him at skapoor@csufresno.edu.