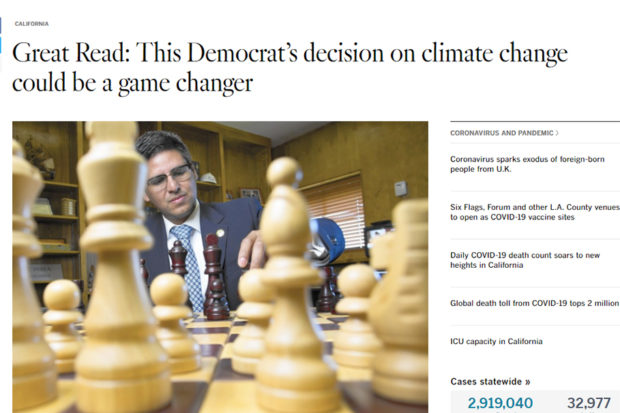 By Kevin Hall
The year 2020 tied 2016 as the hottest in human history. Other new records were set for Arctic heat and wildfires, tropical storms in the Atlantic, and locally, the Creek Fire, the largest single source wildfire in state history. The planet is now on the brink of crossing 1.5C in average global temperature, a threshold predicted to tip the climate into an irreversible and continually accelerating pace of warming.
Despite the urgent crisis, oil and methane dollars continue seeping into the campaign accounts of San Joaquin Valley politicians. They, in turn, continue to do the bidding of their fossil fuel backers. Former legislators turned lobbyists frack the Valley's political landscape, spreading influence that keeps elected officials in the grip of the planet-destroying forces that now threaten us all, particularly our young.
Just look into the eyes of someone under the age of five. Don't just see them for the wonderful, unfolding beings that delight you endlessly; be loving. Picture them as grandparents at age 85—they'll have those same beautiful eyes. Imagine taking a look through them at the world of 2101.
Know that 2020's disease, wildfires, drought, floods, hurricanes, famine, climate refugees, even its political chaos will have been a mild year compared to the tumultuous decades ahead. Evaluate if those children have had the same opportunities as you to lead full, healthy lives.
We cannot leave them a world in which billions are desperately searching for shelter and food amid chaos; hundreds of millions currently are. We must succeed in this decade—this decade as the United Nations warned us in October 2018—at saving ourselves from unbridled capitalists through an urgent, coordinated worldwide response of reductions and society-altering preparations.
It will be like fighting Covid-19. Only much harder.
Atop this weighty reality and seeming impossibility rage the madness and mayhem of the Trump pandemic turned revolution. Amid soul-shattering levels of death and suffering with worse to come, Americans struggle to make sense of themselves and this country where Trump protestors go maskless to use contagion as a weapon and delusional thinking runs unchecked.
Even at KMJ radio, Fresno's original forum for hate-speech star Rush Limbaugh and now the dedicated soapbox of conspiracist Rep. Devin Nunes (R–Tulare), broadcasters and listeners have split into warring factions. Mini-Rush Ray Appleton had to be suspended for his incendiary suggestion that some media editors might need to be hanged. His gaslighter's apology was that he was joking.
Corporate soon cleaned that up and put him—and fellow igniter Nunes—off the air until after the inauguration. "Stop the Steal" having emerged as the Nazi-like Big Lie that was drilled incessantly into the minds of listeners and viewers of all conservative outlets seemingly without exception, station-owner Cumulus Media was trying to put the sedition genie back in the bottle. Too little, too late.
But an even larger crisis looms. Turns out we've been looking for leadership from a group where caution dominates: the political class. Their thinking goes something like this: "True political leadership is the ability to disappoint your friends at a rate that they can absorb."
This quote comes from a Harvard lecturer at a summer school given to local politicians not groomed in Ivy League rules of governance. It could not have come at a worse time for State Assembly Member Henry T. Perea. He used them in 2015 to justify leading the moderate Democratic caucus fight against SB-350, a precedent-setting greenhouse gas reduction bill, in an interview with Melanie Mason of the Los Angeles Times.
Perea posed for a photo at a chessboard, yet another move in a career-long series of affectations of political savvy when something much worse was at play. That same year, besides gutting SB-350's transportation sector reductions, he led moderates in killing a bill that would have banned fracking. Then he quit the Assembly that December, leaving office a year early.

Today, Perea is a highly paid lobbyist for the Western States Petroleum Association. In 2020—again, the hottest year on record—Fresno City Council Member, then candidate, Maxwell accepted a $550 in-kind donation from Perea for postage. An accompanying campaign expenditure report shows $191 for "Perea Envelopes" a few days earlier on Feb. 14.
While the modern Republican Party is clearly the most dangerous organization to have ever existed, as Noam Chomsky points out, he adds the neoliberal economic policies shared by some—not all—people in both parties are at the root of our climate crisis.
We need better politicians. People who decry the corrosive influence of corporate dollars in politics need to pick a target. Given the urgency of the climate crisis, I suggest following the youth-led, politically focused Sunrise Movement's lead and target the biggest, dirtiest, most dangerous, most powerful one out there: fossil fuels.
Perea is teaching Maxwell how to test his friends' ability to absorb disappointment. As president of the Fresno County Young Democrats, Maxwell is especially testing his peers. Jewel Hurtado is club vice president, Nelson Esparza its political director. Let's hope they respond in time. Oil spills spread quickly and must be contained at the first drop.
*****
Kevin Hall hosts Climate Politics on KFCF 88.1 FM every second and fourth Friday, 5 p.m.–6 p.m. He tweets as @airfrezno and @sjvalleyclimate, coordinates an informal network of climate activists at www.valleyclimate.org and can be contacted at sjvalleyclimate@gmail.com for presentations and information.