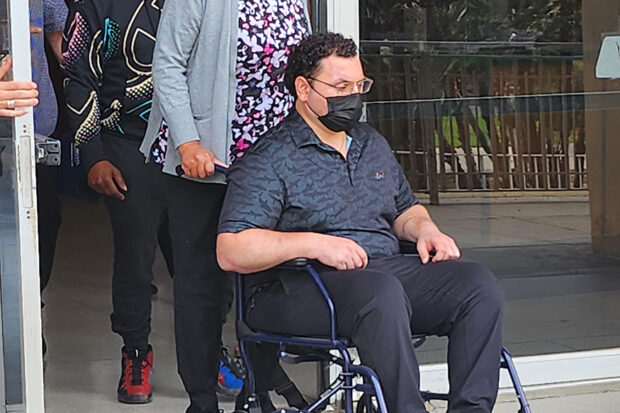 There is an unequal justice system in Fresno. One for the police and the rich. Another for the poor and working class. For the unhoused of Fresno, there is often no justice. Some recent examples of this "injustice" system are as follows:
The Death of Jose Luis Pulido: On Sept. 5, 2020, Fresno Police Department (FPD) detective Benito Soto was texting while driving on Fresno Street in downtown Fresno when he hit and killed an unhoused man, Jose Pulido, 51, who was in a crosswalk. Detective Soto has been arraigned on misdemeanor charges and goes to court in October. This is not justice.
John Doe Death or Serious Injury: On Aug. 1, 2022, a Fresno police officer ran over an unhoused man sleeping on the sidewalk in front of the downtown Fresno Police Department. In October 2022, the Fresno Bee reported that the FPD found the officer involved to be at fault and stated that discipline was pending. The name and health condition of the victim "remains unknown," the Bee reported. To this day, the FPD has refused to release information on this incident and there appears to be a cover-up. This is not justice.
The Death of Monique Contreraz: One of the most tragic and avoidable deaths of an unhoused individual is the killing of Monique Contreraz on May 13, 2022. On that day, around 1 a.m., the 29-year-old was pushing a shopping cart with her dog on a leash at the intersection of Herndon and Millburn avenues in Fresno when she was run over by and trapped under a truck while using the crosswalk. The Silverado pickup truck involved was later determined to be driven by Shawn Ginder, 38, of Fresno. He allegedly drove more than eight miles with her body wedged under his truck before stopping.
After the accident, Ginder left the area and went to a family vacation home in Bass Lake. He was later apprehended there after jumping out of a window trying to escape from law enforcement and suffering serious injuries, according to Fox 26 News.
He was not immediately arraigned or booked in jail. He was finally scheduled to be arraigned on Aug. 31, 2023, but failed to appear for this court date. A warrant was issued and another court date was set for Sept. 19. Ginder did appear for this hearing and pleaded not guilty to felony hit-and-run charges. A pretrial hearing was set for Nov. 28.
Ginder is only facing hit-and-run charges, with a four-year maximum sentence, rather than more serious vehicular homicide charges. The District Attorney's Office told Your CentralValleyNews that this is "the only charge they can prove beyond a reasonable doubt."
Ginder has been running wild on the streets of Fresno since his early 20s. Repeated acts of leniency by the DA's Office and the courts might have led Ginder to believe he was above the law. His reckless behavior culminated in the gruesome killing of Contreraz. It is assumed by the DA that Contreraz died on impact, leading them to limit the charges and scene of the crime definition. As a result, Ginder would get only a second strike on his criminal record. The first came in 2012 after a firearms conviction.
Living a life of excess and little accountability, Ginder is the son of prominent Fresno developer Richard Ginder Jr., president of Ginder Development Corporation. Ginder seemed destined to hurt someone eventually. Fresno County court records reveal a long history of drunk driving, resisting the police and felony firearms convictions going back at least 15 years.
The cycle of crime and no punishment was ready to repeat itself in late August until Fresno Homeless Union advocate Dez Martinez, founder of We Are Not Invisible, intervened. She caught the DA's office trying to slip one by the community on a quiet Thursday heading into the Labor Day weekend. Ginder was finally to be arraigned a year and three months after the death of Contreraz.
Ginder did not attend the morning arraignment where, surprisingly, the absent suspect was represented by a public defender. The DA's office apparently thought they had struck an internal deal for a quick arraignment on a single charge and probation at his parents' home. His jailhouse would be a six-bedroom, six-bath, 6,600-square-foot, $2.5 million home on the San Joaquin River bluffs off Van Ness Avenue.
Ginder is now represented by private attorney Daniel Bacon, who has represented him in the past, according to courthouse documents.
In 2012, the DA rotated through a dozen attorneys while charging Ginder with three felony counts of assault with a semiautomatic firearm and single counts of carrying a concealed firearm, carrying a loaded firearm in public and resisting a peace officer. Bacon was Ginder's attorney then, too. Ginder avoided jail time and received probation, which he violated in 2016.
Both times he was sentenced to probation and months in a substance-abuse treatment program: Kaiser in 2012 and Universal Health Network in 2016, when the then 31-year-old was simultaneously released to his parents' care. In 2008, Ginder was charged with resisting a police officer. He has multiple traffic citations.
The favorable treatment this man has received kept him on the streets and dangerous. Others would have still been in jail or rehabilitated. In true Fresno fashion, the Ginders are major developers mostly of large apartment complexes, and they're regular campaign contributors.
Since 2000, they have contributed more than $40,000 to various influential politicians, including $7,500 to Fresno City Council Member Garry Bredefeld and $9,000 to Fresno County Supervisor Steve Brandau for their competing campaigns for the District 2 Board of Supervisors seat. One can only guess how much influence a rich family like the Ginders has on the District Attorney.
When asked to comment after the Sept. 19 arraignment, Martinez told YourCentralValleyNews.com, "I'm upset. I'm very disgusted by the judicial system here in Fresno. It failed Monique, other low-income individuals, other people of color, other unhoused individuals like we're nothing."
Martinez told YourCentralValleyNews that she and others will not stop fighting for justice for Contreraz, who had been homeless for only around three months.
"[She was a] loving person, caring, joyful, happy, always smiling you know? So, she had a lot of trauma that she carried but she smiled past it," Martinez said.
She also told YourCentralValleyNews that Ginder's prior criminal history, which includes three DUIs, should warrant a minimum charge for vehicular manslaughter.
So far, there has been no justice for Monique Contreraz. This tragedy raises some serious questions.
Is there a two-tiered criminal justice system in Fresno?
Do people of color and poor people ever get justice in Fresno?
Is Ginder receiving preferential treatment because of his race and class?
Is Contreraz, like the other unhoused individuals referred to earlier, being discounted because she was unhoused at the time of her death?
How many unhoused pedestrians are killed or injured on the streets and sidewalks of Fresno?
How many of these deaths of unhoused individuals remain uninvestigated?
How can the system be reformed so that everyone will get justice, regardless of socioeconomic status?
To that end, there will be an action on Nov. 28 at the Fresno County Courthouse to demand justice for Contreraz. Look for coming details on the Fresno Homeless Union Facebook page.