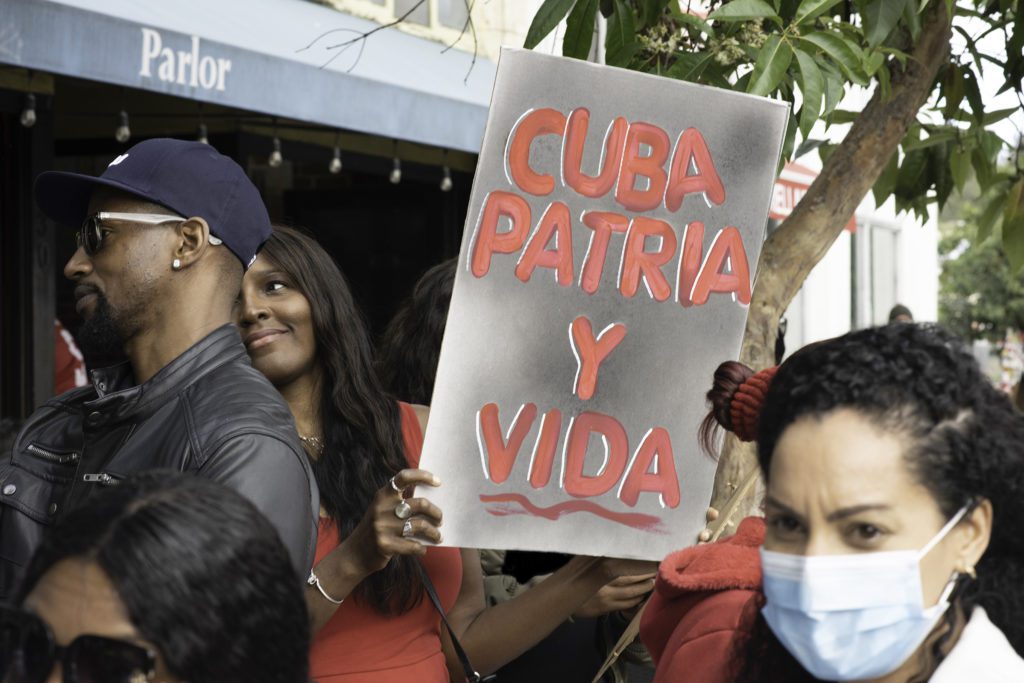 By Peter Maiden
During the Cold War, culture was weaponized. The Bolshoi Ballet built legitimacy for the Soviet Union. The CIA countered by covertly running supposedly independent magazines and cultural conferences in Europe, with the intent of promoting U.S. interests over the Soviets'. This was known as the Cultural Cold War.
This year, the United States will spend $20 million to destabilize the Cuban regime. The funding is mixed, some being aboveground and some covert.
In 2014, the Associated Press (AP) produced an investigative report, based on files revealed under a Freedom of Information Act request, on a covert operation to manipulate protest music in Cuba. According to the report, Cuban hip-hop was targeted for an intervention in 2009 by the U.S. Agency for International Development (USAID).
The USAID set up a contractor, Creative Associates International, to fund hip-hop protest artists from a front company in Panama. The key player in this effort was a Serbian promoter named Rajko Bozic. Serbian President Slobodan Milosevic had been deposed by a movement of young people inspired by musicians, and Bozic thought that could be repeated in Cuba.
Bozic focused on a rap group led by Aldo Rodriguez called Los Aldeanos. Rodriguez was known for his band's anti-government lyrics. He called his first album Censurado ("Censored") and had "rap is war" tattooed on his arm.
According to the AP, "Creative's contractors would recruit Aldo and scores of Cuban musicians for projects they disguised as cultural initiatives but really were aimed at boosting their visibility and stoking a movement of fans to challenge the government."
In 2010, Bozic brought Rodriguez and Los Aldeanos to Serbia for a festival appearance and training in "activism."
Later, Bozic was detained by officials while bringing sound and video equipment into Cuba; according to a co-conspirator, he had "all of Best Buy on his back." Among the items searched, Bozic had a memory stick that contained documents related to his covert operation.
A Cuban video jockey secretly working for the USAID was detained in 2011 when he flew into Cuba after a trip to Miami, and documents found in his computer linked him to Creative and the Panamanian front company.
As the AP put it, "They were busted."
The operation folded, and Rodriguez moved to Florida. Bozic moved on to work in Tunisia, Ukraine, Lebanon and Zimbabwe, according to the AP report.
Fast forward to Feb. 16 of this year, and a music video was released on YouTube that causes one to wonder: Is this the song the C.I.A. has been waiting for? The counterrevolutionary song destined to start a movement? It became the anthem of a highly unusual protest in Cuba, a protest that saturated the U.S. media in July.
The video is called "Patria y Vida" ("Homeland and Life"). "Patria y Vida" is a twist on the slogan "Patria y Muerte" ("Homeland or Death"), which was proclaimed by Fidel Castro during the Revolution and is reproduced on signs and walls everywhere in Cuba. "Patria o Muerte" also appears on Cuban money.
The beat is reggaetón, a Cuban style that was born in the 1990s. The song is both sung and rapped, in the style of Cuban hip-hop. The artists are dressed in black. The lead singer is shirtless, with "Patria y Vida" painted on his torso. The music is catchy, and the theatricality of the performers is seamless.
The lyrics of "Patria y Vida" project a strong distaste for the Cuban socialist system:
We are artists, we are sensibility
The true story, not the one that's poorly told
We are the dignity of an entire people trampled on
At gunpoint and with words that are still worthless
No more lies, My people call for freedom
No more doctrines, we no longer shout homeland or death, homeland and life instead
And start building what we've dreamed of
What they destroyed with their hands
Stop the bloodshed
For wanting to think differently
Who told you that Cuba is yours?
If my Cuba belongs to all my people
The artists who appeared in the video were Yotuel, Descemer Bueno, Gente de Zona (the duo of Alexander Delgado and Randy Malcolm), Maykel Osorbo and El Funky.
Yotuel was a founding member of the highly successful hip-hop group Orishas, and he now lives part-time in Miami and Madrid. Bueno is a singer, songwriter and producer who won a Latin Grammy and whose career has taken him back and forth between the United States and Cuba. Delgado and Malcolm of Gente de Zona live in Florida; they have won six Latin Grammys. Osorbo and El Funky reside in Cuba. Those two reportedly recorded their parts of the video secretly in Cuba and smuggled them out to the producers in the United States.
Granma, the newspaper of the Cuban Communist Party, responded to the video shortly after its release in February with a piece by Pedro Jorge Velázquez, a journalism student.
Velázquez said the song is "bogged down in hate." He added that the song tries to short change Cuba for views on YouTube and calls the artists "six zombies hypnotized [by] the market, six guys imprisoned by hegemony and selfishness." He concluded, "This song does not represent me."
The song might just have been a nervy gesture, a popular video that was offensive to Cuban revolutionaries, the product of a shadowy background. But when protests emerged briefly in Cuba on July 11, "Patria y Vida" became the catchphrase of the protesters, and it took on a whole new dimension. The video now has more than 8,000,000 views.
It is not known whether U.S. meddling was involved with "Patria y Vida." However, the song epitomizes the result the United States was looking for in its cultural interventions, and the Cubans were prepared to push back.
Two weeks after it was released, a video came out on the YouTube channel of the official Cuban government media, Cubadebate. It was called "Patria o Muerte por la Vida" ("Homeland or Death for Life"). It has had nearly a million views. That's a fraction of the views garnered by "Patria y Vida," but a significant number. Cuba's population is 11 million.
Osorbo and El Funky have both been incarcerated since the song came out, and their videographer, Anyelo Troya, who was arrested at the July 11 protest, is in jail as well. The charges against the three of them are various.
The San Isidro Movement is a group of intellectuals and artists, including musicians, who oppose Cuban government regulation of cultural production. The movement gets a shout-out in "Patria y Vida." All the artists in the video are members of the movement.
The July 11 protests had the participation of many Black Cubans. Blacks are also significantly represented in the San Isidro Movement. All the vocalists who performed in "Patria y Vida" are Black. The Cuban population is about one-third people of African descent.
The Cuban government at one point agreed to enter into dialogue with the San Isidro Movement, but that effort fell apart.
The protests ratcheted up tensions in Cuba and around the Cuban diaspora. Young people singing along to "Patria y Vida" in Miami are seen in tears. Yet there is new movement by some Miami Cubans toward opposing the U.S. blockade against Cuba.
Yotuel, along with other Cuban exiles, went to the White House and met President Biden on July 30. Biden still has in place draconian measures instituted by President Trump to harm the Cuban people, and he added more sanctions in recent weeks.
The Cuban government is not against music. Music is a fundamental strength of Cuban culture. Cuban children get eight hours a week of free music education.
What I noticed as a photographer of Cuban music in the Bay Area from 1998 to 2012 was the high level of musical sophistication among young performers. Many of them had been to college as music students tuition-free, learning classical and American jazz as well as traditional Cuban musical forms. After that, they played what they wanted, often one or another form of Cuban pop.
Reggaetón, with its explicit lyrics, does not get much airplay in Cuba, although it is popular.
It was tough for the Cuban musicians to get visas to perform in the United States. There was an attorney in San Francisco whose practice was largely taken up with obtaining them. The problem was not with the Cubans. They basically wanted their groups playing abroad, much like the Soviets wanted world tours by the Bolshoi Ballet.
This characterizes the unequal cultural war. In their hearts, the Cubans want to share their culture to earn international support for their Revolution. Meanwhile, the American government, so much more powerful, wages its tyrannical war of subversion and blockade.
*****
Peter Maiden is the photo editor of the Community Alliance newspaper.