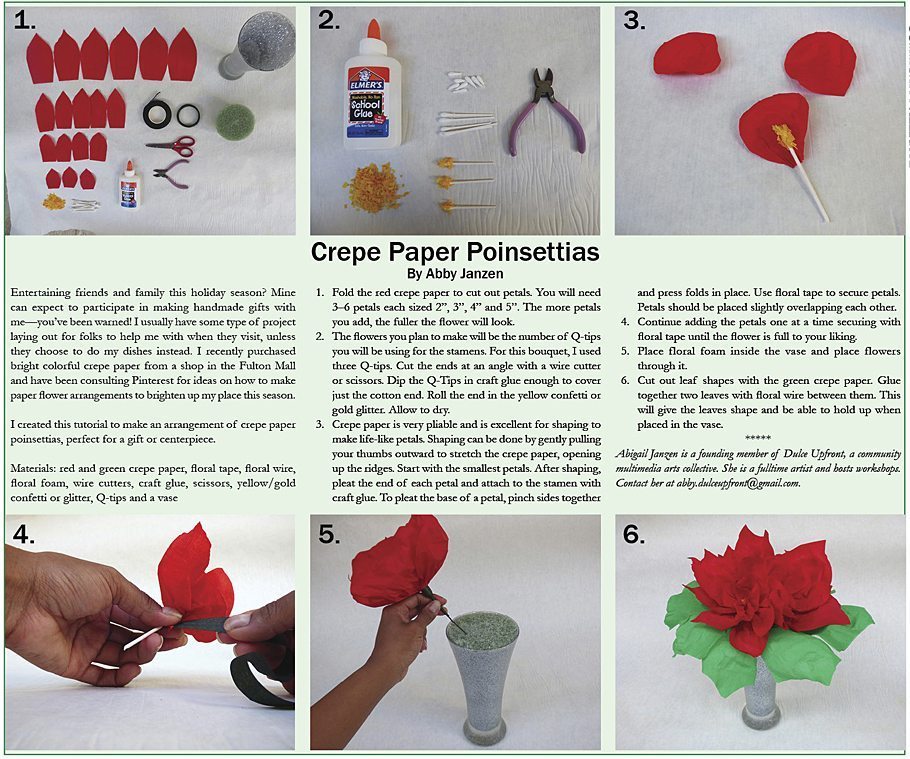 By Abby Janzen
Entertaining friends and family this holiday season? Mine can expect to participate in making handmade gifts with me—you've been warned! I usually have some type of project laying out for folks to help me with when they visit, unless they choose to do my dishes instead. I recently purchased bright colorful crepe paper from a shop in the Fulton Mall and have been consulting Pinterest for ideas on how to make paper flower arrangements to brighten up my place this season.
I created this tutorial to make an arrangement of crepe paper poinsettias, perfect for a gift or centerpiece.
Materials: red and green crepe paper, floral tape, floral wire, floral foam, wire cutters, craft glue, scissors, yellow/gold confetti or glitter, Q-tips and a vase
Fold the red crepe paper to cut out petals. You will need 3-6 petals each sized 2", 3", 4" and 5". The more petals you add, the fuller the flower will look.
The flowers you plan to make will be the number of Q-tips you will be using for the stamens. For this bouquet, I used three Q-tips. Cut the ends at an angle with a wire cutter or scissors. Dip the Q-Tips in craft glue enough to cover just the cotton end. Roll the end in the yellow confetti or gold glitter. Allow to dry.
Crepe paper is very pliable and is excellent for shaping to make life-like petals. Shaping can be done by gently pulling your thumbs outward to stretch the crepe paper, opening up the ridges. Start with the smallest petals. After shaping, pleat the end of each petal and attach to the stamen with craft glue. To pleat the base of a petal, pinch sides together and press folds in place. Use floral tape to secure petals. Petals should be placed slightly overlapping each other.
Continue adding the petals one at a time securing with floral tape until the flower is full to your liking.
Place floral foam inside the vase and place flowers through it.
Cut out leaf shapes with the green crepe paper. Glue together two leaves with floral wire between them. This will give the leaves shape and be able to hold up when placed in the vase.
*****
Abigail Janzen is a founding member of Dulce Upfront, a community multimedia arts collective. She is a fulltime artist and hosts workshops. Contact her at abby.dulceupfront@gmail.com.