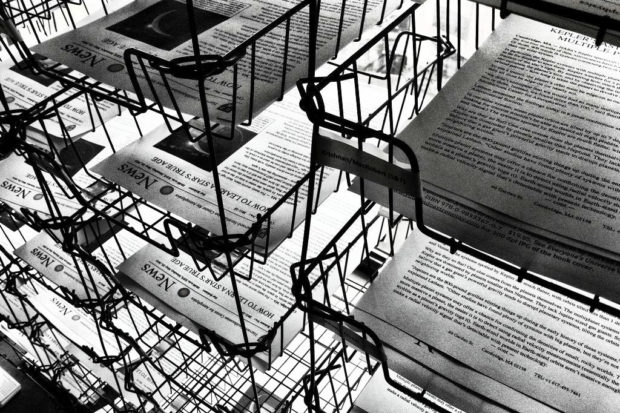 Editor's Note: This article originally appeared in ColorLines and was reported in collaboration with The Investigative Fund at The Nation Institute. See: http://www.theinvestigativefund.org/investigations/1293/
A thwarted attempt by the San Diego Tribune seven years ago to obtain disciplinary records for a deputy sheriff has rewritten police accountability across California. That case wound up at the California Supreme Court, which issued a sweeping ruling, Copley Press v. Superior Court, in August 2006. Though the ruling attracted some attention at the time it was issued in August 2006, and a short-lived effort at repeal, there has been no comprehensive attempt to assess its impact.
An investigation by ColorLines and the Investigative Fund at The Nation Institute has found that the decision, combined with state laws that protect police privacy, has blocked the public from knowing whether local police officers have engaged in misconduct, or a pattern of misconduct, even when such misconduct involves officers inappropriately shooting civilians.
A California Public Records Act Request uncovered a previously withheld list of 27 Fresno police officers involved in repeat shootings of civilians from 2002 through 2009, 25 of whom, according to an official with the Fresno Police Department, are still on active duty today. Of these 27 officers, four were involved in at least three separate shooting incidents over the same period.
One officer, Michael Palomino, was involved in four shooting incidents. In the context of a statewide investigation focusing in on four major police departments, the Fresno Police Department stands out in scale. During the same period, the similarly sized Oakland Police Department had only five officers involved in repeat shootings, although Fresno enjoys a much lower crime rate.
Dep. Chief Robert Nevarez, head of the Fresno Police Department's Professional Standards Division, which oversees the department's Internal Affairs Bureau, said he had been unaware of the number of officers involved in repeat shootings. However, Nevarez stood by the quality of the department's Internal Affairs investigations and stressed the need to review each shooting individually: "It's very important for us to review them [shootings by officers] on their own merits," Nevarez said. "We're policing a very dangerous population."
Citing California government code 6254, which exempts many law enforcement files, including personnel records, investigatory documents, and incident reports, from public records disclosure, Fresno Police Department officials denied a request for the incident reports filed by these officers at the time of each shooting. Likewise, Nevarez said the department would not turn over information on whether any disciplinary action was taken against any of the 27 officers related to the shootings, nor would he supply files on the department's internal use-of-force investigations into each shooting.
Neither family members of the shooting victims nor the public at large are able to access Internal Affairs investigation records or find out why 25 of these officers remain on active duty. Even a victim's family member who files a formal complaint with the FPD is only entitled to be informed about whether Internal Affairs sustained that complaint, but not whether the department undertook any related disciplinary action.
Nevarez would only speak in general terms, explaining that after shooting incidents, officers undergo range training to make sure they do not repeat any mistakes they may have committed during the incident. He said the department also has instituted a computerized early warning system for potential officer misconduct and a program for supervisors to identify problem behavior early on.
The Fresno Police Department's use of force record displays a pattern of violence that has drawn the attention of the federal Department of Justice. The Federal Bureau of Investigation's Sacramento office confirmed that it has opened an investigation into the beating of an unarmed homeless man, Glen Beaty, by two Fresno officers in February 2009. Just eight months later, in October 2009, one of the officers involved, Scott Payn, fatally shot John Cooper, an emotionally disturbed man who was waving a toy gun.
Fresno Police only have a handful of officers who are trained to deal with the mentally ill, even though people with suicidal tendencies or "health" issues were the fourth-highest cause of use of force incidents in 2009. That incident was caught on video and widely broadcast, sparking public outrage and hastening Mayor Ashley Swearingen's decision to create an independent police auditor to monitor the department. The first of these, Eddie Aubrey, was appointed in November 2009. Until then, Fresno was the only one of California's five largest cities without some form of independent police oversight. Aubrey was traveling as this article went to press and could not be reached for comment.
On January 14, a federal grand jury subpoena was issued to the Fresno Police Department's custodian of records by the United States Attorney's Office for California's Eastern District. The subject of the subpoena remains under seal, and US Attorney Benjamin Wagner's office refused to comment on the matter. The Department of Justice's Civil Rights Division did not return requests for comment.
On February 16, The ACLU's Fresno chapter sent a formal request to the Department of Justice for a pattern and practice investigation into FPD's use of force policies. Such investigations are intended to eliminate behavior by police officers who deprive citizens of their constitutional rights or engage in discrimination. The DOJ recently announced its intent to file a pattern and practice suit against the New Orleans Police Department.
Gloria Hernandez, a Fresno community activist who works with Fresno Copwatch and the Central California Criminal Justice Committee, both police accountability groups, said she had been unaware of the number of officers involved in repeat shootings in Fresno. "I was shocked that they're allowed to continue," she said. "The average Jane Doe who wants to find out something about the police department can't do so." Hernandez filed two similar public records requests, in 2006 and 2009, both of which were denied – the first just on the heels of the Copley decision.
Last year, the ACLU of Northern California sued the FPD after the city refused a Public Records Act request for the names of the officers involved in the Beaty incident. The names were eventually released three months later after media inquiries about the lawsuit began to mount.
"The people of this state should not have to go through the trouble and expense of filing a lawsuit to get records that are supposed to be open and available to all," said Michael Risher, the attorney overseeing the ACLU lawsuit.
What most troubles community advocates about this lack of transparency is the possibility that brutal or undisciplined officers, prone to the use of excessive violence, might remain on the force. Without access to incident reports, internal investigations, or whether disciplinary action was taken, such a determination is impossible to make. But some of the officers' actions indicate a pattern of problems.
In 1985 Raul Rangel, Jr., an 18-year-old junior college student, was carrying a gun and threatening suicide in his mother's home. She called the police for help, and several officers arrived; in the end, Rangel was shot at dozens of times and killed. One of those officers, Jerry Dyer, then a street cop, is now Fresno's Chief of Police; another, SWAT team member Michael Palomino, went on to be involved in several more shootings over the course of his career, three during the period between 2002 and 2009 covered by the Public Records Act request. Rangel's mother, Matilda Rangel, believes Fresno police are given too much leeway in cases that might involve the excessive use of force. "In my opinion, there's no accountability," Rangel said. "In every case, the police officers' actions are found to be justified."
In October 2009, Palomino shot and killed a 32-year-old parolee, Stephen Vargas, following a car accident. Vargas had crashed his SUV into a parked car while driving the wrong way down a one-way street. Palomino, a 29-year veteran who has served as a SWAT officer for all but three of those years, fired on Vargas when he didn't respond to commands to get out of his car. According to witnesses, another FPD officer incorrectly told Palomino that Vargas was armed. In February 2009, Palomino and three other officers fired shots at an unidentified suspect, who was not hit. No further details were available about the incident, which remains under review by Internal Affairs and the Fresno County District Attorney's office.
The Fresno Police Department's most prominent case of excessive force is that of Marcus Tafoya, a police officer who was fired in 2007 shortly before being indicted by the Fresno County DA for assaulting a returning Iraq war veteran at a party two years earlier.
Tafoya was acquitted of criminal charges in February of this year, despite allegations that he had tried to intimidate fellow officers who appeared as witnesses for the prosecution. But prior to his indictment, Tafoya was involved in four shooting incidents, three of which were fatal, all in 2004 and 2005. In a June 2005 incident, Tafoya shot Daniel Mendoza, a 21-year-old suspect in a shooting that had taken place ten days earlier – after Mendoza had begun to lower his hands while surrendering to Fresno Police. The internal investigations into those shootings and records of whether any disciplinary action was taken against Tafoya are not available to the public.
The disclosure of the 27 Fresno police officers involved in repeat shootings is the latest chapter in a decades-long struggle in California over law enforcement transparency. Intensive lobbying by police associations more than 30 years ago resulted in the passage of the Peace Officers' Bill of Rights in 1978, which prevents law enforcement agencies from releasing officer disciplinary information.
Then, in 2006, came the Copley decision, which prevented the release of complaints and findings against specific officers. "Now, you don't have to worry that your dirty laundry or allegations about your dirty laundry will be on the front page of the newspaper," the attorney representing the local Deputy Sheriff's Association, Everett Bobbitt, said at the time. In her dissent, Justice Kathryn Werdegar argued in a dissenting opinion that the ruling "overvalues" police officers' privacy concerns, and "undervalues the public's interest in disclosure."
Combined, Copley and the Bill of Rights mean California has the tightest restrictions on public access to police disciplinary information in the country. "Copley differs greatly from laws in the rest of the country," said Philip Eure, the head of the District of Columbia's Office of Police Complaints and a former president of the National Association for Civilian Oversight of Law Enforcement. Copley, Eure said, is "rather extreme" in its public records restrictions and has "caused alarm in the oversight community."
Fresno Deputy Chief Nevarez said that the integrity and transparency of investigations is key to retaining community trust in the department. "In order to have that trust, there has to be an element of transparency," said Nevarez. "Whatever we can disclose to the community, we will." Yet he said the Police Officers' Bill of Rights prevents him from releasing any information on disciplinary action that may have been taken against the 27 officers.
c 2010 The Investigative Fund. All rights reserved.