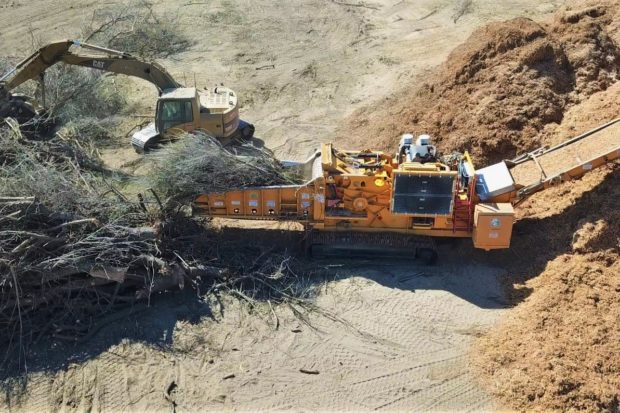 By Tom Frantz
A letter was recently sent to the Almond Board of California by several Valley groups. These groups include the Kern-Kaweah chapter of the Sierra Club, the Central Valley Air Quality Coalition and Faith in the Valley. The subject was concern over the increasing use of open burning for removal of almond orchards. The letter follows:
Dear Almond Board of California,
The undersigned groups represent San Joaquin Valley residents who live in close contact with thousands of acres of almond orchards. As such, we are impacted by the interactions between almond farming and the environment.
Almond farmers are our friends and neighbors. We recognize that farmers, in general, are environmentalists. Daily interactions with water, soil, air, wildlife, and climate are integral to growing food and fiber. Farmers obviously understand that a healthy environment is essential to growing plentiful and healthy food and to being good neighbors.
We appreciate the Almond Board's commitment to sustainability and environmental stewardship as evidenced, in part, by your recent publication:  
www.almonds.com/sites/default/files/content/attachments/Spotlight%20on%20Coproducts_0.pdf. 
Almond production plays an important part in the economy of the San Joaquin Valley. Efforts by the industry to promote water conservation practices, solar energy, cleaner tractors and dust control during the harvest season are greatly appreciated. We encourage those continued efforts.
Here are two recent concerns:
The increase in open field burning of removed almond orchards during the past few years. Though the practice was banned in 2003, plumes of thick black smoke drifting for miles and ash falling on homes, has become a common sight again in the San Joaquin Valley. This open burning obviously causes air pollution and harms public health, even when it is allowed on relatively clean air days.

The biomass power plants (which have been closing for economic reasons) are equally polluting because they are often located near urban areas and they operate continuously, even on bad air days. Burning wood in a power plant is, in fact, a very inefficient way to make electricity and dirtier than burning coal in terms of particulates released per unit of produced energy. Other recently proposed energy solutions from almond tree biomass, such as pyrolysis or gasification, are unproven, extremely expensive, require public subsidies which are unsustainable, and also release air pollution.
Fortunately, recent research, supported by the Almond Board, seems to be pointing to a win-win solution. UC Farm Advisor Brent Holtz, Ph.D., has documented the results of Whole Orchard Recycling (WOR;
http://calclimateag.org/wp-content/uploads/Lightning-Talks-Brent-Holtz.pdf).
These results indicate that WOR provides significantly higher yields, retention of nutrients, less bud failure, improved soil, drought resistance, increased beneficial soil fungi (also known to contribute to bee health) and carbon sequestration. One positive result of significance was nearly 1,200 more pounds per acre of almonds over six years from the field where the wood had been worked back into the soil compared to trees planted where the wood was removed or burned. These results eventually return any extra costs associated with WOR operations to the farmer.
Whole Orchard Recycling eliminates emissions from burning. Although incentives could be useful to encourage the practice, it also pays for itself over time. Therefore, long-term subsidies should not be necessary, as they were with biomass facilities. There is an added benefit of carbon sequestration in soil which is a goal of California's greenhouse gas reduction plans and can potentially put almond farmers at the forefront in the struggle to limit climate change.
Many almond growers today are already using WOR. The practice is increasing from year to year and would seem to be the standard practice of the future, just as shredding almond pruning in the orchard became the common practice just a few years ago.
We therefore encourage the Almond Board to continue to put resources into developing Whole Orchard Recycling technology and practices. We request that the Almond Board send a clear message to the San Joaquin Valley Air Pollution Control District encouraging them to support and promote WOR, using monetary incentives where feasible. At the same time, the air district should be asked to discourage open burning, perhaps with higher abatement fees. Natural Resources Conservation Service funding would seem to be one tool for encouragement of WOR. We, the undersigned, will strongly support you in this effort to end open burning as we live and work together in the San Joaquin Valley.
Signed,
Faith in the Valley
Central Valley Air Quality Coalition
Kern-Kaweah Chapter Sierra Club
*****
Longtime clean air advocate Tom Frantz is a retired math teacher and Kern County almond farmer. A founding member of the Central Valley Air Quality Coalition (CVAQ), he serves on its steering committee and as president of the Association of Irritated Residents. The CVAQ is a partnership of more than 70 community, medical, public health and environmental justice organizations representing thousands of residents in the San Joaquin Valley unified in their commitment to improving the health of Californians. For more information, visit www.calcleanair.org.