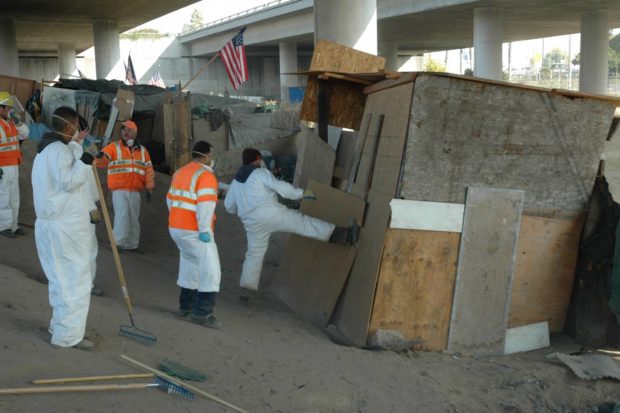 By Paul Thomas Jackson
A plaintiff's job of building a lawsuit has been compared to a construction project. The more social or finance significance the suit has, the more demanding the project usually is. If so, the National Law Center on Homelessness and Poverty (NLCHP) is staffed by some fine craftspeople. Since its founding in 1989, the nonprofit has been instrumental in securing constitutional rights to homeless people.
The Ninth Circuit, covering nine states including California, has long been regarded as the most "liberal" circuit. The 11th Circuit, which covers Florida, Georgia and Alabama doesn't have such a reputation. Yet, in 2000, that circuit recognized that the Eighth Amendment protects a homeless person who yields to the basic need to sleep in public, having no constitutionally permissible alternative.
Homeless advocacy isn't just for liberals and progressives but for all who respect the constitutional rights that inhere in every person.
Because of a settlement, the Ninth Circuit's ruling in Jones v. City of L.A. restricted this ban to benefit only homeless people in Los Angeles. Then, afforded a new opportunity by the NLCHP, the Ninth Circuit reached the same ruling for essentially the same reasons as it did in Jones.
The Ninth Circuit found that "as long as there is no option of sleeping indoors, the government cannot criminalize indigent, homeless people for sleeping outdoors, on public property, on the false premise they had a choice in the matter."
The NLCHP staff did so fine a job it might be tempting for us homeless advocates to turn our attention away from the task at hand, which is to build community. As Fresno Homeless Advocates notes, homelessness can be solved only by communitywide collaboration.
The Fresno Rescue Mission often reports it has empty beds. How does the Boise decision apply? Boise holds not only that a bed must be available but also that it must be practically accessible without religious or length-of-stay restrictions that could make it inaccessible to an individual.
To comply, the Rescue Mission must refrain from imposing its religious program on homeless people who fill its beds when they have nowhere else to sleep. Boise is an instance of case law, and so has the force of law, just as much as law from any other source. Still, challenges arise in how to implement case law, how to give it effect and put teeth in it.
Boise is a boon to homeless advocacy because the ruling helps clear the way for people to receive services necessary for their lives, their delivery being repeatedly commanded by Jesus himself, as told in the Christian Bible. The Bible reports Jesus' warnings to those who know how to live better lives in moral terms than they actually do. But it records no incident in which Jesus taught his followers to live better in material terms if at the expense of one's fellow men, particularly those whom society has relegated the lowliest status. In this part of the world, homeless people are "the least" among us.
Boise is also a boon to homeless advocacy because it focuses more critical public attention on local organizations' performance of services for homeless people and less negative attention on the people themselves.
The NLCHP staff demonstrated legal prowess in arguing their claims in Boise, and legal staff will face real efforts in proving the facts underlying future Eighth Amendment claims based on Boise. At least three distinct risks appear to threaten efforts to prove such a claim, as would make a legal staff's efforts futile, at least in bringing a claim to trial: One is to bring all of the appropriate parties before the trial judge.
Failure to meet this challenge means failure to "show that the injury is causally linked or 'fairly traceable'" to the city's ordinances "and not the result of independent choices by a party not before the Court" (Nw. Requirements Utilities v. F.E.R.C, 2015).
Another is to prove all shelters in a city (Fresno) have reached their respective maximum capacities at any given time. If any local shelter does have an available bed, Boise doesn't protect a homeless person who—refusing it and sleeping in public—from being punished for doing so.
Administrative feasibility here is no small feat in this regard. Are Fresno police officers going to be equipped with accurate data on available shelters in real time? If not, how will they determine whether to arrest someone for sleeping in public? And will service providers provide accurate data? Or will even one local provider be tempted to fudge its numbers in favor of enforcing the anti-camping ordinance of Fresno, which awards it funding year after year with few, if any, questions asked?
If any of these administrative hurdles isn't crossed, the district court here might find no homeless person lacked a shelter bed, even though the total number of homeless people far exceeded the total number of shelter beds. Based on such a finding, the court might rule that a homeless person could be punished for sleeping in public.
Like the Fresno Rescue Mission, a service provider in Orlando, Fla., named the Coalition had empty, unclaimed beds, as found by the 11th Circuit Court of Appeals in a case published in 2000. That court found "unrefuted evidence that the Coalition, a large homeless shelter, has never reached its maximum capacity and that no individual has been turned away because there was no space available or for failure to pay the one dollar nightly fee" (Joel v. City of Orlando, 2000). So, the 11th Circuit affirmed a summary judgment in favor of the City of Orlando.
A third challenge is to prove whether a shelter bed was "practically" available to a homeless person. Did she have good reasons to refuse, such as those mentioned in the August issue of the Community Alliance newspaper? Does one's desire to remain with a faithful companion, on whose emotional support one depends, put a practical limitation on one's willingness to accept an offer of a shelter bed? Or, perhaps less sympathetic to most readers, does an addict's physiological compulsion to use a substance and refusal to quit make an empty shelter bed "practically" unavailable to him in a facility unaccommodating to active users, as the Eighth Amendment bans punishing them for being addicts?
In any event, the Fourth and 14th amendments appear to protect a homeless person even when the Eighth Amendment doesn't. We explored those two other amendments earlier this year, and they remain relevant to the plight of a homeless person.
Exciting as the news of the Boise ruling is, and though the NLCHP's work is commendable, all of this tends to distract from a central concern of homeless advocates: Just as homelessness is solvable through community dialogue, so homelessness increases by a failure of families and communities. Community is pivotal.
Apparently, Fresno's anti-camping ordinance has been weakened by Boise because police must now take more steps to effect an arrest under it. To her credit, Fresno City Councilmember Esmeralda Soria didn't vote for it. And to his credit, Fresno City Councilmember Luis Chavez publicly admitted "it was a mistake" that he did.
The status quo under a punitive ordinance isn't good for homeless people or the entire community as it drives homeless people away from vital services and deeper into homelessness. Nor was the status quo good for them prior to adoption of the ordinance.
Yet, defeat of a punitive ordinance doesn't represent meaningful progress toward ending homelessness, unless homeless advocates make it so by reinforcing our message and seizing the opportunity gained by the fine work of legal advocates. And the final word on homelessness belongs to the community that either perpetuates this social problem or diligently works to solve it through collaboration.
*****
Paul Thomas Jackson prepared the claims that paved the way for the homeless lawsuit that in 2008 settled for $2.35 million. He is now the secretary of the Fresno Homeless Advocates (FHA). He is also its acting social media director, playing a key role in its Facebook group of more than 500 members. The FHA regularly meets at 6 p.m. on the third Sunday of the month. Notice is posted on the wall of the Facebook group.