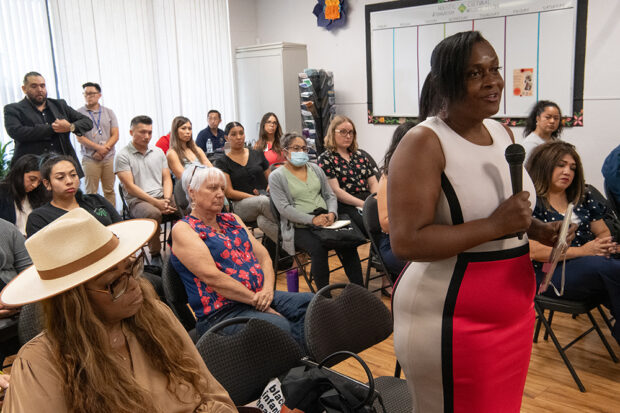 California Attorney General Rob Bonta came to Fresno on Sept. 12 and held a forum with Fresno Mayor Jerry Dyer, a panel of community leaders and several grassroots community groups. The purpose of the meeting was to discuss the increase in hate crimes, listen to community leaders and work on a strategy to help reduce that trend.
Bonta said that "the number of hate crimes is increasing every year and across every category" and that they are underreported. "From 2021 to 2022 hate crime events increased by over 20%, racially biased events increased by 11%, religiously biased events increased by 39% and hate crime events involving sexual orientation increased by 29%."
To improve the accuracy of the above numbers and get the police to respond, the Attorney General's Office recommends anyone who is a victim of a hate crime or incident do the following:
Contact the local law enforcement agency right away.
Get medical attention (if you need it).
Write down the exact words that were said.
Make notes about any other facts.
Save all evidence (e.g., graffiti, eggshells, writing on the victim's vehicle). If safe, wait until law enforcement arrives and takes photos.
Get the names, addresses, phone numbers and e-mails of other victims and witnesses.
Try to get a description from any eyewitnesses of the criminal or the vehicle.
Contact community organizations in your area that respond to hate crimes.
For many in the audience, calling the police and trusting them to respond in a culturally sensitive and appropriate way was a concern. The author, who was on the panel, cited a case in which Fresno police officers beat a homeless man who was attempting to stand up for his constitutional rights. Not only did they hold him on the ground as he cried out "I can't breathe," they arrested him. How can the community trust the police when things like that happen?
Tracie Cisneros, a volunteer coordinator/ally for Fresno Rainbow Pride, talked about her experience with the Proud Boys when they attacked a gathering at Our Saviour's Lutheran Church. She said she has family in law enforcement and is "a proponent of [the] Fresno PD (Police Department) and our Sheriff's department."
Cisneros said that she was tabling at a drag festival in the church to provide information about the Pride parade when the Proud Boys arrived to disrupt what they were doing. "They came to block the driveway, they came to shut us down [and] they shouted out poorly misdirected Bible quotes" to intimidate those in the church, which included many small children.
Going outside to make sure people arriving were safe, Cisneros saw that the "Fresno PD is there on the sidelines" but not taking an active role in containing the Proud Boys.
"I stood in the center surrounded by all of them as they hurled insults and the PD sat there and didn't do much," says Cisneros. "A literal inch from my face I had spit spewing, yelling in my face, and the PD did nothing. Twice I was hit 'accidentally' in the head with a flagpole that had a Don't Tread on Me flag, and the Fresno PD did nothing."
According to Cisneros, the Proud Boys stood in the driveway preventing attendees from entering and the FPD did nothing. She said that she had to get in the middle of 25–50 Proud Boys and shout them down to create a path for cars to come in. The FPD officers did nothing to help.
"I watched these Black and Yellows (colors worn by the Proud Boys) mob a mother and her small children to scare them away from the event. The PD did nothing."
Cisneros said she saw the Proud Boys in their black and yellow uniforms and masks still on "walking over to Fresno PD going 'hey man' and giving them bro hugs."
Bill Knezovich, the pastor of Our Saviour's Lutheran Church, told the Fresno Bee that his church was vandalized a few months later and repairs cost $25,000. He said the vandals left a sticker identifying themselves.
Alysia Bonner, with the Fresno NAACP, asked, "How do we foster not only people being confident to come and report, but actually be heard? Because that is a big issue in our community."
Sukaina Hussain, deputy executive director at the Council on American-Islamic Relations–Sacramento Valley/Central California, said, "When we talk about hate crimes against the Muslim community they are not a one off. It is not like someone randomly wakes up one day and decides they want to vandalize a mosque or harass an individual or do something horrific against someone in the community. It is very much rooted in structures and systems that are already in place."
Dyer, Bonta and Fresno Police Chief Paco Balderrama (who also attended the forum) listened closely to the testimony and said they want to build more trust in the community. Over the last year, the Community Alliance, while organizing several Stop the Hate town halls, has improved our relationship with local law enforcement, the Department of Justice and the FBI. They have given important presentations about what a hate crime/incident is, how to report them and what it will take to stop the increasing frequency of hate crimes.
The rise in hate crimes throughout California and across the United States has created widespread calls for action, with funding provided for this series by the California State Library under the statewide Stop the Hate initiative.