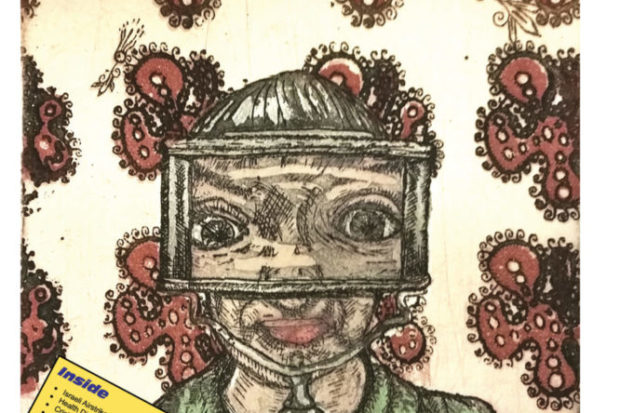 By Ernesto Saavedra
You've come across them at some point in your life. Posters, postcards and shirts. They decorate our walls, our bodies and our minds. Seldom is there much thought as to how these images got there in the first place; the process and the person that created them. Welcome to the world of printmaking.
According to some sources, woodcut reliefs were the result of the most basic printmaking technique first used. Its earliest uses are recorded to have happened in the 1400s in Japan, China and Europe. Woodcut is the process of using a thick wood block to carve out the image to be printed. Once the image is created, then you just need some tools like a printing press, which applies tons of pressure to the wood block on a surface. Metal surfaces are also used to create these images. Locally, this art form is alive and well and seems to be picking up traction. One of the many artists involved in this printmaking movement is Jason Bonilla.
Bonilla was born in San Jose and lived there until he was nine, when, with his family, he moved to Tulare. During his high school years at Tulare Union, he was what some would call a "Yo-Yo Master," participating in, and sometimes winning, Yo-Yo competitions. Ironically enough, art was the last thing on his mind and he rarely drew but he cites his brush with the world of Yo-Yo competitions as his creative beginnings.
Moving out when he was 19 and living the college life at Fresno State, he embraced the freedom of being on his own and partied like most young people do, without a care in the world. However, partying led to procrastination; procrastination led to poor grades; poor grades meant a low grade point average (GPA). He was on the verge of getting kicked out until a friend recommended he take an art class as an easy way to boost his GPA. Unknown to Bonilla, this art class would serve as the catalyst to what would become a life in print.
Equipped with the basics of drawing, he took up the art of printmaking under the guidance of Matthew Hopson-Walker, among others, and consumed himself with the craft. So much so that he became a part of Print and Glory, a printmaking club at Fresno State. Through this club, he worked on bringing artists from all over the United States to Fresno State. In the printmaking world, he was doing great, but personally, not so much. Drugs and alcohol were taking a toll on him physically and mentally and he needed out. Once again, art was there to save the day.
He sobered up completely, using printmaking to express his most inner thoughts and emotions. This is reflected in the piece you see on the cover, Phase One. In his own words, Bonilla describes the piece as "an extreme personal piece of art work for me. During the time I was making this work, I had been hanging out with a new friend that was not like any of [my other] friends. This woman was an eye-opener for me and my artwork because I started to think more about myself and what I am doing since I started college. I started to have identity flaws about myself and [think] how I can fix them so I can succeed.
"In the image, there is a woman looking at the viewer with a magnifying glass. I used the woman as a model for the image but in reality it's me. Because of her, I was able to look closely at myself and got a desire to self-improve. The background is like looking into a microscope. See how the small cell structure operate[s], that overall runs the larger organism. I use these to represent the little things I had to change to become a better person."
Some would argue that life and art are one and the same. To quote Frida Kahlo, "I paint my own reality. The only thing I know is that I paint because I need to, and I paint whatever passes through my head without any other consideration."
Artists like Bonilla are rare. He does have to make a living, but I was impressed to hear that he is looking to connect to the community and share his knowledge and passion with the masses.
For more information and to support Bonilla and his work, visit www.jasonbonilla.com.
*****
Ernesto Saavedra is the current editor of the Community Alliance. Contact him at ernesto.fresnoca@gmail.com.