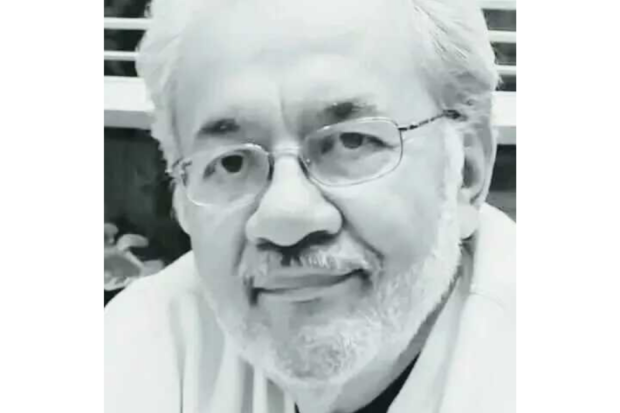 By Maria M. Adame

Leonard Adame was born Sept. 2, 1947, to Jessie and Trinidad C. Adame.
He had two brothers, Ronnie Eredia and Trinidad Adame III, and three sisters, Monica Adame, Maria Adame and Virginia Gates.
Since he was a young boy of 10, my father had an adventurous spirit.
If he was not running in the dirt fields near his home in sizzling Fresno, being the best baseball player or defending his little brother, Trino, he was off on his bike to the drugstore to read his favorite comic books and buy his favorite snacks: real baloney, a loaf of French bread and a cold, bubbly Coke.
Everything was real and fresh the way Leonard described the 1950s, especially at his father's restaurant where he lovingly ate fresh, hot, homemade tortillas while sitting on top of big piles of bags of cornmeal like a prince in heaven.
His next favorite place on earth was his Grandmother Maria's house, his calm haven. There, he enjoyed more homemade tortillas, papas and eggs, and their beloved cafe con pan. Until Leonard was 69 years old, he gently dipped his French bread in his creamy coffee.
Leonard's adventurous spirit grew and led him from comic books to literature books, college, photography and music. Through literature and his favorite professor and mentor, Philip Levine, Leonard learned about human beings and their behavior.
Leonard claimed that the best way to learn about human behavior is by reading and analyzing the different characters and how and why they behave in certain situations. And so his intrigue led him to earn his BA in English and an MA in creative writing at Fresno State and become an English and multicultural studies Instructor and published poet.
Leonard's most famous poem is "My Grandmother Would Rock Quietly and Hum," which is published in his chapbook, Cantos Pa' La Memoria. His other poems are included in Entrance:4 Chicano Poets, Piecework: Nineteen Fresno Poets and The American Poetry Review. Leonard also was one of the poets who contributed to the California Poets in the Schools; in fact, he read poetry to my fifth grade class in the school year 1979–1980.
Leonard went on to teach at Fresno City College, Fresno State and Butte Community College in Oroville, a suburb of Chico. He taught, impressed and counseled many young students who went to him for advice or a friendly ear. In fact, Leonard would sometimes hold his final tests at local pizza parlors. That's who he was, approachable, kind, empathetic and humorous, a guy who could make anything better.
Leonard began playing the drums at the age of 17. He learned about music from his uncles, Manuel and Tony Contreras. And Leonard was proud that he could impress his big brother, Ronnie. They both played in their Uncle Manuel's orchestra.
Eventually, Leonard excelled; he played everything from rock to Latin jazz. The timbales and congas had to follow along like cream and sugar to coffee. One of Leonard's favorite Latin artists was Tito Puente, also Chuck Mangione, and he loved the vocals of Aretha Franklin and Patti Labelle.
During college events or for the many Fresno clubs such as Zapps or Wild Blue Yonder, Leonard played his red or white sparkling drums in many bands including one he created and named ibluze in Chico. When Leonard played the drums, we became mesmerized as the drumsticks blurred away like fans. Leonard's favorite drummer was Buddy Rich. Leonard had become a local celebrity in Fresno and Chico as the wise poet who was a rolling thunder on the drums. Leonard played the drums until the age of 67.
During one of Leonard's gigs, he met his future wife, Lupe Diaz, in 1966. They had me two years later. Fifteen years later, they had my little brother, Leonard Anthony. Leonard had four children altogether including Lisa and Marcella Gallyer.
Then came the other loves of his life: his grandchildren: Isaac, Natalie, Audrina, Anthony and Baby Leonard. If one cried, Leonard fixed it with "grandpa's" band-aid, which was pain cream or money. He often took them to movies and restaurants and gave wisdom in the same way he gave to their dad and me. Leonard has 10 grandchildren including Cassie, Summer, Lisarose, Krystal and Kali. He also has four great grandchildren: Brittany, Jamie, Zachariah, and Rian.
My father had a passion: He believed that human beings deserved to be treated with respect and dignity. If people are suffering, we should do our best to help and accommodate those who have less, those who are born into a blueprint of severe disadvantages. Leonard would often roam downtown Fresno with his sidekick, the handheld camera.
He captured images of the homeless: some smiled, some did not. He also wrote articles about society's inadequacies. This was his expression of inequality in hopes of making a difference or at least helping one person to see and be inspired. He would not accept the excuse that "He or she chose the life they live in." Because no one asks to be born, much less to be born in poverty, racism or abuse.
My father contributed to this society with his music, his poetry, his passion and his wisdom. Through his endeavors, he lives on through his students, through his family, through me, his grandchildren and great-grandchildren.
*****
Maria M. Adame was born in San Jose and raised in Fresno. She has been writing poetry since the age of 7. Her father, Leonard Adame, a published poet, taught her about writing poems and essays her whole life. She is currently a substitute teacher in grades K-12 and is in the process of earning a teaching credential.