It was a homecoming for musician Javier Navarrette. He led a master class and played a concert at Fresno State on Oct. 30. He is a graduate of Roosevelt School of the Arts, class of 1990. Steve Alcala, the director of the Roosevelt High School Latin Jazz Band when Navarrette was a student, was in the audience for the concert.
Navarrette is now a teacher, promoter and percussionist in the Bay Area, where he has made a name for himself performing and recording with John Santos, Bobi Céspedes, Jesús Díaz, Linda Tillery and the Cultural Heritage Choir, and many others.
"I'm third-generation Central Valley Mexican-American," he said in a phone interview before the show, "born in the Central Valley in Fresno.
"My dad and his father came from Mendota. On my mom's side, they were all migrant farmworkers, who worked with Caesar Chavez and the United Farmworkers Union. I was raised with that."
Navarrette's mother studied medicine and health care at Fresno State and UC Berkeley. Her brother, Ismael Rodriguez, caught the tide of Latin rock music in the Bay Area in the 1970s, and played professionally. He influenced Javier and his brother Raúl, who also went on to become a Latin musician, playing trombone in the New York scene.
During the pandemic, as soon as it was possible for musicians to perform outdoors, Navarrette put together an all-star group of musicians called Javier Navarrette and his Socially Distant Friends. They performed in the East Bay, playing "roots music," which is Navarrette's focus.
"I dedicated my work to the ancestors," he said, "and I feel deep inside that it was the ancestors that have opened the way for me to where I'm at now, dedicating music to the orishas…playing Latin jazz, playing rumba, playing charanga, playing cha-cha-cha, playing bomba, all of the roots of Afro-Caribbean music."
The orishas are the deities of the Afro-Cuban religion, a faith known as Santería. They are celebrated in music and song, sung in the Yoruba language of West and Central Africa, which was spoken by many of the Africans who were brought to Cuba as slaves.
Navarrette was exposed to this tradition when he went to Cuba after graduating from high school, and he has been back several times, attending the Escuela Nacional del Arte (National School of the Arts).
Some of the most popular musicians in Cuba were his teachers, including musicians from Los Van Van and Irakere.
Navarrette is now teaching elementary school students in Oakland the basics of Afro-Cuban drumming.
Navarrette's mother came to the show at Fresno State, and he told the audience that "nothing I've done compares to this, to play for my mom." He dedicated to her a song for Yemaya, the female orisha who represents the ocean.
"For me to come back to Fresno and to play at Fresno State for all of my teachers, my family and friends," he says, "is the ultimate accomplishment in my life."
The concert opened with a segment performed by the Fresno State Jazz Ensemble, a big band that played standards and did a fine job of soloing. They were led by Dr. Otto Lee. Next up was the Fresno State Jazz Orchestra, led by Richard Giddens, which took on more advanced charts.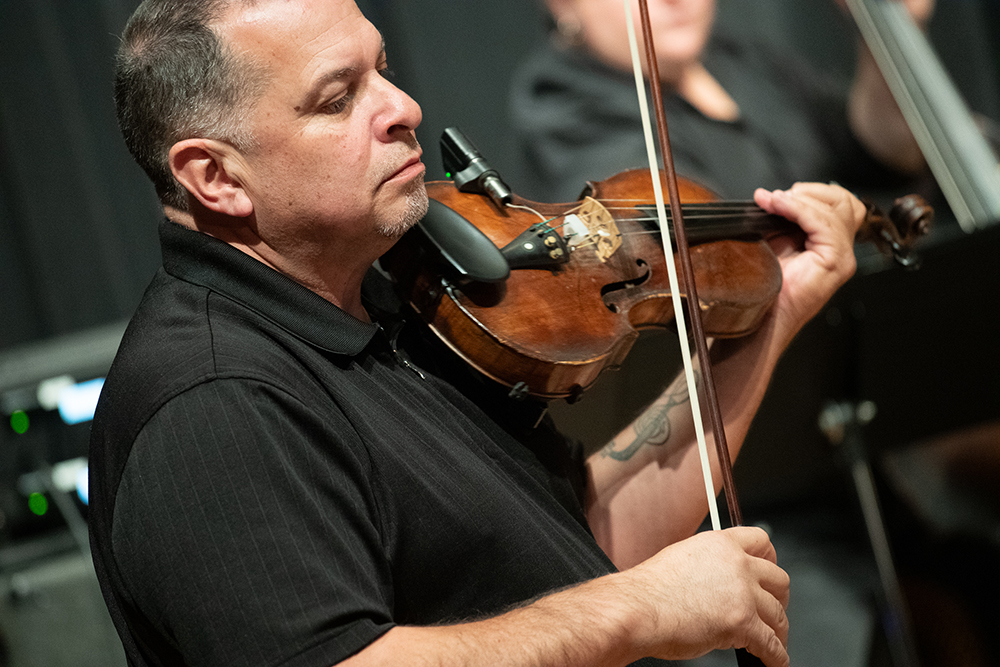 Then Navarrette, joined by Bay Area master violinist Anthony Blea, played a couple of Latin jazz tunes they had rehearsed with the orchestra. Navarrette, instead of grandstanding, played a largely supporting role. In a charming moment, he could be seen teaching the four-player trumpet section how to cha-cha-cha in place together while others soloed, in the manner of salsa musicians.
The evening closed with two duets between Navarrette and Blea. That part of the evening's program really stood out. Is it hard to imagine a duet between violin and congas? You had to be there. Blea plays like a whole string section on one instrument, and Navarrette's performance was deeply and strongly felt.
They left the audience wanting more.