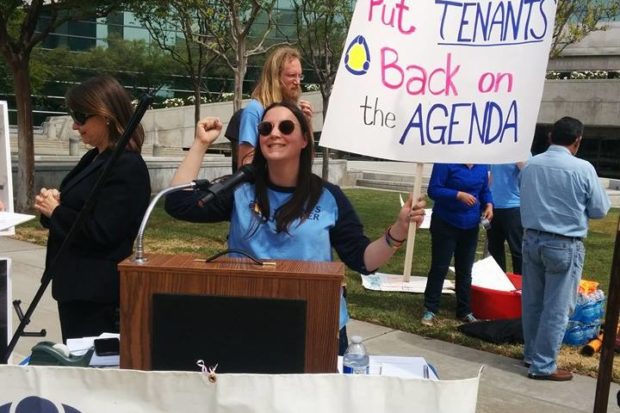 By Beth Becker
WASHINGTON, D.C.—Patrisse Cullors, co-founder of #BlackLivesMatter, has been named winner of the Berger-Marks Foundation 2015 Edna Award for Social Justice. The Edna Award, which carries a $10,000 prize, honors women age 35 or younger who have distinguished themselves as leaders of the social justice movement. It is named after Edna Berger, the first woman organizer of the Newspaper Guild and the inspiration behind the Berger-Marks Foundation.
Cullors is an artist, organizer and freedom fighter. As founder of Dignity and Power Now, cofounder of #BlackLivesMatter and the director of Truth and Reinvestment for the Ella Baker Center for Human Rights, she has worked tirelessly to promote law enforcement accountability across the nation. She led a think tank on state and vigilante violence for the 2014 Without Borders Conference and produced and directed a theatrical piece titled POWER: From the Mouths of the Occupied.
Cullors will receive the Edna Award at an awards reception on Nov. 12 at the National Press Club in Washington, D.C. Also to be honored with $1,000 Edna Awards of Distinction are Neidi Dominguez, director of Worker Centers and assistant director for Community Change at the AFL-CIO, and Nelini Stamp, co-director of Rise Up Georgia.
"Patrisse, Neidi and Nelini are inspirational examples of the young women leading today's fights for justice all over this country," said Linda Foley, president of the Berger-Marks Foundation Board of Trustees.
A local community activist, Simone Cranston-Rhodes from Fresno, will be attending the ceremony as a finalist for the Berger-Marks Award. She was nominated for her work to improve the quality of life in Fresno. Fighting hard on local and state elections, she helped defeat the local anti-union Measure G by a small margin of 801 votes. Now working as the political organizer for the Fresno Teachers Association, she is fighting to improve the education system.
Judging the Edna Award contest this year were Valerie Ervin, former executive director of the Center for Working Families; Mary Kay Henry, president of the Service Employees International Union; Terry O'Neill, president of the National Organization for Women; Sara Steffens, secretary-treasurer of the Communications Workers of America; and 2013 Edna Award winner Jennifer Epps- Addison, executive director of Wisconsin Jobs Now.
At the Nov. 12 event, the Foundation will also honor the three winners of the $1,000 Kate Mullany Courageous Young Worker Award. The award is named for an inspiring young laundry worker who, more than 150 years ago, organized one of the first women's unions in an industry that was harshly exploiting them. It honors young women age 35 or younger who have stood up for workers' rights and organized their own workplaces.
The three winners are as follows:
Stephanie Alejandro, a restaurant worker from Los Angeles, who organized her co-workers to fight wage theft and poor working conditions at their restaurant.
Anggie Godoy, a restaurant worker from Los Angeles, who organized her McDonalds coworkers to Fight for 15.
Sarina Santos, a baggage handler at the Philadelphia International Airport, who organized her fellow airport workers for a union and a living wage.
"We honor these young women for their steadfast commitment to workers' rights," says Foley. "Their strength in standing up in the workplace on behalf of all of their co-workers is a reminder that there is strength in numbers and young women can lead the way."
The Berger-Marks Foundation was created by bequest of Tin Pan Alley composer Gerald Marks ("All of Me") in honor of his wife, Edna Berger, who rose from being a receptionist to become the first woman organizer of the Newspaper Guild. The foundation seeks to change the gender balance of the labor movement by providing support and recognition for women labor leaders.
For more information on the foundation and the Nov. 12 reception, contact Beth Becker at beth@beckerdigitalstrategies.com. For local information, e-mail Susan McCall at susanmccall10@ hotmail.com or Simone Cranston-Rhodes at swhalenr79@gmail.com.
*****
Beth Becker is the creator of Becker Digital Strategies, which helps Progressive organizations, candidates and others with the strategic use of social media. Contact her at beth@beckerdigitalstrategies.com. Sign up at https://actionnetwork.org/forms/sign-up-for-political-social-grab-bag-email.