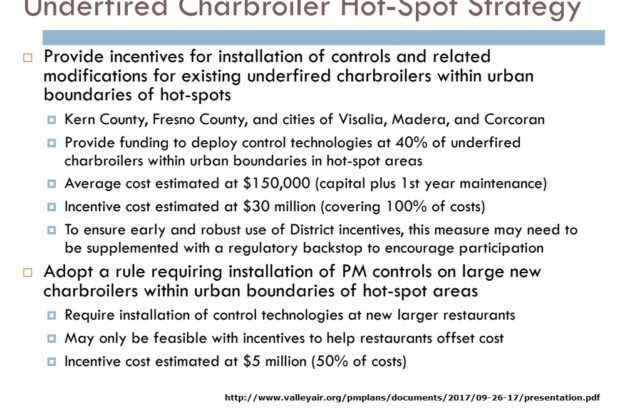 By Tom Frantz
The San Joaquin Valley Air Pollution Control District (air district) is considering a hot-spot strategy to address pollution from residential wood burning and restaurant charbroiling. Both these activities are large Valley pollution sources in terms of fine particulates.
Burning wood in homes puts nitrogen oxides and smoke into the air. The smoke contains fine particulates or soot, and the nitrogen oxides mix with dairy ammonia to form dangerous ammonium nitrate particles. Charbroiling is a process where meat is cooked directly over a heat source, and as fat drips smoke is created. This charbroiling smoke is equally dangerous with wood smoke. Both these sources can be eliminated in our air with a virtual ban on wood burning and filters placed in the exhaust system of charbroilers.
Fine particulate matter in our air is deadly. It clogs up lungs and arteries, which leads directly to respiratory problems and cardiovascular disease. These serious health issues lead to premature death. Ammonium nitrate from milk factories is widespread and forms more than half of the fine particulates harming residents across the Valley. Also, the closer you live to someone burning wood in their home, or a restaurant that charbroils, the more exposure you get from these sources.
The air district wants to call the areas surrounding their monitors, where the highest levels of fine particulates are recorded, "hot spots." They want to make stricter rules on wood burning and charbroiling for those areas but not for the entire Valley. In other words, they are choosing a monitor-friendly approach in cleaning up our air.
To meet the National Ambient Air Quality Standard for fine particulates, all monitors in the Valley must demonstrate compliance. It is assumed this will provide clean air for all areas in the Valley even though these particulate monitors are few in number and widely spaced. Fine particulates can vary quite a bit day to day and location to location. A monitoring network of private Purple Air monitors recently has shown this to be true. The air district is required to demonstrate that clean air at a monitoring site also means clean air in a community 30 miles away without a monitor.
Because private monitors are becoming widespread in Fresno and Kern counties, the air district seems to have decided those two counties in their entirety will be hot spots. They propose that tougher wood-burning and charbroiling rules will apply to every community in those two counties. But, in Tulare, Kings and Madera counties, only the cities of Madera, Visalia and Hanford will be hot spots, and residents living elsewhere be damned.
Also, the counties of San Joaquin, Stanislaus and Merced will be left out entirely. Residents of Stockton, Merced, Chowchilla, Tulare, Lemoore, Dinuba, etc., will continue to breathe unhealthy localized air pollution from charbroilers and fireplaces even while the official monitors in a few areas will supposedly show the air is clean for all.
This is an environmental justice issue. You can't clean the air in Visalia with strict measures that help residents to enjoy better health and not apply the same measures to the city of Tulare a few miles south, or Dinuba a few miles north, or Goshen just to the west. People's lungs are being sacrificed for the expediency of improving air quality only in the areas where it officially counts.
The air district is clearly misinterpreting its sketchy authority from the Environmental Protection Agency to implement a hot-spot strategy. This seldom-used strategy comes from the idea that there are times when toxic emissions from a single facility might be affecting nearby residents and a special rule is needed to protect them.
The rule is unique to that one location, and a similar facility elsewhere might not need to change anything because of a totally different environmental setting. That is where the hot-spot strategy could be useful. It is not useful in regulating practices such as wood burning and charbroiling that are common and health damaging in every community.
Using a monitor-friendly approach instead of a people-friendly approach is frankly immoral. We must tell the air district that these tougher rules it is proposing for limited areas are needed for the entire Valley and as soon as possible. We can't let the air district decide who gets clean air and who does not.
*****
Longtime clean air advocate Tom Frantz is a retired math teacher and Kern County almond farmer. A founding member of the Central Valley Air Quality Coalition (CVAQ), he serves on its steering committee and as president of the Association of Irritated Residents. The CVAQ is a partnership of more than 70 community, medical, public health and environmental justice organizations representing thousands of residents in the San Joaquin Valley unified in their commitment to improving the health of Californians. For more information, visit www.calcleanair.org.