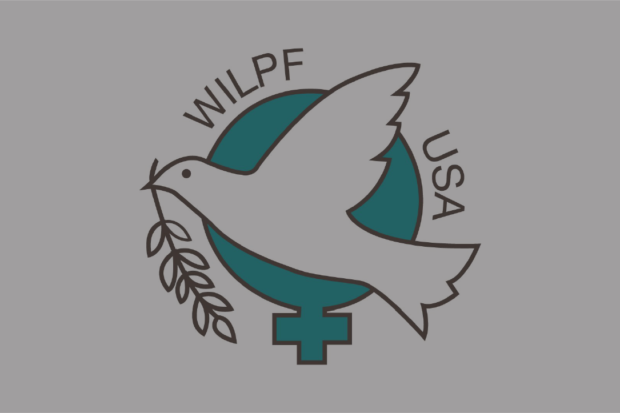 YOU CAN STILL GET YOUR PEACE CALENDAR!
But No Crafts Faire This Year
The 2020 Annual WILPF Crafts Faire has been cancelled due to Covid-19. We hope to have the Crafts Faire back next year and to see all of our artisans and friends there. More information will be forthcoming after the first of the new year. As always, thank you for your continued support of WILPF Fresno.
A Few Items for Sale
These would usually be at the WILPF Table at the Crafts Faire.
| | |
| --- | --- |
| Amazingly Beautiful 2021 Peace Calendars | $15 each |
| Dangerous Women Tee Shirts | |
| Short Sleeve (2 medium & 4 large) | $20 each |
| Long Sleeve (3 large, 3 XL & 2 XXL) | $22 each |
| Jewelry | |
| Peace Symbol Earrings | 3 styles at $10 each, 3 styles at $12 each & 1 style at $20 |
| Peace Symbol Pendants | 2 at $15 each & 1 at $20 |
WHY WE ARE ASKING YOU FOR MONEY AND WHAT WE DO WITH IT
A Very Incomplete List
We create a library for the children of farmworkers in Malaga through book and equipment donations. Malaga has no branch library and no school library. Even the bookmobile doesn't go there.
We annually present sets of Jane Addams Children's Award books to five library branches in low-income areas and to the Malaga Community Center. These presentations include community participation and projects.
Homeless Issues
We engage in collaborative projects and support for the Dakota EcoGarden and WINGS.
Dakota EcoGarden, a transitional housing site and program for the homeless, was started by a Fresno WILPF member. To learn more, visit https://ecovillagefresno.org/dakotaecogarden/.
WINGS assists people without homes in obtaining the personal documentation needed to become eligible for assistance and collects furniture and household items for previously homeless people and those escaping domestic violence after they are housed. A Fresno WILPF member is one of the founders/organizers and is on the board of directors. To learn more, visit www.wingsfresno.org.
Community Donation (partial list of Fresno WILPF donations)
Books to libraries and schools
Women in Hebron/Tully Foundation
Dakota EcoGarden
WINGS
Arte Américas
REFORMA del Valle Central
Fresno Center for Nonviolence
Creando Enlaces
Teatro de la Tierra
Centro La Familia
Pan Valley Institute
Community Water Center
Mothers Helping Mothers
Fresno Filmworks
Art for Our Lives
KFCF (free speech radio for Central California)
Fresno Veterans for Peace (bringing the My Lai exhibition to Fresno)
Generaciones Project (teaching music and theater to adults and children from Mexican and Central American farmworker families)
Tamejavi Festival (celebrating the Central Valley's diverse immigrant communities)
Community Alliance (monthly sponsor page)
MigriMap Project (a physical map and mobile app for migrants, deportees and asylum seekers in Tijuana developed by Lizbeth de la Cruz Santana and Danilo Castillo, chair of the WILPF Fresno Immigration Subcommittee)
Earth Democracy (sponsored films and discussants for World Water Day)
Earth Week (co-sponsor and exhibitor for Earth Day, River Ceremony with First Nations people, school environmental presentations)
Organized opposition to Temperance Flat Dam, including EIR reviews and public comment presentations
Organized annual Water Forum in March of each year
Actions against Fracking
OUR MAJOR FUNDRAISER IS THE ANNUAL PEACE CRAFTS FAIRE
We Cannot Have a Crafts Faire in This Year of the Pandemic
So for the first time ever, WE ARE JUST ASKING YOU FOR DONATIONS.
By mail: WILPF Fresno, P.O. Box 5114, Fresno, CA 93755
Online: Visit the WILPF Fresno page on Facebook. The top post says, "WILPF Fresno added a button to make it easier to use an app," with a Use App button that you can click to make a PayPal or credit card donation to WILPF Fresno. If you are reading this online, you can visit this link to donate/pay via PayPal.Me.
CHILDREN SHALL LEAD US TO PEACE
International Day of Peace, September 21, 2020
In only 10 years, Mohamed Souki (8) and Ethan Shurley (8) will be 18 years old and Ruby Shurley will be 17. Ten years from now, the Souki sisters, pictured with their mother, will be young adults: finished with college, have jobs and perhaps be mothers themselves. With their father, Taiseer, they left Syria with their extended family in 2012. Five of six children were born and grew up in Syria during the war; the youngest girl was born in Jordan, where they lived in refugee camps. They then came to the United States in 2015, settling in Fresno finally in 2016.
With their mother, Mssa Sidra, a freshman at Fresno City College; Salsabeel, 9th grade; Sundos, 7th grade; and Mohamed, 2nd grade, attended their first Peace gathering on Sept. 21, 2020, in Robinson Park, Fresno. Local Peace groups honor United Nations International Peace Day, declared in 1951.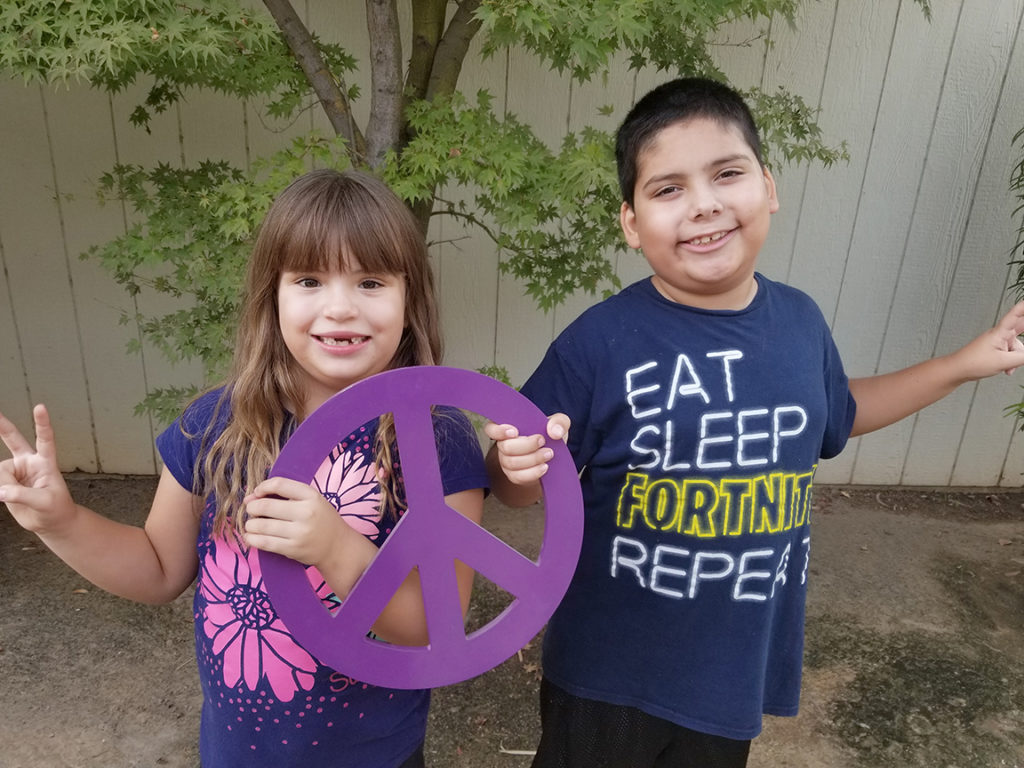 Ethan and Ruby's father is Josh Shurley, Fresno chapter organizer and national board member of Veterans for Peace, a group of military veterans from around the world who work to build a culture of peace. After nearly a decade in the U.S. Army, Josh was a conflict researcher in East Central Africa (Uganda/Sudan) studying how U.S. military activities affected local communities. He is now compelled and inspired to advocate for peace. Maybe the link to peace is apparent in his children. Josh and his children attend many peace activist events.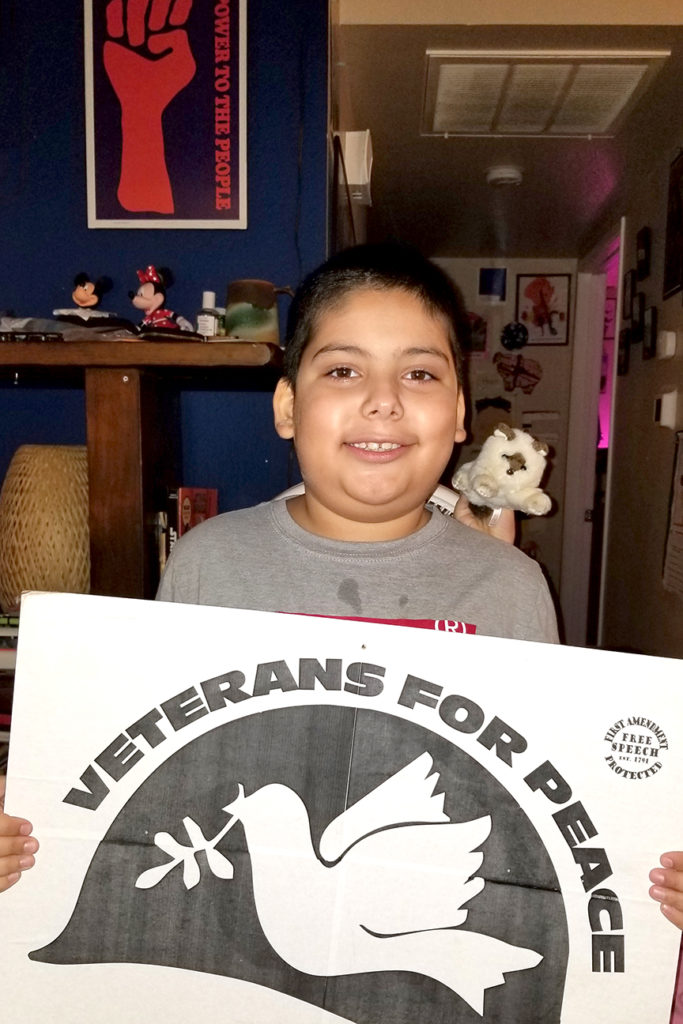 On Sept. 21, as Ethan and Ruby arrived with their father at Robinson Park, the evening darkness crept over the grassy area. The children made circles with the battery tea-lights, met Mohamed, and all three children scampered over the grass. Jacinda Potikian on vocals and guitar and Jean Hays on keyboard played music for the activists, as children and neighbors stood together. Speakers shared passionate words of hope to continue activism for Peace: Veterans for Peace, the Women's International League for Peace and Freedom (WILPF), Peace Fresno, the Fresno Center for Nonviolence, WINGS, the Human Rights Coalition and Chris Wippern, a Fresno sign artist who paints large subtly-worded signs. He gave a sign to everyone who came to this Peace evening 2020. My favorite sign is, DECENCY; it hangs high on a tree in front of my house!
The children surprised all of us, taking their places at the mic. Ethan said, "There is a lot of bad stuff in this world. There should be more justice. We need to stop all the wars and bring peace!"
Ruby followed, "I'm sorry the wars go on. We can stop and conquer our anger by talking. Thank you to all the activists for helping us be free."
Mohamed walked forward, with a plea to the world, "I hope everyone will be helpful."
Questions remain: Will Our Mother Earth ever celebrate a lasting, safe place any time soon? What can we adults do to reassure our children of peace? How can future generations have Peace? Even with masks and safe social distancing during Covid, we activists continue to play, write, sing, dance and speak out, hold signs, speak up to neighbors and friends through social media, letters and the press. Everyone! Stand Up for Peace! Please! Every day continues to contribute healing for our broken world
—Janet Capella
*****
The WILPF Fresno page is normally compiled and edited by Leni Villagomez Reeves.
---
WILPF MEETING
Nov. 12, 7 p.m., online. Watch your e-mail for an announcement and link or call-in number! If you have no e-mail or are not on the WILPF listserv, contact Teresa or Leni by phone for the information.
STIR IT UP–WILPF KFCF 88.1 FM
Nov. 25 (4th Wednesday of each month). Jean Hays does outstanding interviews on subjects involving WILPF interests and activities.
COMMITTEES STILL AT WORK
Though we cannot meet in person!
LEGISLATIVE COMMITTEE
Contact Jean Hays at skyhorse3593@sbcglobal.net.
LIBRARY COMMITTEE
Contact Ann Carruthers at acarruthers@earthlink.net.
EARTH DEMOCRACY
Contact Jean Hays at skyhorse3593@sbcglobal.net.
CUBA AND THE BOLIVARIAN ALLIANCE
Contact Leni at lenivreeves@gmail.com.
ADVANCING HUMAN RIGHTS/WINGS
Contact Bev Fitzpatrick at dfitzpatrick29@comcast.net.
RAGING GRANNIES
Contact Evonne Waldo at evonnewado@yahoo.com.
ANTI-RACISM
Contact Jean Kennedy at drjeankennedy@yahoo.com. Zoom discussion held on the last Sunday of each month at 6.30 p.m. To join, RSVP with your e-mail address for the Zoom link to drjeankennedy@yahoo.com or text 559-270-1023.
WOMEN IN BLACK
On hiatus until the new year.
MEMBERSHIP
Send dues to WILPF Fresno, P.O. Box 5114, Fresno, CA 93755.
Send questions and information updates to Evonne Waldo at evonnewaldo@yahoo.com.
WILPF membership is $35/year. Contact Evonne about the low-income rate, sponsored by our contributions above the $35 that goes to the national organization.
Find us on Facebook!