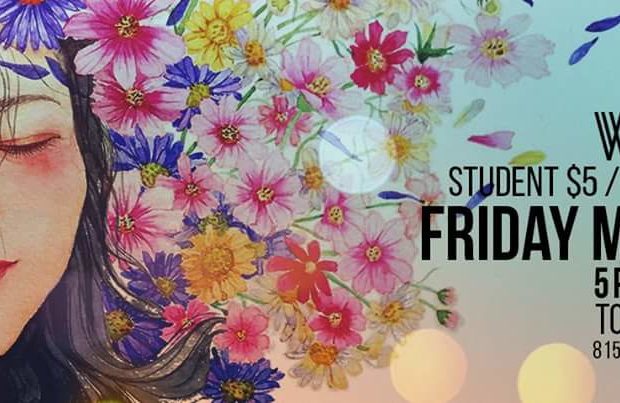 By Kathy Ayala
A creative celebration for women and led by women is coming to the historic Tower Theater in May. The Women's Art and Music Festival of Fresno (WAMFF) will take place Friday, May 6, 2016 from 5 to 10 p.m. in the Tower District.
The evening will be filled with art, music and storytelling to celebrate Women, raise awareness of gender-based violence, and empower women and raise funds to provide a future scholarships for female students.
Fresno State's Women's Studies Department, Rape Counseling Services of Fresno (RCS) and the Central Valley community are making this event possible. WAMFF is led by a coalition of women with a variety of talents and backgrounds.
Together these groups have begun work on bringing awareness of gender-based violence to Fresno in a creative form through the means of art and music. Donations and proceeds raised will support future scholarships and internships at RCS.
Stephanie Canales, 27, Community Organizer, Organizer for WAMFF, and Advocate for Rape Counseling Services of Fresno and of the Women's Studies Department at Fresno State believes it is important to bring awareness to the community about such issues.
Canales said committee members wanted to do something for the community in a way that celebrates women's creativity, women's art, and women's music and also bring to light the epidemic of gender-based violence.
Gender based issues have long been in existence, continue to exist globally and locally and primarily affect women. In 1993 the United Nations defined gender-based violence as, "any act of gender-based violence in, or is likely to result in, physical, sexual or mental harm or suffering to women, including threats of such acts, coercion or arbitrary deprivation of liberty, whether occurring in public or in private life."
Laura Ibarra, 28, a local artist and participant of WAMFFF said events such as this are significant to the community.
"As a female artist and member of this community, this event feels important and necessary. Women make up half of our population, yet it feels like we are largely underrepresented in the local art and music scene. It also feels like we are largely unaware of what resources there are available to us as women, and as potential victims of gender-based violence," Ibarra said.
Organizers have taken it a step further and have begun raising funds to provide scholarship opportunities for female students.
This idea came about after observation and discussion that many students who go on to advance their education must work two or more jobs in order to meet the expense of college, take out student loans and in some cases continue to provide for their families.
"Many of these students don't have the time to, or the capability to have an unpaid internship. So we decided that we would fundraise for these students who are interested in eliminating gender violence by becoming interns at RCS," Canales said.
Canales was once in a similar situation and was able to intern for RCS and later had the opportunity to apply to graduate school after gaining experience at the agency.
RCS was established in 1973 as part of the Women's Studies program at Fresno State to provide supportive confidential services for the community and assist in students reaching professional goals by providing internships.
Monte Jewell, Executive Director of Rape Counseling Services of Fresno said the agency's mission is to end rape and sexual violence.
That mission is achieved through two key elements provided by their services: response and prevention.
RCS provides a rape crisis line that is available 24-hours (559-222-7273) with bilingual counselors available for those who seek support and services.
"If there is help wanted, we help. There is no judgement and there's no blaming of the victim — ever," Jewell said. "You can call a thousand times and it never costs any money."
C o u n s e l o r s a r e recruited from local colleges such as Fresno State, who are trained to create a safe environment and options for callers. Counselors respond with confidentiality to those who feel they've experienced unwanted sexual contact and coercive contact.
RCS' mission is to also empower survivors while supporting safe, consensual relationships.
"We feel consent is the core to safe relationships but also safe community relationships and political relationships. We have consent on both sides," Jewell said.
Last month was Women's History Month followed by April as Sexual Assault Awareness month and the movement to end sexual violence.
In 2014 The White House Task Force released information declaring that in college alone, 20 percent of females have experienced some form of sexual assault.
The California Department of Justice shows reports of Domestic Violence related calls in Fresno, were over 6300 in 2014; the most current information available.
And in recent news a Fresno man, 23-year-old Chinnawat Vue, was arrested as a suspect in the death of his 22-year-old wife after an altercation relating to the victim's extramarital affair.
In 2015 a murder suicide took place in downtown Fresno where the death of 33-year-old Zyang Vang, a female worker at a local medical office, left the community in shock.
Neng Moua, 43, killed the woman with whom he had children with before taking his own life. According to court records, there was reported history of domestic violence.
The importance of such events in our communities is vital. The event raises awareness of sexual assault, rape and gender-based violence.
"Talking about gender-based violence gives it a voice and reminds us about how real it can be for our wives, mothers, sisters, and daughters. Women are beautiful and essential to Fresno and should be made to feel as such, safe and valued," Ibarra Said.
Tickets for the event are now on sale and can be purchased at the Tower Theater box office. Tickets for students are $5, $10 for the general public and children 12 and under are free.
The cover charge will be waived for those who show receipt of a $10 minimum donation at rcs.org. This event is open to all ages.
Community resources will be present at the event for those who seek more information.
For more support services and resources surrounding domestic violence, sexual assault, gender-based violence or donations please visit rscfresno.org or contact the 24-hour crisis line at (559) 222-7273. More information about WAMFFF can be found at WAMFFF.org
*****
Kathy Ayala has a Bachelor's degree in Mass Communication and Journalism with an emphasis in print journalism. Her goal is to create a successful career as a reporter and to contribute to her community with informative stories and stories of the people. She has worked with Fresno Unified School District for over 6 years.