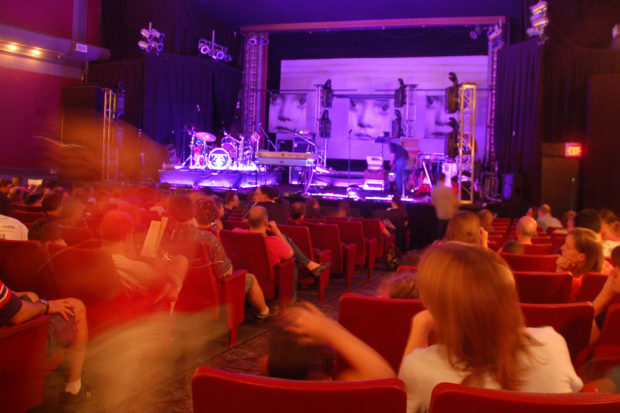 By Alfonso C. Hernandez
Why do you live in the South San Joaquin Valley? Friends ask me intermittently over the years because they know that all forms of art are essential for me. One or two of the same, living in the Bay Area, mention also that our valley is highly contaminated with dangerous pollutants and that in some small towns the water is undrinkable. Other than the fruit orchards and the mountains, why live around here?
During January and February, there were two concerts by the Tulare County Symphony Orchestra directed by Bruce Kiesling. Bon Vivant, the title of the concert in January, consisted of mainly French music. Tracy Harris, flutist, was the perfect soloist for the Fantaisie Brillante on themes of Bizet's Carmen by Francis Borne. The orchestra also played Ravel's Bolero with a most accurate rhythm.
On Feb. 9, the full house saw Hitchcock's Psycho on a gigantic screen with a string orchestra playing the music composed by Bernard Hermann. This unusual concert was a real treat for the audience, some of whom had never seen the film and who reacted as some of us did when we saw it for the first time in the 1960s. The ostinato runs as a leit motif were performed to perfection while the basses and the cellos reminded us that we were watching a film noir of serious dramatic and psychological meaning. The synchronization of film and music seemed to us absolutely well-coordinated. I had never had the pleasure of seeing a film with live music. Bravo Bruce!
A variety of women roles could be seen in several theaters in the area in world class to near professional productions. At the Barn Theater in Porterville, Pam Putnam Borne and Sharon Hall as the Brewster sisters in Arsenic and Old Lace by Joseph Kesselring, directed by Bob Merzoian and Vince Black, relished their characters giving their old and lonely occasional visitors a poisoned glass of wine. They innocently practiced euthanasia.
At the Ice House Theater in Visalia, Mary Kay Akins as Sister Aloysius Beauvier, using her power and a lie, accused Father Brendon Flynn, played by James Sherrill, of an unhealthful relationship with a 12-year-old student in Doubt by John Patrick Shanley and directed by J.J. Pestano. This nun could teach the Catholic Church how to eliminate pedophiles.
The Fresno Grand Opera produced La Rondine (The Swallow) by Giacomo Puccini with Valerio Galli conducting the small orchestra and Joseph Bascetta as stage director at the new Shaghoian Hall. Visually, vocally, musically, this production was perfect. The acting and the voices of Rebecca Davis as Magda and Chad A. Johnson as Ruggero were just right for their roles. The costumes took the audience to the Paris of the early l900s making us wish for a more serious opera with more than one memorable aria. There is an allusion to the great romantic poet Alfred de Musset, which made me want a different type of voice than that of Chad Berlinghieri as Prunier, the poet, who was adequate but light in tone. In La Rondine, the woman leaves her lover who remains crying and prostrated begging for love saying non lasciatemi solo ("don't leave me alone").
At the Galaxy Theater in Porterville, we saw the consequences of the fury of powerful women. The confrontation scene between Mary Stuart and Queen Elizabeth in the first act of Maria Stuarda by Gaetano Donizetti was breathtaking. When Elizabeth, sung by Elza van den Heever, accuses Mary, sung to perfection by Joyce DiDonato, of licentiousness, murder and treason, and Mary, in turn denounces Elizabeth as the illegitimate daughter of a whore, the fate of Mary is sealed. Power is stronger than blood and Elizabeth must remain queen.
Two more characters of powerful women appear in Les Troyens by Hector Berlioz under the direction of Fabio Luisi. Cassandra is sung by Deborah Voight and Susan Graham as Dido dies tragically. Cassandra's prophecy about the fall of Troy falls on deaf ears, and Dido's love for Aeneas cannot change the destiny of the hero.
These direct transmissions from the Metropolitan Opera of New York permit us to see visually spectacular sets, historically accurate costumes, effects that are practically impossible in any other opera house in the world, and especially hear incredible wonderful and powerful voices.
The South San Joaquin Valley offered artistically much more than what I am reviewing. There were several plays that I had no time to see and at least one classical concert I did not hear, without mentioning the countless high school band and choral concerts. How can one say that there is nothing to do of quality in our region?
*****
Alfonso C. Hernandez is a writer and poet from Three Rivers, Calif. Contact him at alfonsochernandez@hotmail.com.