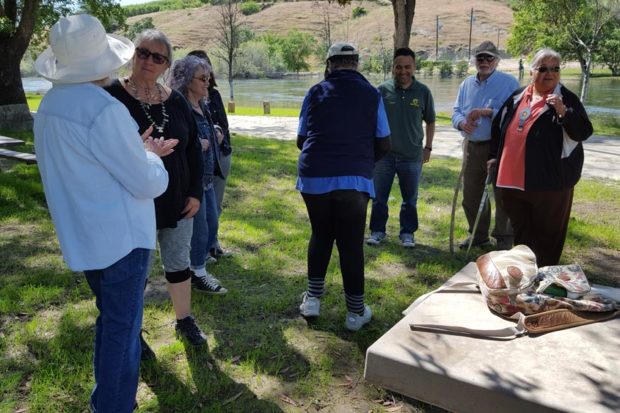 WILPF BUSINESS MEETING

WILPF will meet Thursday June 8 at 7 PM, at Fresno Center for Nonviolence, 1584 N Van Ness.  This meeting is open to all members.

WOMEN IN BLACK  June 7, (first Wednesday of each month) at noon at Fresno County Courthouse; come at least once this critical year! Wear black, bring a sign if you wish, and stand in silence for peace. Women in Black will be in recess for July and August, so this is your last opportunity for a while.  Come!

STIR IT UP – WILPF – ON KFCF 88.1 FM (Listener -supported Free Speech Radio for Central California)

June 24,  3 PM (4th Wednesday of each month)  Jean Hays does outstanding interviews on subjects involving WILPF interests and activities.  Tune in to 88.1!

RAGING GRANNIES

Meetings on selected Mondays at 7 PM. Call Ellie Bluestein 559-449-1817 for details.
EARTH WEEK:

 

WOW!!!!
WILPF Fresno had a busy Earth Week April 22-29.  Activities included our 2 booths at the April 22  Earth Day Faire where children of all ages cleaned the plastic from the "ocean" and freed plastic fish from 6-pack rings. This was the "hit" of Booth 1.  Visitors could also learn to clean tiles using a vinegar solution, and get air-cleaning plants. Thanks to the many WILPF members who helped at the booths, educating Fair attendees about our organization and about the many issues we work on.
      April 23 we hosted a river blessing at the San Joaquin River.  Organization of this event was challenging due to the fact that Lost Lake Park was still officially closed to cars. We owe a huge  thank you to Marie Nelson, park employee, who shuttled our people to the river from the main gate.  Audrey Osborne of the Choinumni Tribe conducted a beautiful blessing ceremony at river's edge, after which Clary Creager and Walt Shubin  spoke about growing up on the San Joaquin River and of its importance to the entire ecosystem. Lance Canales played 2 of his Native American flutes to conclude the ceremony.  He was assisted by ducks, geese, and other birds who got up-close-and-personal when they heard his beautiful sounds.
April 24-26 the WILPF Library Committee visited Fremont and Centennial schools to present Earth lessons.
April 29, after participating in the People's Climate March in the afternoon, we hosted an outdoor evening potluck and presentation in the beautiful garden of Pat Wolk.  Adam Scow, director of Food & Water Watch California was the featured presenter. His topic: Winning a 100% Clean Energy Future for California. Adam spoke about uniting to get Big Oil money out of politics (www.OilMoneyOut.com) and about how California's Cap-and-Trade Policy is a false solution for climate change and air pollution.
The Earth Week activities would not have happened if it weren't for the tireless efforts of our Earth Democracy committee.  A huge thanks to Donna Salwasser, Ann Carruthers, Catherine Fowler, Joyce Kauder, Pat Wolk, Kyla Mitchell and Jean Hays.                                 —–Jean Hays
---
PASTORS FOR PEACE CARAVAN TO CUBA IN FRESNO DURING EARTH WEEK
Cuba is sustainable.
Cuba has worked out  transportation and agriculture alternative methods to reduce their petroleum consumption. Cuba has shown that the population won't explode if you reduce infant mortality and prevent disease, even without any coercive population control measures.  All that is needed is to educate and empower women. Cuba is not maximizing corporate profits and earnings for the wealthy at the expense of everyone else and of the environment as the US and other countries in the global market dominated by the US are doing.  They have envisioned a more just society and are doing their best to carry this out, with  obvious imperfections and in spite of obstacles, by far the largest of which is the US economic blockade of the country.
Yes. The US still maintains a trade and financial blockade of Cuba
Manolo de los Santos, Pastors for Peace representative in Cuba, and Blanca Monett, a teacher from Havana, came to Fresno April 25 to tell us about Cuba, the effects of the blockade, and how we can challenge and help change US policy with a conscious act of civil disobedience – unlicensed travel to Cuba.  Three Fresno WILPF members will follow their conscience and assume this challenge.
Information  available from friendshipmentcaravan@ifconews.org  or from your editor.
---
WINGS CONTINUES TO GROW
Wings Advocacy Fresno just hit a milestone! We delivered home furnishings to our one thousandth client! Weekly referrals to Wings from agency Case Workers (Navigators) have increased in the first four months of 2017. This means more Veterans, Chronically homeless and families are getting housed.  The increase is due to a coordinated system of the Fresno Madera Continuum of Care (FMCoC) and outreach provided by Multiple Agency Program (MAP), San Joaquin Valley Vets, The VA, Marjoree Mason, Economic Opportunity Commission (EOC), The Hero Team and Wings Advocacy Fresno.
At almost the same time as our referrals increased, Wings received a generous donation of one hundred and two rooms of furniture from the Wuksachi Lodge in Sequoia National Park!  Wings volunteers are very grateful that Wuksachi is remodeling  one building at a time so that all one hundred and two rooms of furniture didn't arrive at once. A little at a time is fine.
So far we have received furniture from thirty five rooms, including  dressers, nightstands, end tables, small round tables, lamps and occasional chairs. Half of the furniture was delivered to the Wings Warehouse at 4323 N Selland, Fresno and the rest delivered to a donated space at Darrels Mini Storage. However, much of the furniture has already been taken to clients. We are expecting a second delivery  this week.
Wings Advocacy Fresno has much to be grateful for and so do our clients, as we try to help. . . Make their House a Home: Restoring Hope and Dignity.
If you would like to donate to Wings Advocacy Fresno, contact Wings today: www.wingsfresno.org. If you have donations (We Pick Up!) contact  furnishings@wingsfresno.org     
—– Bev Fitzpatrick
---
WILPF IS THERE FOR JUSTICE FOR ALL

 

– MAYDAY
Mayday is a celebration of unity and solidarity.  It is a statement that we will protect each other – Sanctuary for All!  It was a one day strike for immigrant rights.  Thanks to those businesses that closed for the day, including Vallarta and Ventura Market.
Join with WILPF Legislative Committee to support these bills, passed by the California State Senate and now in the Assembly: SB 54 California Values Act – Sanctuary State; SB 6 – legal representation for those facing deportation;  SB 31 – no cooperation with federal Muslim registry.
They work for us – let them know your views and wishes:
District 31 Joaquin Arambula  (559) 445-5532
District 23 Jim Patterson  (559) 446-2029
*****
The WILPF page is compiled and edited by Leni Villagomez Reeves or Patty Bennett lenivreeves@gmail.com