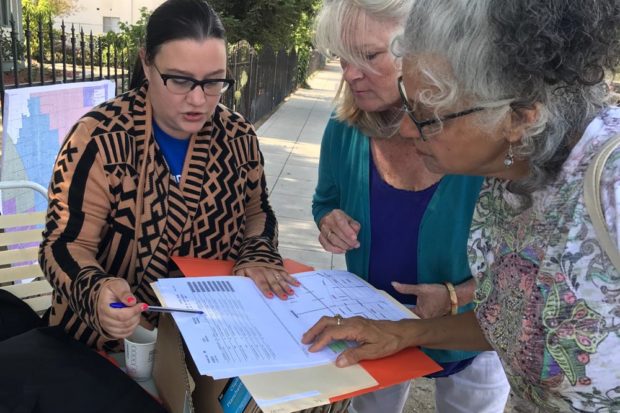 By Mike Rhodes
The 2018 Fresno City Council District 7 race is going to be even more exciting than expected.  There are already two progressive candidates interested in the position and a Republican has emerged who, from what we are hearing, wants to buy his way into City Hall. The two progressive candidates are both close to the CVPPAC—Nelson Esparza and Genoveva Islas.  Although it is too early for the CVPPAC to endorse either candidate, our analysis indicates that if one of them wins the District 7 race, there will be a liberal/progressive majority on the City Council.
The Republican, Brian Whelan, has been trying to impress his friends and foes alike that he has the ability to raise so much money that it would be impossible for anyone else to win. Will the Richie Rich approach to politics be successful in the predominantly working-class area currently represented by Clint Olivier? The CVPPAC doesn't think so.
That is why CVPPAC members have spent May canvassing District 7, visiting voters and listening to them talk about the issues that are important in their lives. Pam Whalen, CVPPAC president and one of the organizers of the canvass, said, "We were very warmly received by voters in District 7. They are very concerned about the level of neglect from City Hall and would like to see improvements in the cleanliness and code enforcement in their neighborhoods."
It is likely that the CVPPAC will follow up on the door-to-door canvassing with a house meeting campaign that will identify leadership and pave the way to a progressive victory. Whalen says that "it is really important that we work with folks in this district to build the organization they need to improve their neighborhoods."
In addition to the District 7 campaign, the CVPPAC has launched a social media marketing campaign aimed at recruiting younger members. According to Simone Cranston-Rhodes, "The first video released in this campaign reached over 19,000 people in the Central Valley and has increased CVPPAC membership." This marketing campaign will go on for at least another month. "The CVPPAC has to engage more young people in building a progressive movement because they are the future," Cranston-Rhodes said.
The next CVPPAC meeting will be Saturday, June 10, 2017, at 3:30 p.m. at the Fresno Center for Nonviolence, 1584 N. Van Ness Ave.
At this meeting, we will discuss efforts to elect a progressive majority to the Fresno City Council, the District 7 door-to-door canvassing that was done in May and the CVPPAC social media campaign that is currently under way.
We will also be electing an at-large CVPPAC Executive Board member. All CVPPAC members are invited to nominate a candidate and vote in the election. Alex Ramos-O'Casey has been nominated and has been unanimously endorsed by the current Executive Board.
For more information, contact:                                                                                       Pam Whalen, CVPPAC President                                                               pamwhalen@comcast.net                                                                                        (559) 994-9390
The content in this section is paid for by the Central Valley Progressive PAC