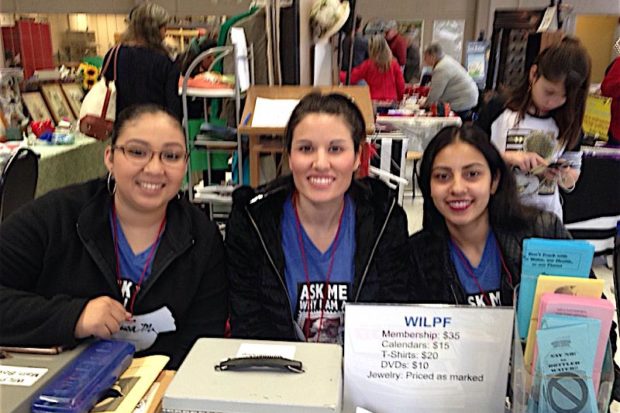 WILPF BUSINESS MEETING

WILPF will meet Thursday. Jan. 11, at 7 p.m. at the Fresno Center for Nonviolence (1584 N. Van Ness Ave.). This meeting is open to all members.

WOMEN IN BLACK

A worldwide network of women committed to peace with justice and actively opposed to injustice, war, militarism and other forms of violence. Jan. 3 (first Wednesday of each month) at noon at the Fresno County Courthouse Wear black, bring a sign if you wish and stand in silence for peace.

STIR IT UP–WILPF ON KFCF 88.1 FM

(listener -supported free speech radio for Central California)

Jan. 24, 3 p.m. (4th Wednesday of each month). Jean Hays does outstanding interviews on subjects involving WILPF interests and activities. Tune in to 88.1!

RAGING GRANNIES

Meetings on selected Mondays at 7 p.m. Call Patty at 559-999-9709 for details.
HURRAY FOR THE CRAFTS FAIRE
Thank you to all who helped with the Peace Crafts Faire.
I want to give a special shout-out to Mai Thao whom Jean Hays recruited. She worked tirelessly with Ilyass Oudghiri to do the physical setup on both Friday evening and first thing on Saturday morning and managed the kids' table all day and stayed until we vacated the premises on Saturday evening.
Janet Capella made sure we had sign and leaflet coverage and picked up most of the signs immediately at the end of the fair.
Jean Hays made sure we had the WILPF table covered with volunteers throughout the day and organized a great promo for us on KFCF's Stir It Up program.
Joyce Kauder did a superb job as head cashier for the food court. The traffic flow went smoother with fewer volunteers.
Gioia Frank was manager par excellent of the silent auction/raffle.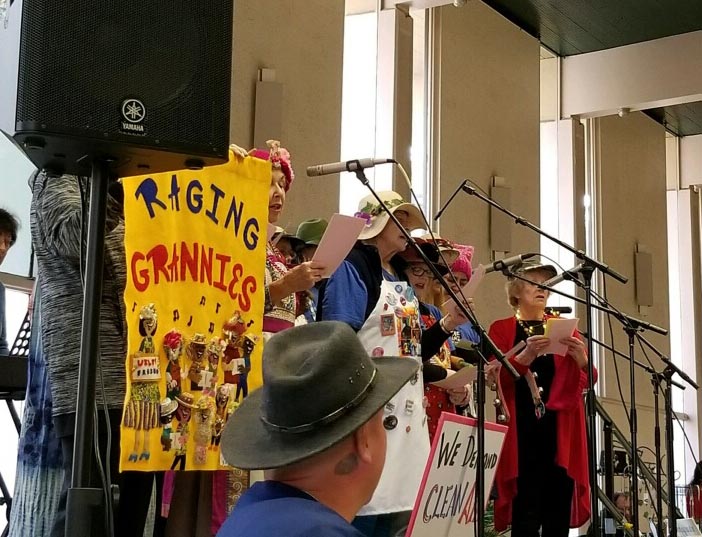 The smaller room flow-through was great due to Bev's electric sign and other large arrow signs that Janet posted along Weldon.
We had a record number of vendors in no small part due to Janice Douty who passed out our flyers at other crafts fairs in the months prior to ours. The WILPF Facebook page managed by Sandra Iyall was also an especially effective source of new vendors.
Linda Dryden got us though the crises of finding a new audio manager. She always does a superb job as our music manager and simultaneously runs her own jewelry booth at the fair.
Jerry Hentzler of the City College Horticultural Department came through for us with carts and tables and the endorsement of the FCC Bonsai Club. Thanks Janet for reaching out to Jerry to help us.
Thanks again for all who helped in whatever way you were able including donating to the silent auction or purchasing something from the auction or our vendors.
–Jay Hubbell
A huge thanks to everyone who helped at the WILPF table at the Crafts Faire. Am sending this to everyone because we don't want to leave anyone out. Mary Perich, Ellie Bluestein, Jan Slagter, Teresa Castillo, the wonderful interns and Joan Poss. Please forgive us if we have forgotten to name you. The table was full of information and great peace merchandise. It's not too late to get a Dangerous Woman t-shirt or a Crude Beyond Belief DVD.
–Paz, Jean Hays
---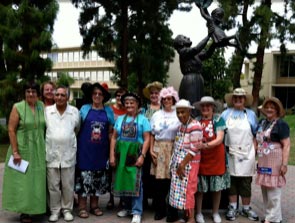 ELAINE RUCKER
Elaine Rucker came to Fresno from Oakland in 1944 and has been actively involved in promoting the activities of the Soka Gakkai Buddhist Center. In January 2012, she attended the Martin Luther King, Jr., Memorial gathering in downtown Fresno where the Grannies and many schoolchildren performed and was obviously moved so we invited her to join us, and she did.
She had a lovely voice and was an active member, never missing a rehearsal or a gig though she often lived far away from where we needed to go. She was totally committed to peace and became an active member of WILPF. Although she struggled with heart problems, she was determined to hang in there for 83 years, and she did, under the loving care of daughter Tracy and granddaughters Kalila and Jessica.
She took care of many people who needed help and sometimes brought friends and family to hear or meet the Grannies. Her daughters invited us to come sing her out on Sunday, Dec. 17, at the Fresno Buddhist Center.
–Ellie Bluestein
---
PALESTINE INCLUDES JERUSALEM
This was sent us by Laila, in Hebron, of the cooperative Women in Hebron:
For all the people who love Palestine
This is the real time we need you for
Jerusalem is our heart
Jerusalem is a holy place for Moslems and Christians
Don't leave us alone
Really, we are human beings
You are our supporters after Allah
We never give up
70 years left for the injured still pleading
70 years we are alone
They tried all the ways to punch us, but we are still breathing
For me, my tears from my heart you never see
We can feel like you really
We never give up even after the death the land saying this is Palestine
For all my friends can you share?
---
OFFICIAL WILPF STATEMENT
WILPF stands firmly with the Palestinian people in their struggle for freedom and self-determination through the withdrawal of Israel from occupied Palestine, and the establishment of a Palestinian state on the pre-1967 territory, including the West Bank, the Gaza Strip and East Jerusalem as the capital. WILPF unreservedly condemns President Trump's declaration of Jerusalem as the capital of Israel and deems this an irresponsible act and a violation of international law and the UN Security Council resolution, and therefore firmly believes the declaration should be withdrawn.
---
ICAN–NOBEL PEACE PRIZE AWARDED
In Oslo, Norway, the Nobel Committee has awarded the Peace Prize to the leaders of the International Campaign to Abolish Nuclear Weapons (ICAN). Accepting the award on Dec. 10 were Hiroshima nuclear bombing survivor Setsuko Thurlow and ICAN Executive Director Beatrice Fihn. In her acceptance speech, Fihn said, "The story of nuclear weapons will have an ending, and it is up to us to decide what that ending will be. Will it be the end of nuclear weapons? Or will it be the end of us?"
WILPF is one of the partner organizations of ICAN. ICAN was awarded the prize for highlighting the humanitarian impact of nuclear weapons and achieving the Treaty on the Prohibition of Nuclear Weapons. WILPF is a member of the ICAN international steering group and played a leading role in campaigning for the treaty, which was adopted by 122 governments in July 2017.
---
LIBRARY COMMITTEE BACK TO MALAGA
The Library Committee made its fifth visit to the Arriaga Community Center in Malaga in December, donating some additional 150 books to their library. We were welcomed by Director Romana Campos and assistants/teachers Liz Tovar and Lupe Rios. We saw the newly remodeled and impressive Teen Center room where new computers are being installed and the after-school program is held. A separate library for teen readers is also being established. Thanks to all who donated books; they are being used and appreciated in a community that values reading but where there is no public library or bookmobile stop.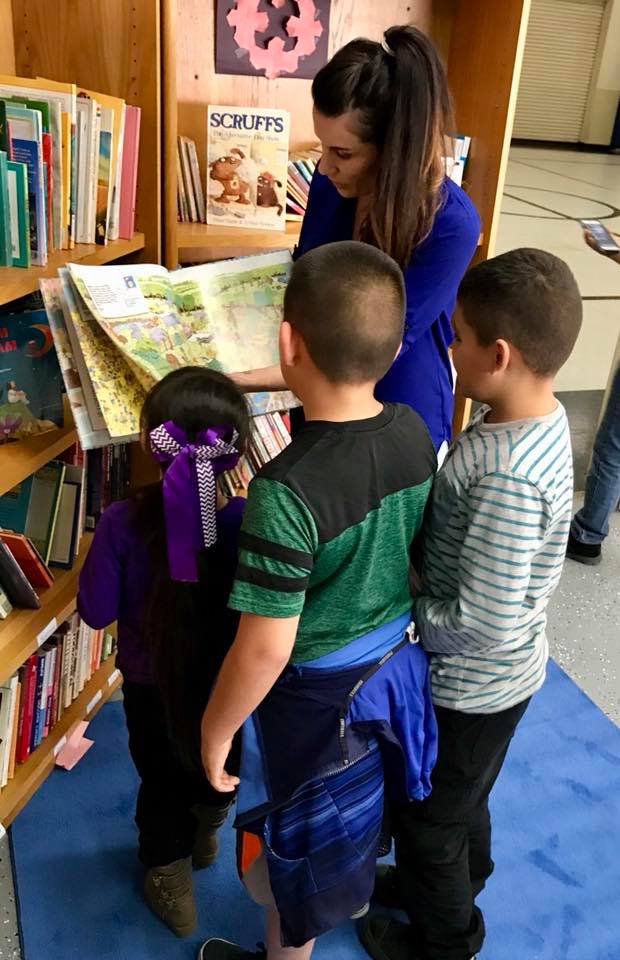 ---
The WILPF page is compiled and edited by Leni Villagomez Reeves (lenivreeves@gmail.com) and Patty Bennett.