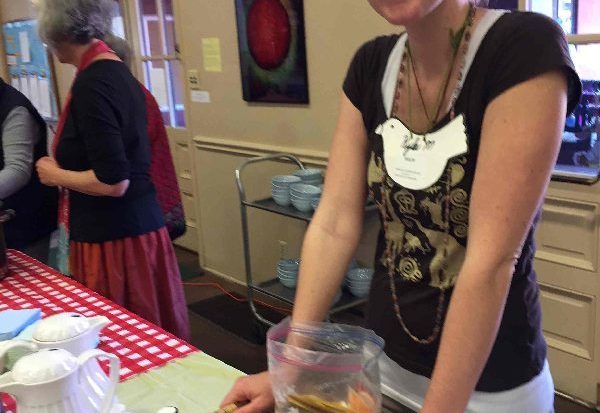 WILPF BUSINESS MEETING

Jan. 8, second Thursday of each month, 7 p.m.–9 p.m. at the Fresno Center for Nonviolence, 1584 N. Van Ness Ave. Meetings are open to all members.

WOMEN IN BLACK

Jan. 7, first Wednesday of each month at noon at the Fresno County Courthouse; come on the month in which your birthday falls! Wear black, bring a sign if you wish and stand in silence for peace.

LEGISLATIVE COMMITTEE

Jan. 9, 10 a.m. at Charlotte's Bakery, 609 E. Olive Ave. All are welcome to help plan monthly visits to the offices of our representatives and senators.

STIR IT UP–WILPF ON KFCF 88.1 FM (listener-supported free speech radio for Central California)

Jan. 28, 3 p.m. (4th Wednesday of each month). Jean Hays conducts outstanding interviews on subjects involving WILPF interests and activities. Let Jean know if you have ideas for a program. Tune in!

RAGING GRANNIES

Meetings on selected Mondays at 7 p.m. Call Ellie at 559-229-9807 for details.
THANK YOU FROM CRAFTS FAIRE COORDINATORS
Our annual WILPF Peace Community Crafts Faire took place on Dec. 6, 2014, at the First Congregational Church.
From Kyla Mitchell: Thank you to everyone who participated in the annual WILPF Peace Community Crafts Faire! Many volunteered their time as well as contributed homemade food and other items. We appreciate all the hands that came together and made it a delightful day. We'll see you all next year!
From Nancy Waidtlow, Crafts Faire and Dakota EcoGarden Report: We had gorgeous weather, more vendors than ever, great music all day long, and yummy soup and desserts. A marvelous time was had by all. We made some money too to support all the WILPF causes in the coming year.
Dakota EcoGarden homeless shelter residents pitched in, helping Mike Reilly set up sound and helping in the kitchen, as well as presenting their wares at their own booth. Check out the EcoGarden Facebook page for a look at Mai Bags (a brand is born), as well as Maria's Touch of Light Pictures and more. You might be able to shop online soon, or I'm sure Mai would be glad to show her inventory. House phone: 559-225-2767. Maria is not so available because she is working fulltime driving a bus. Brittani and Nathan (mostly wrapped stone pendants) and Kristine (persimmon cookies or baked goods at your request) may also be able to fill your requests. This is being written before Christmas so can't say how the Christmas potluck/open house went. Did Rabbi Rick Winer of Temple Beth Israel come and play his banjo for a Pete Seeger sing-along? Did you miss it? Check the Facebook page for the next open house event.
WILPF CENTENNIAL
A committee has been formed to plan local events in recognition of WILPF's centennial in 2015 and to coordinate with national and international recognition of this milestone. Committee members plan to visit the Fresno WILPF archives at Fresno State's Madden Library and to work with the library to prepare an anniversary exhibit. Staff at the main Fresno County Library have also expressed interest in having an exhibit.
If you are interested in working with the committee to develop these exhibits and plan other local events, call Ellie Bluestein at 559-229-9807.
QUOTE OF THE MONTH
As we approach WILPF's 100th anniversary, we want to share some of the thoughts of the esteemed founders of our organization. Here is a quote from Jeannette Rankin: "You can no more win a war than you can win an earthquake."