WILPF ANNUAL RETREAT

Saturday, August 23, at Jennifer Williamson's home. See the article below, and watch for additional details on the listserv. Open to all WILPF members and potential members.

WOMEN IN BLACK

August 6, the first Wednesday of each month at noon at the Fresno County Courthouse; come on the month in which your birthday falls! Wear black, bring a sign if you wish and stand in silence for peace.

STIR IT UP – WILPF – ON KFCF 88.1 FM (LISTENER-SUPPORTED FREE SPEECH RADIO FOR CENTRAL CALIFORNIA)

August 27, 3 p.m. (4th Wednesday of each month). Jean Hays conducts outstanding interviews on subjects involving WILPF interests and activities. Let Jean know if you have ideas for a program. Tune in!

RAGING GRANNIES

Meetings on selected Mondays at 7 p.m. Call Ellie at 559-229-9807 for details.
ANNUAL RETREAT AUGUST 23
The tentative agenda includes a report on the Middle East by Maureen Walsh and a report on Cuba by Leni Reeves. Also, branch members will share information from the WILPF Triennial Congress, taking place July 31–August 3 in Detroit.
Bring something to share for the potluck lunch, and help identify our branch's priorities for the next year. We will meet at Jennifer Williamson's home. The address and additional details will be sent out on the listserv.
SAVE THE DATE! CRAFTS FAIRE DECEMBER 6
The annual WILPF Peace Crafts Faire is scheduled for the first Saturday in December, December 6, from 10 a.m. to 4 p.m. at the First Congregational Church. More information to come!
DAKOTA ECOGARDEN REPORT FROM NANCY WAIDTLOW
Summer is a hard time to be homeless in Fresno. At least the city is opening the cooling centers. I haven't checked to see if there's any help for those who can't get there because they can't take their belongings on the bus, or can't come inside because there's no safe place to keep their stuff while they are inside.
The Dakota EcoGarden is an oasis for about a dozen folks who would otherwise be without shelter from the heat. Not all of them have a room in the house, of course, and we still have only one ecoshelter outside, but they can come inside during the day, shower when they need or want to, wash their clothes and have a place to keep them, and get a cool drink with ice from the refrigerator—things most of us take entirely for granted.
And soon there will be solar-powered fans inside each tent, along with enough solar power to run a light and to charge a phone. Not everybody has a phone yet, but there is a federally subsidized program that is slowly allowing us to progress toward that goal. And we have WiFi throughout the property!
If we weren't busy enough, we have our feral "Mama Kitty" and her four kittens to keep us hopping. Mama Kitty was spayed recently with the help of the SNIP program. Now we have to catch the kittens and take them in for neutering and vaccinations and then get them socialized enough to find adoptive homes. (Anyone? They're quite beautiful and already 10 weeks old. Free!)
An NPR reporter is doing a story on the Dakota EcoGarden for the California Report. We don't know the exact date it will air, but it will be late August.
All are welcome to the 4th Sunday potluck/open house, from 2 p.m. to 5 p.m., this month on August 24. The address is 2231 W. Dakota Ave., phone 559-225-2767.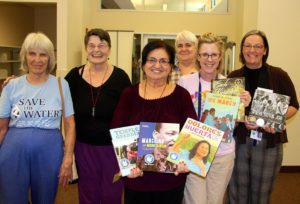 FRESNO WILPF BRANCH DONATES BOOKS TO LOCAL LIBRARIES
During July, branch members visited two libraries, the West Fresno Library and the Doris Gates Children's Library in the Downtown library. Each year for the past 30 years, the branch has donated a set of Jane Addams Children's Award books to the Doris Gates Children's Library. This is the second year that we have donated to the West Fresno Library. (See photos of the West Fresno Library visit.)
The Jane Addams Children's Book Awards are given annually to six children's books that effectively promote the cause of peace, social justice, world community and the equality of the sexes and all races, as well as meeting conventional standards for excellence. The 2013 books donated are as follows:
Winner of Books for Younger Children: Each Kindness, written by Jacqueline Woodson and illustrated by E.B. Lewis
Winner of Books for Older Children: We've Got a Job: The 1963 Birmingham Children's March, written by Cynthia Levinson
Honors for Books for Younger Children: Dolores Huerta: A Hero to Migrant Workers, written by Sarah Warren and illustrated by Robert Casilla, and We March, written and illustrated by Shane W. Evans
Honors for Books for Older Children: Marching to the Mountaintop: How Poverty, Labor Fights and Civil Rights Set the Stage for Martin Luther King Jr's Final Hours, written by Ann Bausum, and Temple Grandin: How the Girl Who Loved Cows Embraced Autism and Changed the World, by Sy Montgomery