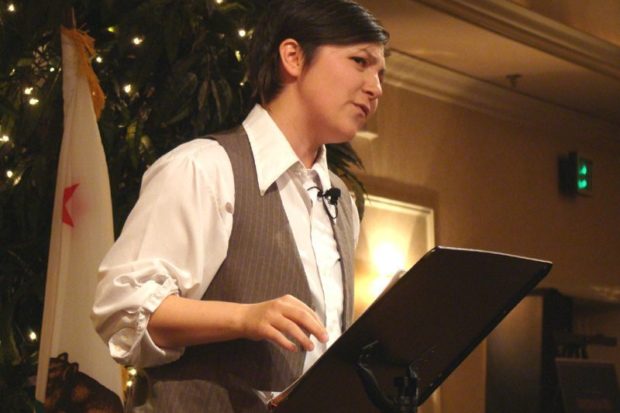 By Lorenzo Bassman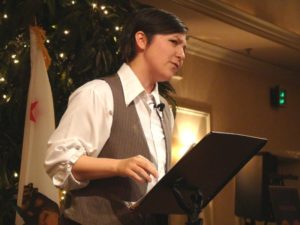 On Sept. 27 at 7:30 p.m., the Unitarian Universalist Church of Fresno presents Nikiko Masumoto in her one-woman show, What We Could Carry, a performance of Japanese-American memory. A period of discussion will follow the performance.
The concept for What We Could Carry was developed by Masumoto. The show asks us to consider how and what memory we carry about Japanese-American experiences before, during and after Internment and World War II. Based almost entirely on the testimony of individuals from the Los Angeles hearings of the 1981 Commission on Wartime Relocation and Internment of Civilians, Masumoto re-performs 13 individuals' testimony (in addition to her own) about the Internment and the weight of these memories. This show is riveting in its commitment to truth telling. Come for an experience of witnessing, remembering and healing.
Poet Lee Herrick says that "Nikiko Masumoto is a brave and beautiful soul with enough compassion and talent for us all. What We Could Carry enlarged my grateful heart, moved me to tears and shines an important light on history and humanity. Masumoto's brilliant and captivating play is a moving lesson and a treasured experience that I will never forget."
Born in the Central Valley, Nikiko spent her childhood slurping overripe peaches on the Masumoto Family Farm (an 80-acre organic farm in Del Rey). She has never missed a summer harvest. In 2007, she graduated with Highest Honors from UC Berkeley with a B.A. in gender and women's studies. It was there that she realized she wanted to return to the Valley to farm. But first, she completed a master of arts in performance as public practice from the University of Texas at Austin. Her area of research focused on the performance of memory and Japanese-American history (specifically the movement for redress).
In June 2011, she moved back to Del Rey where she lives with her baachan and spends her days in the fields, apprenticing with her father and creating agrarian art. That same year, she started the Valley Storytellers Project as a means to create public space for Valley folk to tell their own stories. She is co-author along with Marcy and Mas Masumoto of the newly published cookbook, The Perfect Peach (June 2013, Ten Speed Press).
Masumoto says of her experience with the play, "One of the beauties of live performance is the opportunity for exchange. As I've continued to perform, I've not only spoken, but also listened. The stories that individuals have shared with me have added more depth and meaning to this work. After one performance, I was gifted three suitcases by a Japanese-American who was in the audience. He happened to be a neighbor whose parents were interned in the same camp as my grandparents.
"When I picked up the suitcases, I found out that his family lived in the barracks next to my baachan and that he had just found the suitcases while cleaning out the family home. Two of the three suitcases still have the original tags, with their family number, assigned to all Japanese-American families as they traveled to camp. These suitcases, I learned, had been carried from Gila River, Ariz., back to their home in a small town in the Central Valley, and they had never been used since then.
"This incredibly kind gesture adds not just to the performance but to the collective fabric that makes up shared memory and shared trauma. I'm not just speaking to heal myself; I'm hoping that the collection of voices I perform and the shared experience of performance will fortify and awaken the caves and mountains and rivers of community."
The Unitarian Universalist Church of Fresno is located at 2672 E. Alluvial Ave. Tickets are $15 for adults and $5 for students. A portion of the proceeds from ticket sales benefits the Japanese American National Museum of Los Angeles. For more information or to purchase tickets, contact the UU Church at 559-322-6146.
*****
Lorenzo Bassman is music director and events coordinator at the Unitarian Universalist Church of Fresno.