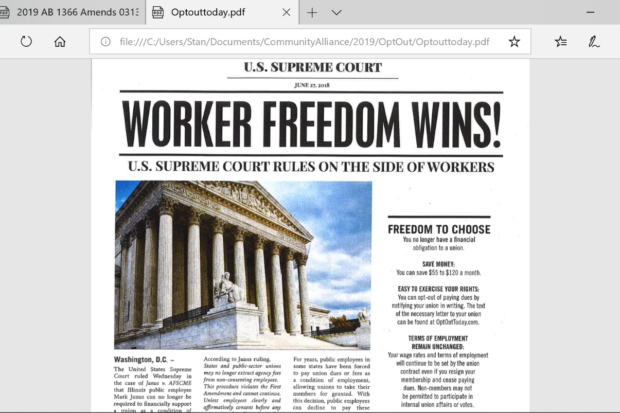 By Stan Santos
In recent days, the first salvo was fired in the Fresno area in the nationwide war on labor unions and the rights of workers to organize. On March 5, a right-wing, anti-worker group under the slogan "OPTOUTTODAY" distributed flyers to employees reporting to work at Fresno City Hall. The format and content of the flier was misleading, with the heading, "U.S. SUPREME COURT" followed in large bold print by, "WORKER FREEDOM WINS!" and "U.S. SUPREME COURT RULES ON THE SIDE OF WORKERS."
The flyer referred to the June 2018 Supreme Court decision in Janus v. AFSCME, which targeted the ability of public-sector unions to collect dues. Prior to Janus, union-represented public employees had dues deducted from their paychecks for the costs of representation, bargaining and enforcement of their contracts. Because they benefited from the union contracts, they were expected to pay their fair share.
Besides providing member services, unions engage in elections and legislation to level the playing field with employers and improve their bargaining position. They also work with the community and groups with shared interests, such as parents, immigrants, the elderly, the disabled and the environmental justice movement.
In demographically conservative areas, as can be found in the Central Valley, public- and private-sector unions have members who do not agree with the union's political agenda. Some only see the short-term benefit from keeping their dues; worse still are those who side with the employer and mislead others for personal gain.
Before and after Janus
More than 40 years ago, the Supreme Court ruled that union members could withhold that portion of their dues that did not go to contract related services; based on data studies, it averaged around 25%. These individuals were known as agency fee payers. Members who want to donate to political activity or legislative initiatives can make a voluntary donation to the union under a COPE (Committee on Political Education).
After Janus, public-sector unions can no longer deduct any dues, including for direct services, without the employee's express permission. However, the union is still obligated to bargain for and represent "free riders." The California Teachers Association (CTA) estimated that, as a result, the CTA would immediately lose approximately $7.7 million annually from agency fee payers alone. CTA officials estimate that these non-members account for just under 10% of teachers represented by the union. (EdSource, June 2018)

Who is driving JANUS?
The "charitable, nonprofit" National Right to Work Legal Defense Foundation (NRTWLDF) and litigators for the State Policy Network (SPN) represented public employee Mark Janus against AFSCME. Reflecting traditional conservative philosophy, Janus blamed union bargaining, pension funds and political agendas for exhausted public budgets and services. He argued for the right to "opt out" completely from all financial support as his right to free speech.
According to the NRTWLDF Web site, its "mission is to eliminate coercive union power and compulsory unionism abuses through strategic litigation, public information, and education programs." With net assets of more than $20 million, the NRTWLDF is funded primarily by the Bradley Foundation, one of America's largest right-wing foundations, committed to "small government and free enterprise."
The SPN in its early days received funding from the tobacco industry to resist tobacco-related taxes and health regulations as part of its "freedom agenda." Today, it is an alliance of 66 state-based conservative think tanks with a combined annual budget of $80 million, funded in large part by the Koch brothers, two of the richest men in the world.
SPN's president and CEO, Tracie Sharp, declared the $80 million "breakthrough" campaign as a "once-in-a-lifetime chance to reverse the failed policies of the American left…We are primed, right now, to deliver the mortal blow to permanently break its stranglehold on our society." (The Guardian, 2017)
Nowhere does its mission statements or objectives include improvement of the quality of education, much less community empowerment. The expressed goal is to weaken the union movement, a champion for progressive policies and collaboration, and impose the agenda of powerful corporations on poor and working-class populations.
Targets of OPTOUT in the United States, California and Fresno
According to the Bureau of Labor Statistics, in 1983, the first year data was available, union membership across the nation was 20.1%, or 17.7 million workers. By 2018, that percentage was cut in half, with only 10.5% of the workforce, representing 14.7 million workers.
Unions represent 33.9% of public-sector workers and only 6.4% in the private sector. Nonunion workers earned 82% less than union members, or $860 per week versus $1,051. (Note: The amounts are based on median weekly earnings, averaged across broad sections.)
A 2017 study by the Congressional Budget Office reports that federal employees with bachelor's degrees earned an average of 5% more in wages than their private-sector counterparts, 52% more in benefits and 21% more in total compensation. Federal workers with a high school diploma or less earned 34% more in wages than those in the private sector, 93% more in benefits and 53% more in total compensation.
The biggest factor in the difference in benefits was that much of the federal workforce still receives a defined benefit pension, a concept that has largely disappeared in the private sector.
An Illinois study projected a post-Janus reduction in state and local government employees of 8.2%, or 726,000 union members, along with fewer representatives, grievances and arbitration. Pay and benefits would also suffer, with an average 3.6% drop in earnings for public employees and a 5.4% drop for public-school teachers. (The Atlantic, July 2018)
Public employee and teachers' unions will have less influence, not only in workplace issues but also in education, health and the quality of life for the community. Analysts conclude that the outcomes of the 2016 and 2018 elections would have been different if union membership had not been under siege.
California is the big prize, with nearly 1.4 million public-sector employees, more than all the 21 other states combined.
The following major unions are being targeted by OPTOUT:
Service Employees International Union (SEIU; several locals)—employees working in hospitals, foster care, mental health, home health care and city, county and local government agencies and service sectors.
American Federation of State, County and Municipal Employees (AFSCME)—psychiatric social workers, librarians, correctional nurses, environmental scientists, civil engineers, transit workers, sanitation truck drivers and many others.
The list touches workers in almost all walks of life: United Steel Workers, Oakland Teachers Association, Laborers International Union of North America, Poway School Employees Association, Teamsters, United Educators of San Francisco, California Faculty Association, California School Employees Association, United Teachers of Los Angeles, University of California Employees, California Teachers Association, California Nurses Association/National Nurses United and, of course, the Fresno City Employees Association.
Now, the fight has come to Fresno, and it is no coincidence that it has begun with Fresno city employees. SEIU, AFSCME, the California Teachers Association and similar unions are also in the crosshairs.
These are the heavy hitters in the national labor movement as well as locally in sheer numbers and the expression of workers' power in the workplace and the community. The time has come for increased labor engagement with their members and the recognition of their essential place in the quality of American life.
*****
Stan Santos is an activist in the labor and immigrant community. Contact Stan at alianzadefresno@gmail.com.